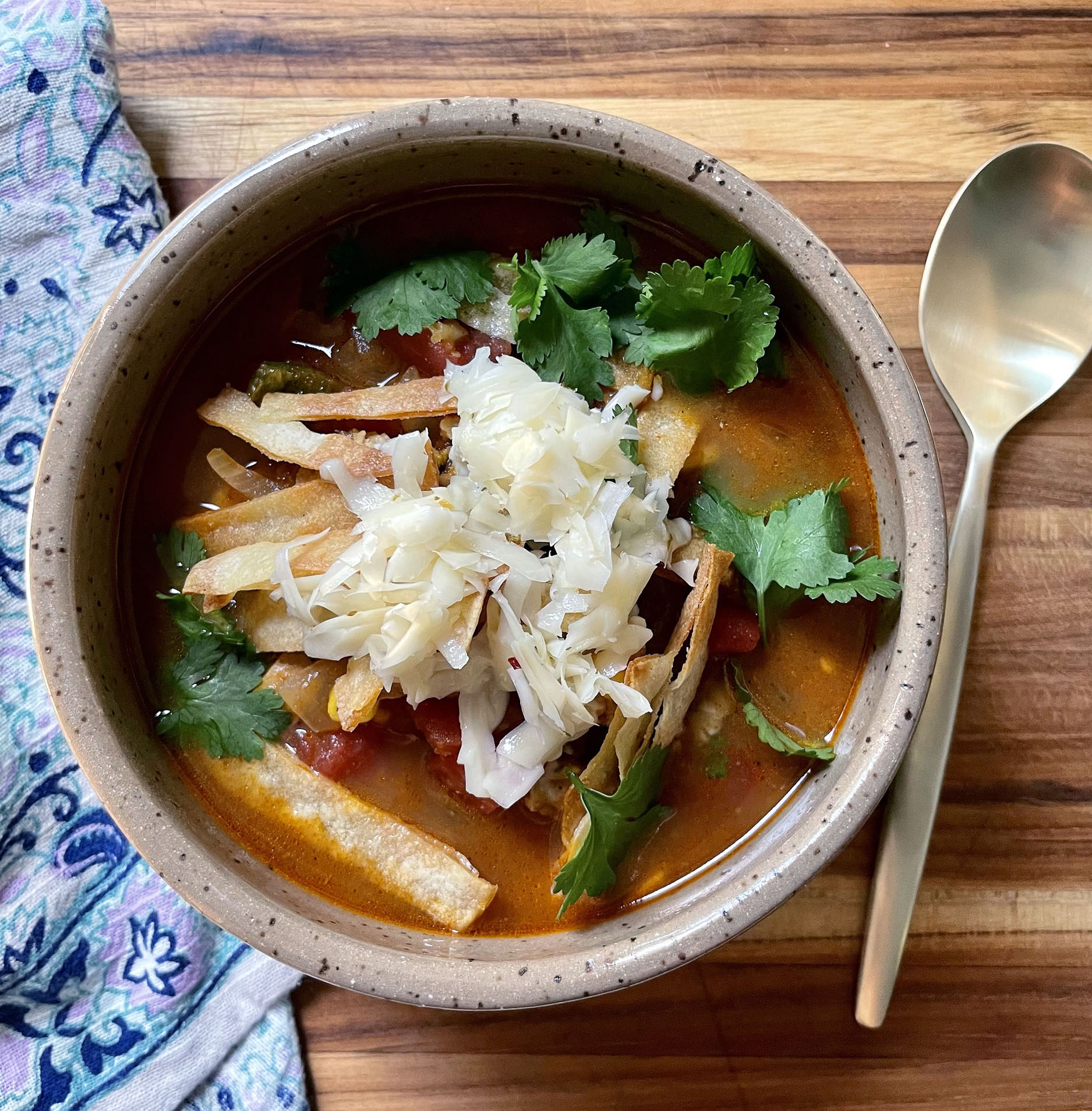 Print Recipe
Sazón Chicken Tortilla Soup
Warm and hearty, tomato-based Chicken Tortilla Soup is spicy, rich and full of flavor. Crispy tortilla strips add crunch. A perfect Fall soup!
Ingredients
Sazón Chicken

2 lbs. Boneless, Skinless Chicken Thighs

1 tbsp. Ground Coriander

1 tbsp. Ground Cumin

1.5 tbsp. Turmeric

1.5 tbsp. Paprika

1 tbsp. Garlic Powder

1 tbsp. Kosher Salt

2 tsp. Dried Oregano

1 tsp. Onion Powder

1 tsp. Ground Black Pepper

1/4 tsp. Cayenne Pepper

Tomatillo Puree

6-8 Fresh Tomatillos, papery outer skin removed, washed and quartered

Drizzle of Olive Oil

2 Pinches of Kosher Salt

2-3 Garlic Cloves, smashed

Juice of 1 Lime (about 3 tablespoons)

Chicken Tortilla Soup

1 medium Yellow Onion, diced

3-4 Garlic Cloves, minced or pressed

1 tbsp. Chili Powder

2 tsp. Cumin

2 tsp. Kosher salt, plus more to taste

1 tsp. Black Pepper

1 tsp. Paprika

1/4 tsp. Cayenne Pepper

1 28-oz. Can of Diced Tomatoes and their Juice

4 cups Chicken Broth

1 medium to large Jalapeño, diced (seeds and ribs removed, if you want it less spicy)

1 medium Poblano Pepper, diced (seeds and ribs removed, if you want it less spicy)

1 cup Tomatillo Puree (or fresh tomatillo salsa)

1 lb. Sazón Chicken Thighs, cubed

1 cup Frozen Corn Kernels

1 15.5-oz. Can of Black Beans, drained and rinsed

6-10 Corn Tortillas, sliced into strips

Drizzle of Olive Oil

Pinch of Kosher Salt

Cilantro, for garnish

Grated Pepper Jack Cheese, for garnish
Instructions
1
Preheat oven to 400 degrees.
2
Combine the spices in a jar and shake vigorously to mix well. After seasoning the chicken, save the rest of the seasoning blend in an airtight container.
3
Season both sides of the chicken thighs with sazón and bake for about 20 minutes. You can either stop here and save the chicken thighs for meals through the week, or continue with me to make Chicken Tortilla Soup.
4
Set the oven to broil and position the top rack 6 inches below the heating element.
5
Quarter the tomatillos and drizzle with olive oil. Sprinkle with Kosher salt.
6
Broil for about 5-8 minutes, keep an eye on them and pull them out when the skin develops spotty brown blistering. When you pull the tomatillos, switch the oven to bake and preheat to 400 degrees.
7
Combine the garlic, lime juice and roasted tomatillos in a blender and blend to a smooth puree. Set aside.
8
Over medium heat, heat a drizzle of olive oil in a dutch oven or large pot. Add the diced onions to the pot and sauté until the onion becomes translucent.
9
Add the minced garlic and cook while stirring for about 30 seconds.
10
Then add the chili powder, cumin, Kosher salt, black pepper, paprika and cayenne to the onions and garlic. Cook while stirring for another 30 seconds.
11
Pour the can of tomatoes with their juice into the pot and then the 4 cups of chicken broth. Stir and bring to a boil. Then reduce the heat to keep at a simmer. Simmer for about 15 minutes.
12
Add the peppers and the tomatillo puree. Stir and simmer for another 5 minutes.
13
Then add the sazón chicken and simmer for another 5 minutes.
14
Taste the soup for seasoning. Add more Kosher salt to taste. Then add about 1 cup of frozen corn and one can of drained and rinsed black beans. Let simmer for 10 minutes more, then remove from heat.
15
Take several corn tortillas and stack them together. Then slice in half and stack the halved pieces on top of each other. Then slice into 1/4-inch strips.
16
Line a sheet tray with parchment and scatter the tortilla strips in a single layer on the parchment and drizzle with olive oil. Sprinkle with Kosher salt and bake for about 8-10 minutes, or until the strips are golden, toasty and crispy
17
Serve each portion with a handful of tortilla strips, fresh cilantro and grated pepper jack cheese.