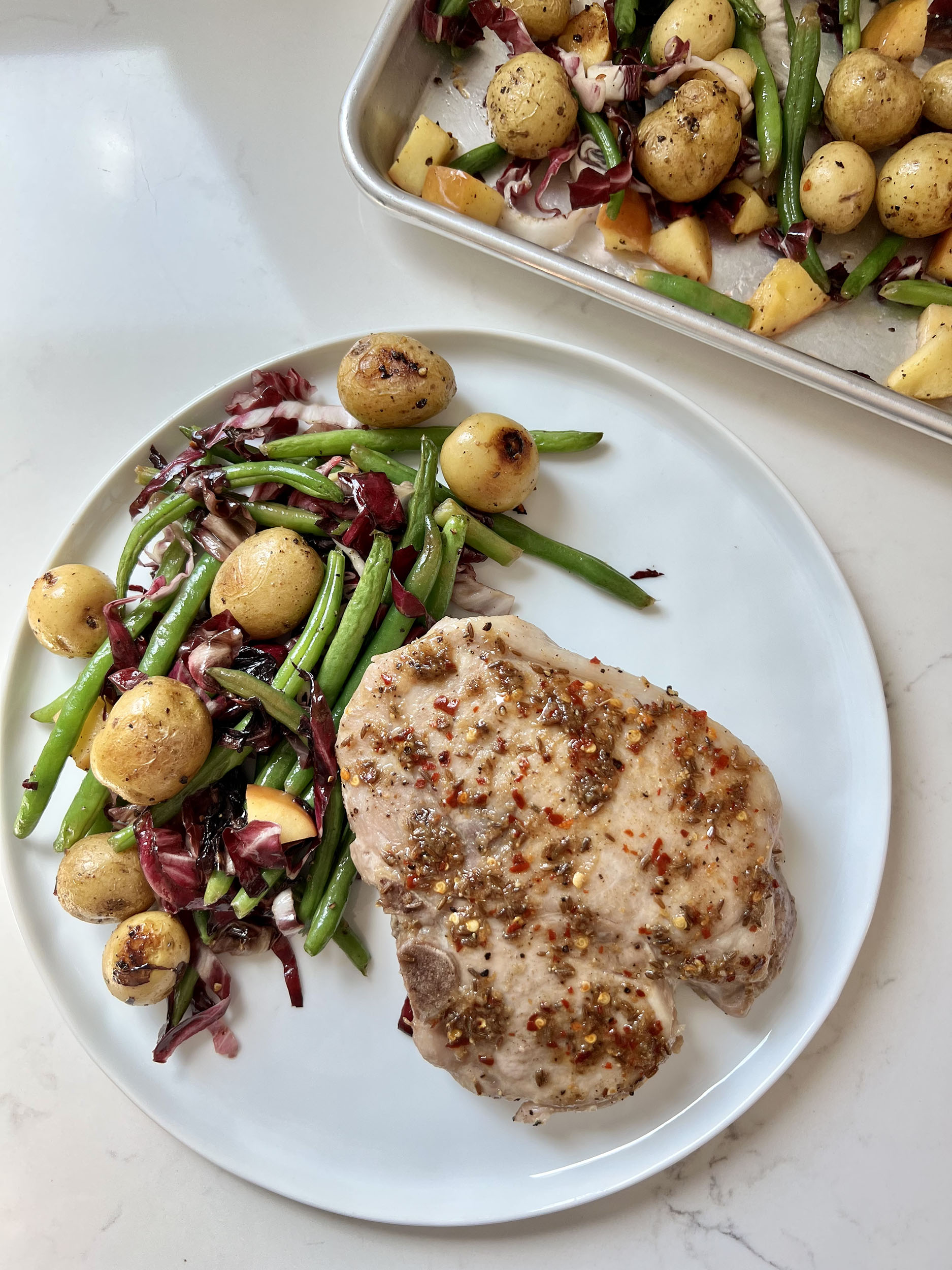 Print Recipe
Sheet Pan Cumin Pork Chops and Veggies
Deeply flavored with cumin, these pork chops are perfectly cooked; with an assortment of colorful veggies, sheet pan roasted in about 20 minutes.
Ingredients
Cumin Dry Rub

1/2 tbsp. Dark Brown Sugar

1 tsp. Kosher Salt, more as needed

1 tsp. Whole Cumin Seeds

1/2 tsp. Ground Cumin

1/2 tsp Freshly Ground Black Pepper, more as needed

1/4 tsp. Crushed Red Pepper Fakes, or to taste

2 Cloves Garlic, grated or minced

2 Large Bone-in Pork Chops, about 1.5-inches thick

Veggies

12 oz. Green Beans, washed with ends trimmed

1 Small Head Radicchio, cut in half, each half sliced into strips (divided)

1 Apple, chopped into 1-inch pieces

1 16-oz. Bag of Baby Gold (or red) Potatoes

4-6 Sprigs of Fresh Thyme

Olive Oil

Kosher Salt

Fresh Black Pepper
Instructions
1
In a small bowl stir together brown sugar, kosher salt, black pepper, dried ground cumin, whole cumin seeds, crushed red pepper flakes and grated garlic. Mix until a slightly wet, sandy texture is achieved. Rub this mixture on both sides of two 1.5-inch thick, bone-in pork chops. Then sprinkle each side with a little extra kosher salt. Let these chops sit at room temperature to marinate for at least 20 minutes, or up to 24 hours, covered, in the fridge.
2
Preheat the oven to 450 degrees F. and position an oven rack in the middle spot.
3
In a large bowl, toss the washed and dried potatoes with olive oil, kosher salt and black pepper. Transfer the potatoes to the sheet pan with the marinating, dry rubbed pork chops.
4
In that same bowl we used to season the potatoes, toss the green beans, chopped apple, and half the radicchio strips with olive oil, kosher salt and black pepper.
5
Spread the seasoned veggies on a separate sheet pan. Place sprigs of fresh thyme on top and squeeze the juice of half a lemon over all the veggies.
6
Place both sheet pans, side by side on the center rack in the oven.
7
Set a timer for 15 minutes. At the 15-minute mark pull both sheet pans from the oven. Temp the chops with a probe thermometer. We are looking for 135 degrees for medium-rare. My chops hit 140 degrees after only 15 minutes. If your chops aren't there yet, flip them over and place the pan back in the oven for another 5-10 minutes. Keep checking and temping.
8
Taste test a green bean, I like mine to still have some crunch, so a 15 minute roast time was perfect for me. If you like yours to be a little softer, place the pan back in the oven for 5 more minutes.
9
Regardless of whether your chops were at temp after 15 minutes, the potatoes will definitely need another 10 minutes. So, transfer the chops to a plate and let them rest for 10 minutes and place the potatoes back in the oven for that rest time.
10
Meanwhile, take the other half of the radicchio strips and add those raw radicchio strips to the roasted veggie tray. Use tongs to toss the fresh radicchio into the roasted veggies.
11
When the potatoes are done, add them to the veggie tray and toss to mix. Then for serving, you can nestle the rested pork chops into the veggie mixture.