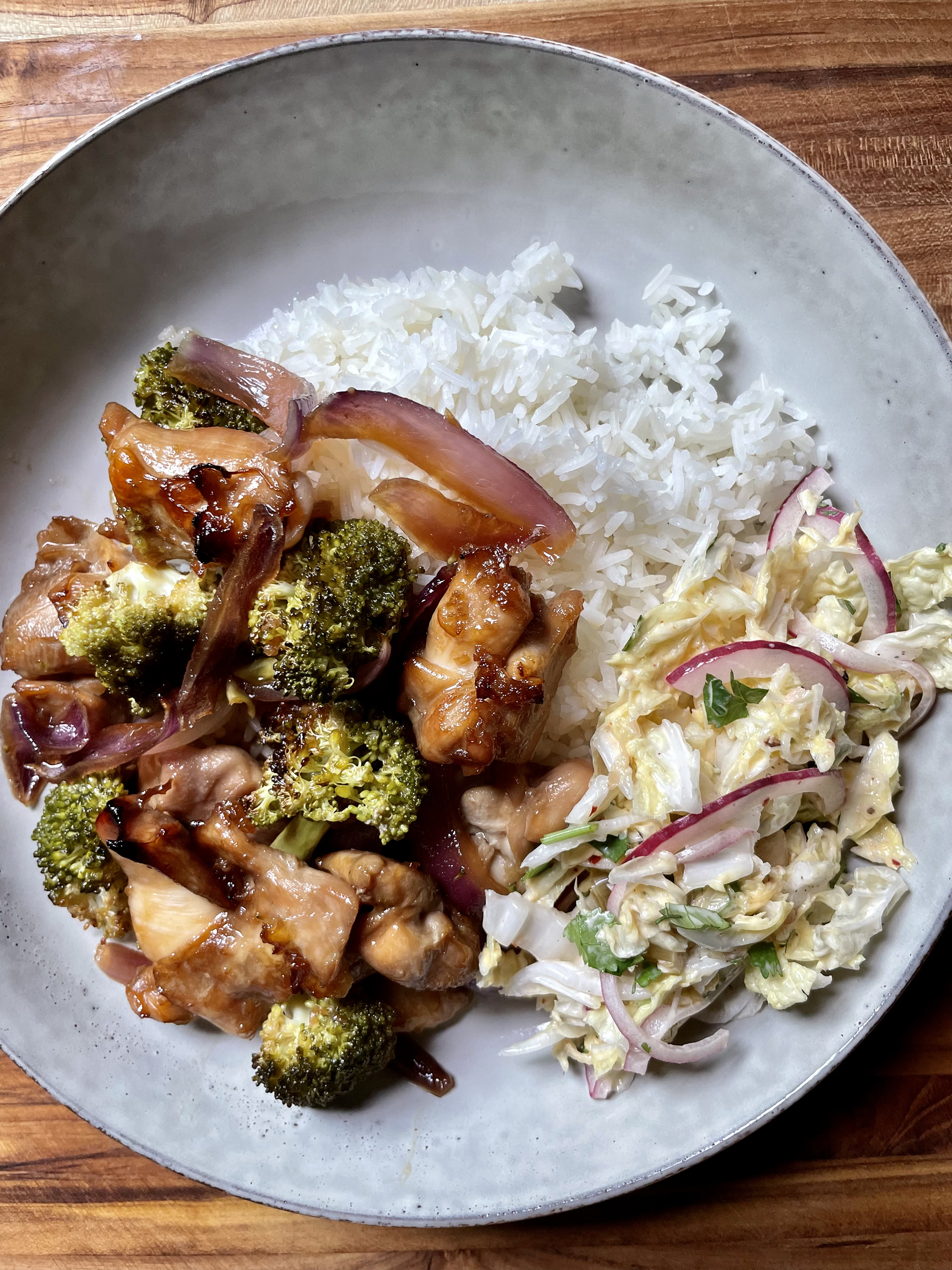 Print Recipe
Sheet Pan Honey Butter Chicken with Broccoli
Honey Butter Chicken is sweet and savory; as a sheet pan dinner this recipe is simple and quick. Serve with a kimchi slaw for a Korean-inspired supper.
Ingredients
Honey Butter Sauce

1/2 cup Unsalted Butter

2 Large Garlic Cloves, pressed or grated

1/3 cup Honey

1 tsp. Kosher Salt

1 tsp. Rice Vinegar

2 tbsp. Soy Sauce

Sheet Pan Honey Butter Chicken

1.5 lbs. Boneless, Skinless Chicken Thighs, cut into 2-inch pieces

2 tbsp. Soy Sauce

1 Red Onion, sliced into thin wedges

1 Head of Broccoli, cut into florets

Drizzle of Toasted Sesame Oil

2 Pinches Kosher Salt

Kimchi Slaw

1/2 Red Onion, thinly sliced

3 tbsp. Mayonnaise

2 tbsp. Fresh Lime Juice

2 tbsp. Toasted Sesame Oil

1 tbsp. Packed Light Brown Sugar

1 tsp. Grated Fresh Ginger

1/2 tsp. Kosher Salt

1/2 tsp. Black Pepper

9 cups Thinly Sliced Napa Cabbage

1/2 cup Chopped Kimchi

1/3 cup Chopped Cilantro
Instructions
1
Preheat oven to 400 degrees.
2
Over medium heat, melt the butter and add the garlic. Cook stirring occasionally for about 2 minutes.
3
Add the honey, soy sauce and rice vinegar. Reduce the heat to medium-low and bring to a boil, let simmer, while stirring occasionally for about 3 minutes until the sauce thickens slightly. Remove from heat and set aside.
Sheet Pan Honey Butter Chicken
4
Place the chicken pieces in a medium sized bowl. Pour 2 tablespoons of soy sauce on the chicken pieces and stir to coat the chicken in soy sauce. Set aside.
5
Pour all but 1/3 cup (or so) of the butter honey sauce on the chicken pieces. Set the 1/3 cup of sauce aside for now. Toss the chicken pieces in the sauce to coat and set aside.
6
Spread the broccoli florets and the onion pieces evenly over the sheet pan. Drizzle with a little Sesame oil and sprinkle with a couple pinches of Kosher salt.
7
Drizzle the reserved 1/3 cup of honey butter sauce over the broccoli and the onions. Then place the chicken pieces on top of the veggies.
8
Bake for 20 minutes. You can temp the chicken pieces if you want, the internal temperature should read 165-170 degrees.
9
Rinse the onion slices in cold water for several seconds, then pat the slices dry.
10
In a large mixing bowl, whisk together mayonnaise, lime juice, sesame oil, grated ginger, brown sugar, salt and pepper.
11
Add the onion slices and 8 cups of thinly sliced Napa cabbage.
12
Then add the 1/2 cup of chopped kimchi.
13
Mix the slaw with your hands to evenly coat the Napa cabbage in the dressing and distribute the kimchi.
14
Add the chopped cilantro and mix again.