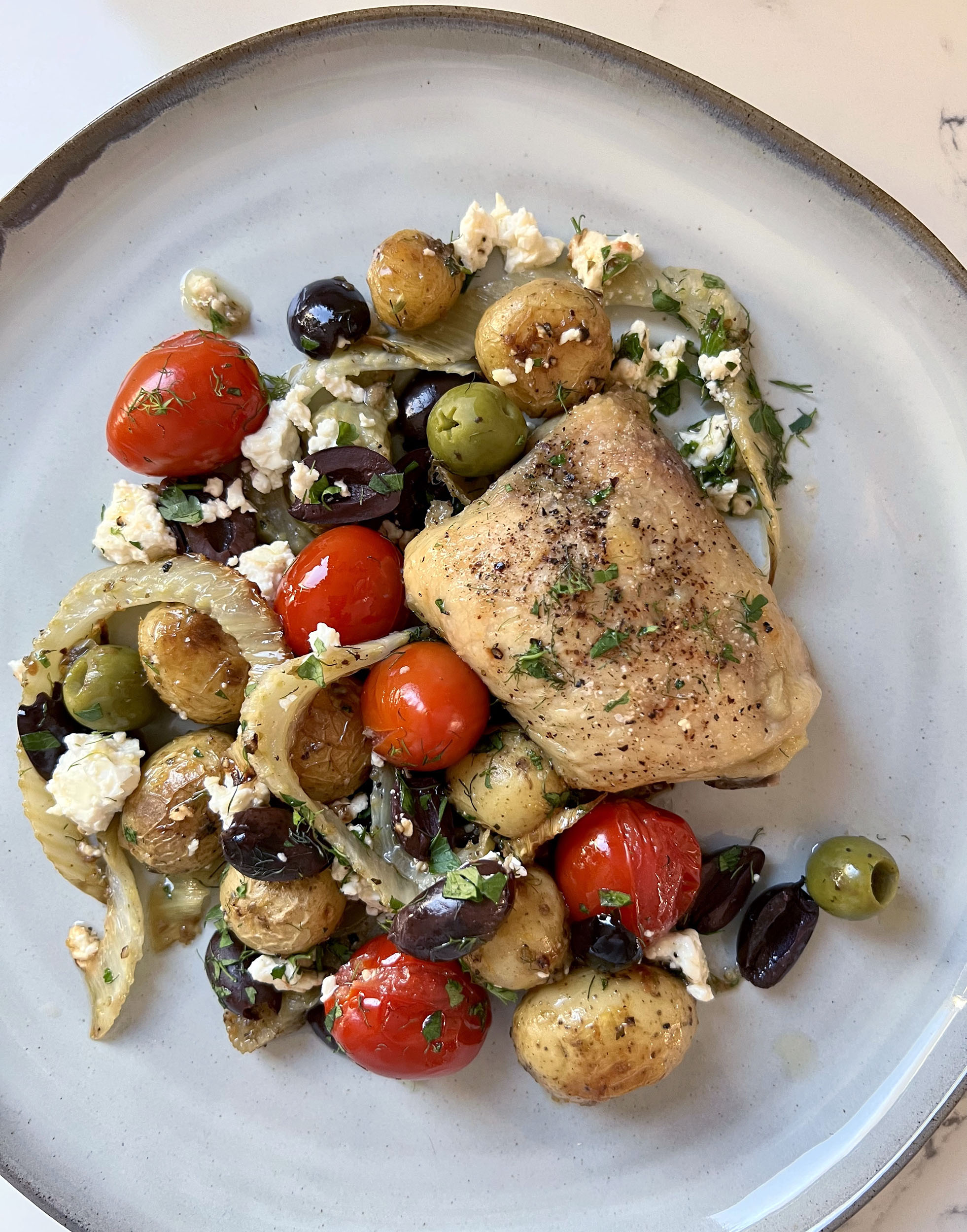 Print Recipe
Sheet Pan Mediterranean Chicken
Tender, juicy, feta brine-marinated chicken thighs roasted with fennel, potatoes, tomatoes, olives and feta, finished with fresh herbs.
Ingredients
4-8 Bone-in Chicken Thighs

2 cups Feta Brine (optional, plus more for 6-8 thighs)

1 Fennel Bulb, sliced into 1/2-inch rounds

24 oz. Dutch Baby Yellow Potatoes

Zest of 1 Lemon

3 Garlic Cloves, grated

1-2 tbsp. Olive Oil (plus more for drizzling over the finished sheet pan dinner)

Juice of 1/2 Lemon (plus more for drizzling over each serving)

2 tsp. Dried Oregano

Pinch Kosher Salt

Black Pepper

10 oz. Cherry Tomatoes

1/2 cup pitted Kalamata Olives

1/2 cup pitted Green Olives

4 oz. Feta, crumbled

1/4 cup chopped Fresh Parsley

Chopped Fennel Fronds
Instructions
1
Preheat the oven to 400 degrees F.
2
Combine the baby Yukon Golds and the fennel slices in a mixing bowl. Grate the zest of one lemon into the bowl. Then grate about 3 cloves of garlic into the bowl. Drizzle about 1-2 tablespoons of olive oil and the juice of half a lemon over the mix and season with two teaspoons of dried oregano, a pinch of Kosher salt and black pepper.
3
Stir and toss to mix in the seasoning and to coat everything with the olive oil and lemon juice. Pour this all out onto the sheet tray and spread it out to an even layer.
4
Transfer the chicken thighs to a paper towel-lined plate and pat them very dry with more paper towels. Place the chicken thighs on the sheet tray and drizzle with olive oil, then season with just a pinch of Kosher salt and black pepper.
5
Place this tray in the preheated oven and roast for 25 minutes. Then pull the tray out and add Kalamata and green olives, cherry tomatoes and crumbled feta onto the sheet tray. Put back in the oven and continue roasting for another 10 minutes.
6
Temp the chicken for doneness, it should read 170 degrees.
7
Drizzle olive oil over the Sheet Pan Mediterranean Chicken and veggies then sprinkle chopped fresh parsley and the chopped green fennel fronds over the sheet pan dinner.
8
Transfer a serving of veggies and one or two chicken thighs to each plate and squeeze a little lemon juice over the serving, and serve.