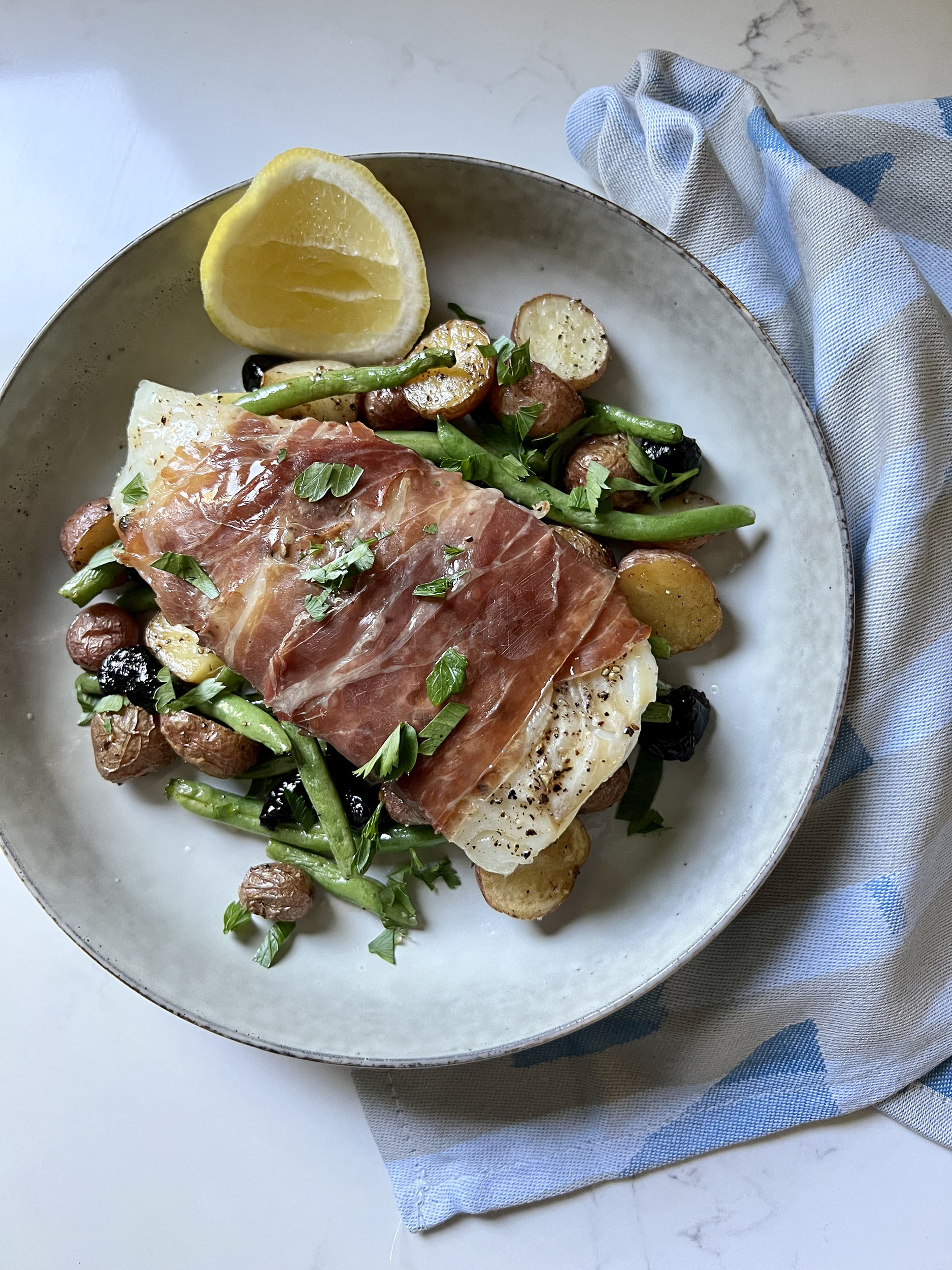 Print Recipe
Sheet Pan Prosciutto Wrapped Cod and Veggies
Simply prepared, simply seasoned this easy, healthy Sheet Pan Prosciutto Wrapped Cod and Veggies is full of fresh flavor and texture.
Ingredients
16 oz. Baby Red Potatoes (larger potatoes cut into 1-inch pieces)

Olive Oil

Kosher Salt, Black Pepper

16 oz. Green Beans, ends trimmed

1/4 cup Oil Cured Black Olives, or Kalalmata olives, pitted

1 lb. Cod, about 1-inch thick, cut in two pieces

3 oz. (8 pieces) Prosciutto

Lemon Wedges

Chopped Parsley
Instructions
1
Preheat the oven to 400 degrees F.
2
Toss the potatoes in a few good drizzles of olive oil until the potatoes are well coated in oil. Sprinkle with a pinch of kosher salt and few cranks of black pepper.
3
Pop the potatoes in the oven for 15 minutes. At the 15-minute mark, stir the potatoes and continue roasting for another 5 minutes.
4
While the potatoes are roasting, season each piece of fish with a pinch of kosher salt and few cranks of black pepper. Then, wrap the mid sections of each piece of fish in 4 strips of prosciutto.
5
After a total of 20 minutes roasting, the potatoes should be fork-tender. Pull out the sheet pan and add the green beans to the pan. Use a spatula to mix the green beans in with the roasted potatoes.
6
Sprinkle pitted olives evenly in the mix.
7
Lay the prosciutto wrapped fish on top of the veggies. Drizzle olive oil over the fish.
8
Place the sheet pan in the oven and roast for 10 minutes. At which point, check the fish for doneness. The cod should be opaque, firm to the touch in the center, and easily flake with a fork. If it's not yet ready, continue roasting in 3 minute intervals until the fish is cooked through.
9
Portion veggies onto plates, place one prosciutto wrapped piece of fish on top of the veggies.
10
For each portion, drizzle on a little olive oil and squeeze on a little fresh lemon juice. Scatter some chopped fresh parsley over the top.