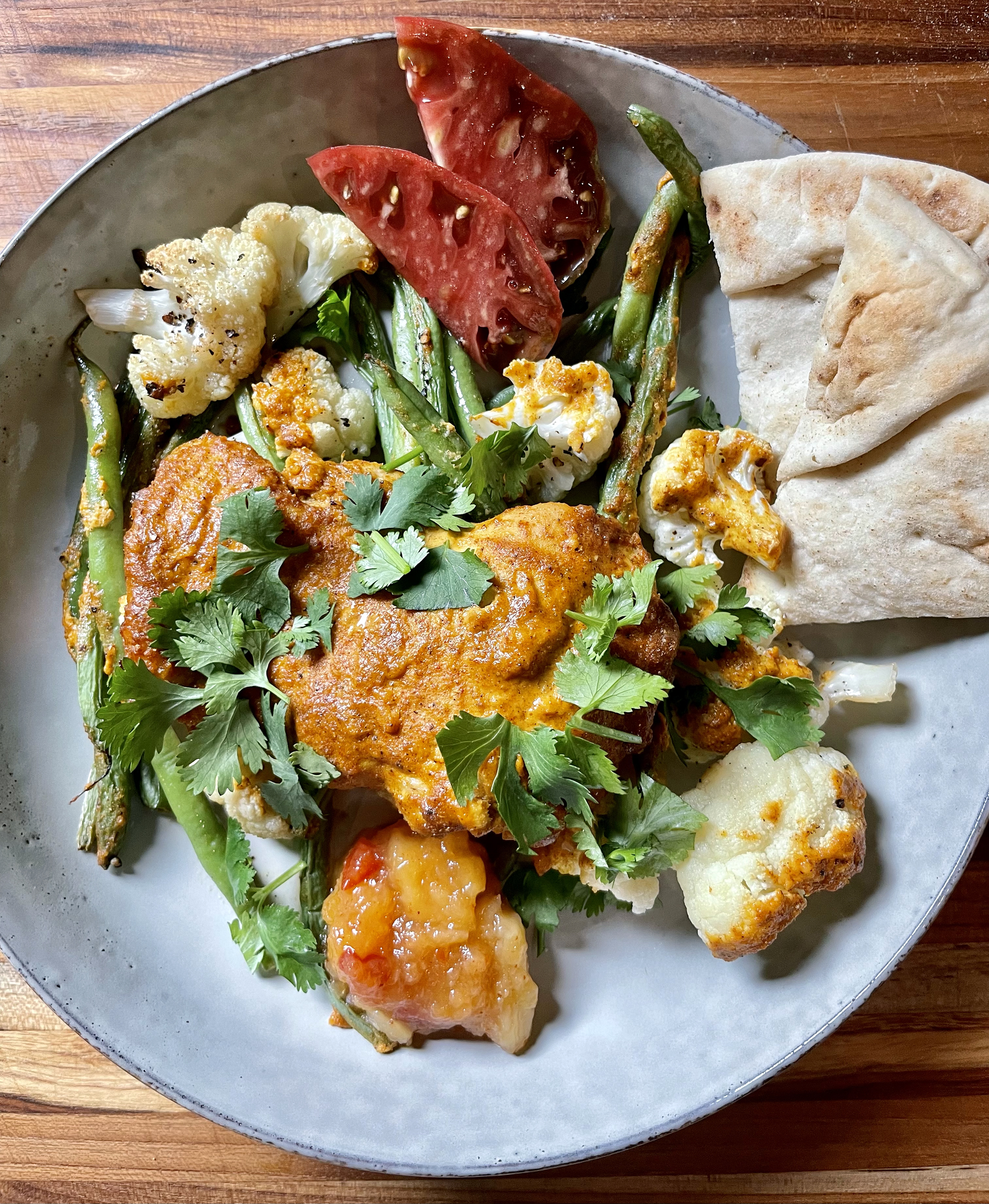 Print Recipe
Sheet Pan Tandoori Chicken
Beautifully spiced yogurt marinade flavors this Sheet Pan Tandoori Chicken; Toss in your favorite veggies for an easy, quick Sunday Supper.
Ingredients
Marinade

1/2 cup Plain Whole Milk Yogurt

2 tbsp. Olive Oil, plus more for the veggies

2 tbsps. Lime Juice

6 Large Garlic Cloves, smashed

1/2-inch piece of Fresh Ginger, sliced

1 tbsp. Ground Coriander

1 tbsp. Ground Cumin

2 tsp. Garam Masala

2 tsp. Smoked Paprika

1/2 tsp. Turmeric Powder

1/4 tsp. Cayenne Pepper

2 tsp. Kosher Salt, plus more for the veggies

1 tsp. Fresh Cracked Black Pepper, plus more for the veggies

Sheet Pan Tandoori Chicken

1-1.5 lbs. Boneless, Skinless Chicken Thighs (about 6 six thighs)

Veggies of Your Choice - such as cauliflower, green beans, sliced white or yellow onion, bell peppers, squash...

1/4 cup Chopped Cilantro, for garnish

Indian Chutney, optional

Tomato slices, optional

Naan Bread, optional
Instructions
1
Preheat oven to 425 degrees.
2
Combine all the marinade ingredients in a blender and blend until smooth.
3
Reserve 1/4 cup of the marinade in a separate bowl for basting midway through cooking.
4
In a shallow dish, or pie plate place the chicken thighs and pour the marinade over the chicken, turn the chicken pieces a few times to evenly coat the thighs. Set aside.
Sheet Pan Tandoori Chicken
5
Prepare the layer of vegetables on a large sheet pan and drizzle with olive oil. Sprinkle the veggies with a pinch of Kosher salt and black pepper.
6
Transfer chicken thighs to sheet pan, directly on top of veggies. Use the marinade remaining in the shallow dish to redistribute any marinade that may have rubbed off the chicken thighs during the transfer to the sheet pan.
7
Bake for 25 minutes, then remove from the oven. Use a brush to baste the reserved marinade on the chicken pieces and some of the veggies.
8
Bake for another 10 minutes, or until an instant read thermometer inserted into a thick part of a thigh registers 165 degrees.
9
Remove sheet pan from oven and let sit for 5 minutes, as the chicken rests the temperature will carry over and rise to 170 degrees.
10
Use a large spatula to scoop a serving of veggies and chicken, transfer to a plate and garnish with chopped cilantro.
11
Serve with tomato slices, naan bread and chutney.