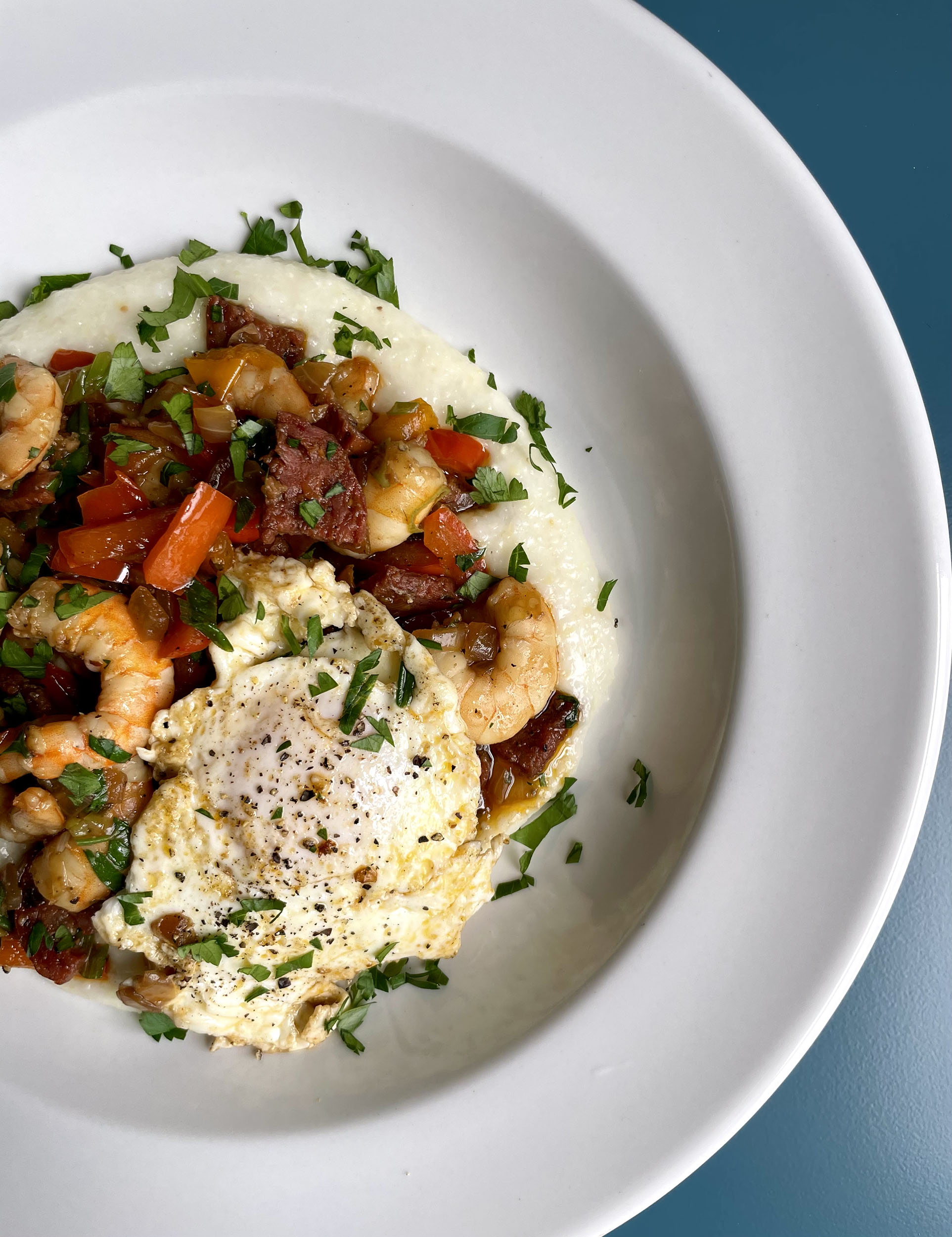 Print Recipe
Shrimp and Grits
Super flavorful shrimp and grits topped with an egg comes together in minutes and is so satisfying.
Ingredients
1 tbsp. Olive Oil

1/2 Medium Onion, diced

1 Red or Orange Bell Pepper, diced

1/2 cup Soppressata, quartered and thinly sliced

1 lb. Shrimp, rinsed and peeled

3 tbsp. Butter, divided

3 Green Onions, thinly sliced

Grits, cooked according to package directions

1/2 cup Shredded Gouda Cheese

2 Eggs, fried

Fresh Cracked Black Pepper, to taste

Fresh Lemon Juice, to taste

2 tbsp. Flat Leaf Parsley, chopped
Instructions
1
Over medium heat, sauté onions in olive oil until just translucent, add bell peppers and sausage to pan and sauté until the peppers begin to soften, about 3-5 minutes.
2
Add the shrimp and 1 tablespoon butter. Cook until shrimp is firm and opaque.
3
Make the grits according to package directions. When cooked and the water has been absorbed, stir in one tablespoon of butter and add the cheese. Remove from heat and stir well to melt the cheese and fluff up the grits. Cover and set aside.
4
Push the shrimp mixture to one side of the pan and add remaining butter to the now empty side.
5
Fry the eggs, one at a time, in the same pan as the shrimp mixture. Add more butter between each egg if needed. Fry eggs to desired doneness. Sprinkle eggs with pepper if desired.
6
To Serve: spoon grits into a shallow bowl, spoon shrimp mixture over the top and squeeze fresh lemon over the top. Lay the fried egg on top and sprinkle with chopped parsley.