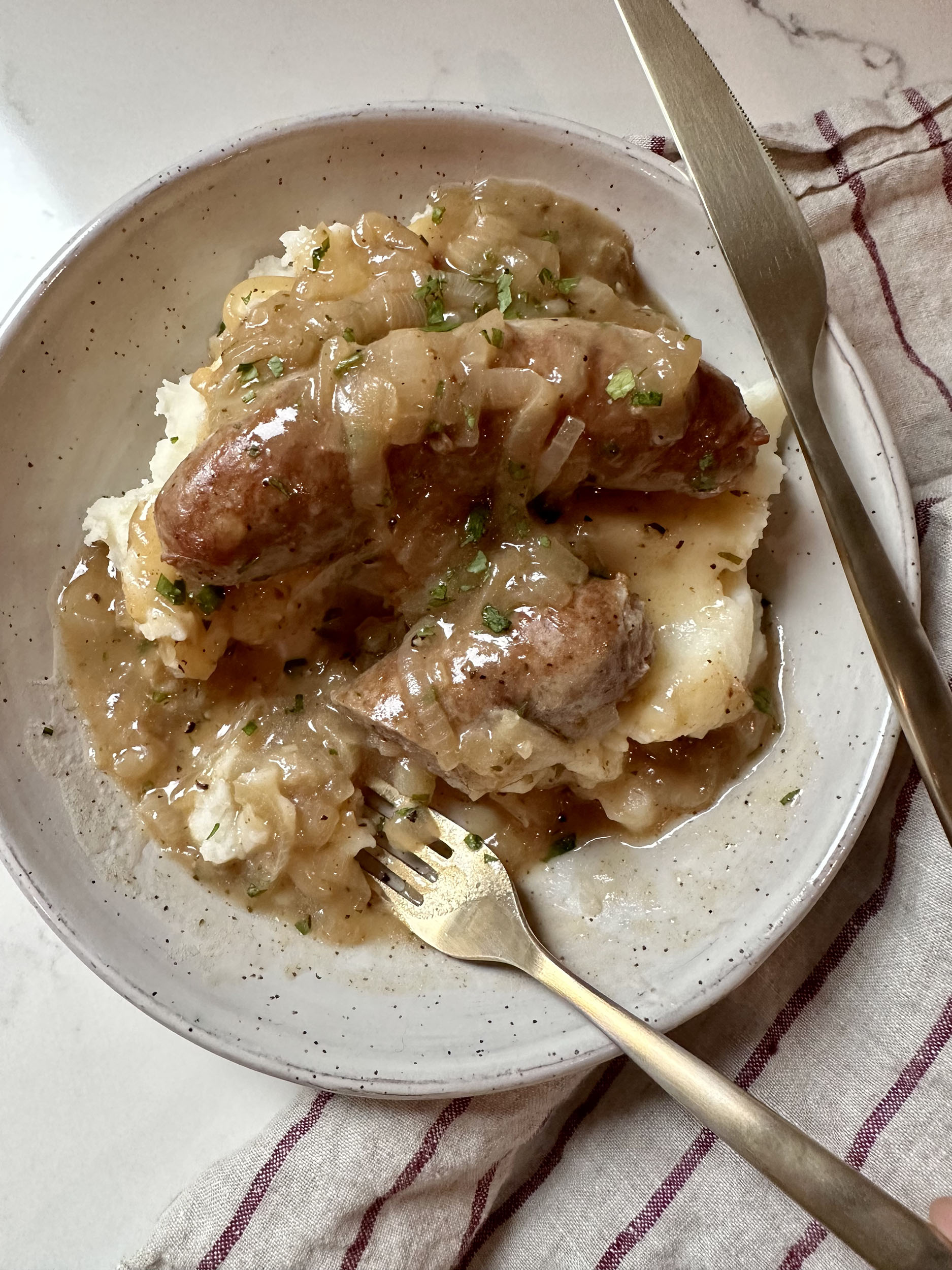 Print Recipe
Simple Bangers and Mash
There are few things more comforting than creamy mashed potatoes, topped with sausages, cloaked in a savory and slightly sweet onion gravy.
Ingredients
1 tbsp. Grapeseed or Vegetable Oil

6 Links of Cumberland Sausages or Bratwurst

2 onions, halved and sliced thinly

1/2 cup Water, plus 1 tablespoon, divided

2.5 cups Beef Broth

1 tbsp. Marmite or Roasted Beef Better Than Bouillon

1 tsp. Dry Mustard

1 tsp. Minced Fresh Thyme

1/2 tsp. Minced Fresh Rosemary

1.25 tsp. Sugar

1/2 tsp. Black Pepper

1/2 tsp. Kosher Salt

1 tbsp. Cornstarch

2 tbsp. Unsalted Butter, cut in 2 pieces

1 tsp. Red Wine Vinegar

1 tbsp. Minced Fresh Parsley
Instructions
1
In a large skillet, heat 1 tablespoon of grapeseed oil over medium heat. When the oil is shimmering, brown the sausages on two sides.
2
Then add the sliced onions to the skillet. Use tongs to nestle the sausages on top of the onions. Add 1/2 cup of water to the skillet then cover and steam the sausages for about 10 minutes. Turn the sausages over once during the steaming.
3
Temp the sausages, we are looking for 160-165 degrees. When they're cooked through, transfer the bratwurst to a plate and tent with foil.
4
Spread the onions out evenly in the skillet and let them cook, undisturbed for 5 minutes.
5
While the onion slices are cooking, in a 4 cup measuring cup, whisk together the beef broth, Better Than Bouillon, dry mustard, fresh thyme and rosemary.
6
Give the onions a stir and keep cooking until the onion slices are browning and a fond is developing on the bottom of the pan. Stir in the sugar, kosher salt and black pepper.
7
Add the broth mixture and increase the heat to medium-high and bring to a boil. Scrape up any fond from the bottom of the pan and cook the broth and onions until the gravy is thickened and reduced slightly.
8
Whisk together the remaining 1 tablespoon water and the cornstarch. Then whisk the cornstarch slurry into the gravy and and cook until the gravy is thick, like heavy cream. Then cut the heat.
9
Off heat, whisk in the butter, one piece at a time. Stir in red wine vinegar, season with kosher salt and pepper to taste. Sprinkle with chopped parsley.
10
Serve the bangers over mashed potatoes and top with onion gravy.
Notes
***This post is all about the Bangers and Onion Gravy, so use your favorite recipe for the mashed potatoes. Or you can make my Cauliflower Mashies. Make your mashed potatoes first, they will can keep hot in the oven while you make the rest.