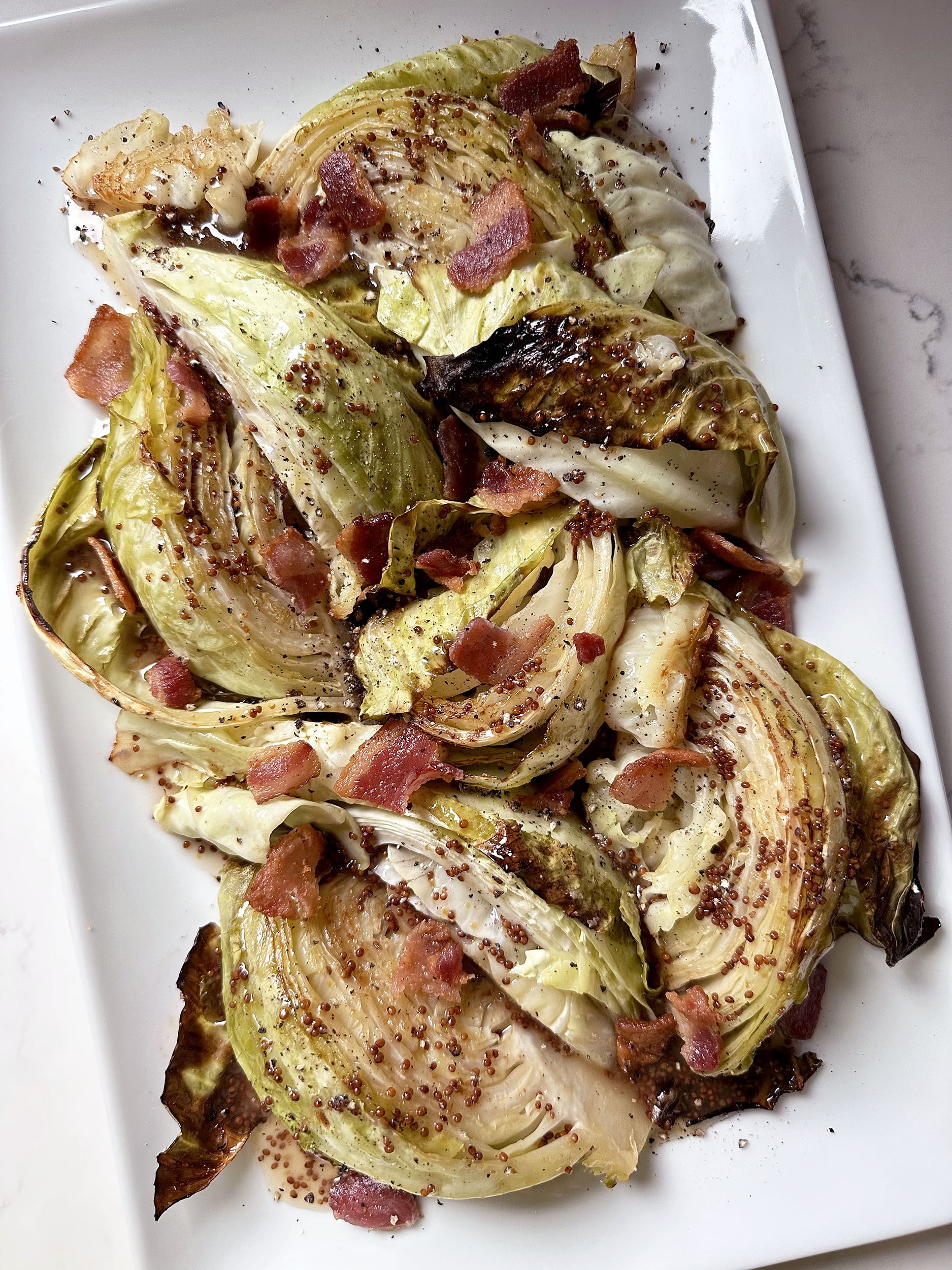 Print Recipe
Skillet Roasted Cabbage Wedges
Tender skillet roasted cabbage wedges, dressed with a warm bacon, mustard and honey vinaigrette. Perfect for St. Patrick's Day!
Ingredients
8 Thick Cut Bacon Slices, cut crosswise into 1/2 to 1-inch pieces

1 Small Head of Green Cabbage, cut into 8 wedges

1 tsp. Kosher Salt

1/4 cup Honey

1/4 cup Whole Grain Dijon Mustard

2 tbsp. Apple Cider Vinegar

1 tsp. Cracked Black Pepper
Instructions
1
Preheat the oven to 450 degrees F. Start with cooking the bacon over medium heat in a 12-inch cast iron skillet. If you don't have a cast iron skillet, be sure to use an oven-safe skillet. Stir the bacon occasionally. When the bacon is cooked through and begins to crisp, cut the heat and use a spider skimmer to transfer the bacon to a separate bowl and set aside.
2
Use a tablespoon to scoop 7 tablespoons of the bacon fat out of the cast iron skillet, transferring the 7 tablespoons to a small saucepan and set that saucepan aside.
3
Pour off any remaining bacon fat from the cast iron skillet, but don't wipe out the skillet.
4
nestle the wedges, cut side down, in the cast iron skillet. Scoop out 1 tablespoon of bacon fat from the reserved fat in the saucepan and drizzle it over the cabbage wedges. Sprinkle the cabbages with a teaspoon of kosher salt.
5
Roast the cabbage in the preheated oven for 20 to 25 minutes. The cabbage should be tender when pierced with a knife and there should be browning in spots.
6
While the cabbage is roasting, heat the remaining 6 tablespoons of bacon fat over low heat for about 1 minute. Whisk in honey, mustard, vinegar and black pepper. Whisk until an emulsified sauce forms. Cut the heat.
7
Use kitchen tongs to transfer the roasted cabbage wedges to a serving plate.
8
Pour the hot bacon mustard dressing over the cabbage. Chop the cooked bacon into smaller pieces if desired and sprinkle the bacon over the dressed cabbage wedges.