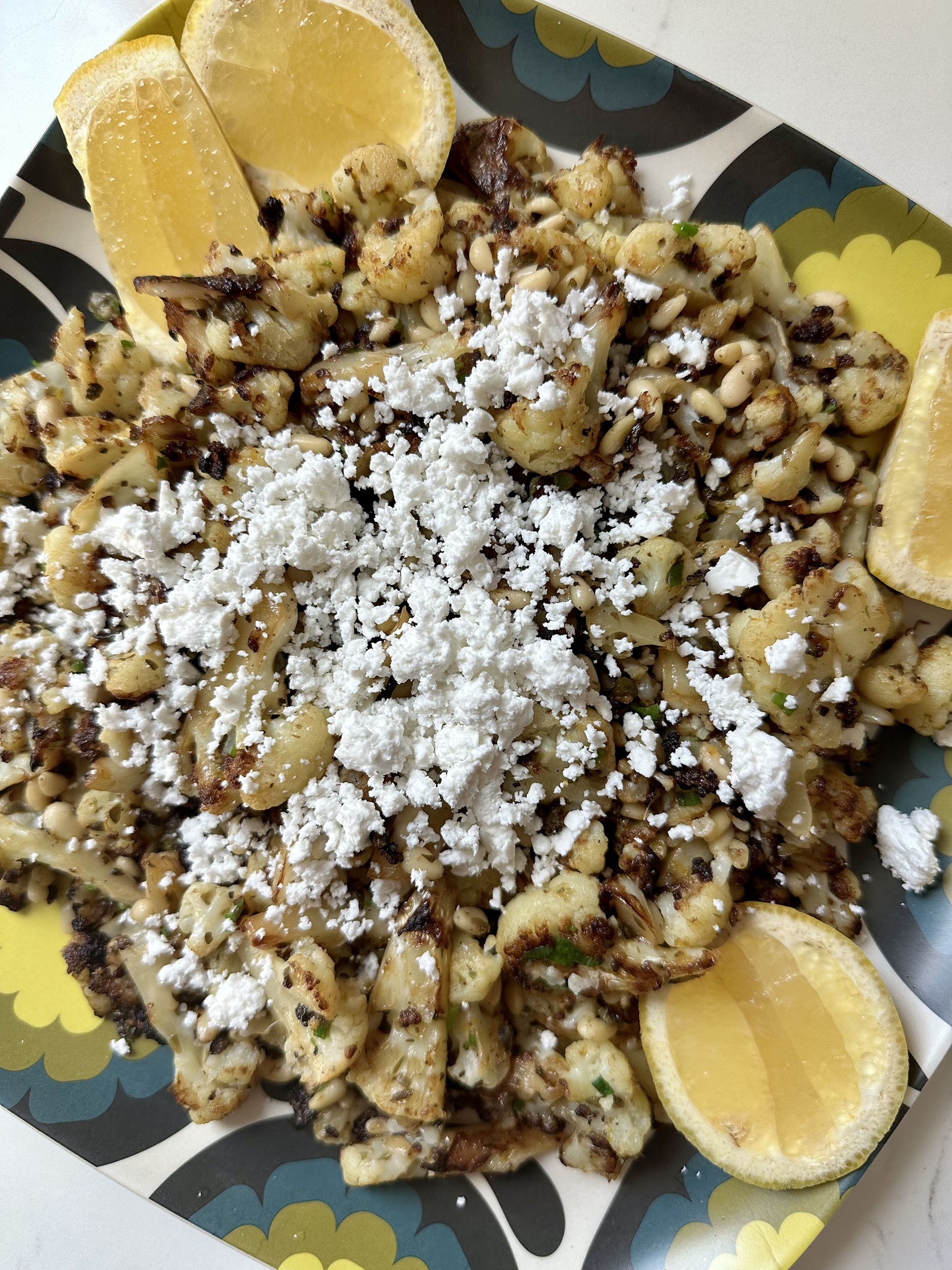 Print Recipe
Skillet Roasted Cauliflower with Capers
Pan-roasted cauliflower gorgeously caramelized, with bright lemon zest, briny capers and crunchy toasted pine nuts. Perfect holiday side!
Ingredients
1 Head Cauliflower (2 pounds)

1/2 cup Extra-Virgin Olive Oil, divided in half

Kosher Salt and Pepper

2 tbsp. Capers, rinsed and minced

1 tsp. Grated Lemon Zest, plus lemon wedges for serving

1/4 cup Toasted Pine Nuts

2 tbsp. Minced Fresh Chives, or Scallion Greens

2 tbsp. Crumbled Feta, optional garnish
Instructions
1
Combine 2 tablespoons of olive oil with the florets in a large nonstick skillet. Season with kosher salt and pepper. Cover the skillet and cook over medium-high heat for about 5 minutes.
2
At this point, remove the lid; the florets should be semi-translucent with some browning on the cut sides. Keep the lid off the skillet and continue cooking the cauliflower. Stir occasionally until the florets have developed a deeper browning, about 10 minutes.
3
Once the cauliflower is nicely browned, scoot it all to the edges, leaving the center of the pan empty. Add the remaining two tablespoons of olive oil to the center and add the chopped capers and the lemon zest. Stir the capers and zest to cook until fragrant, about 30 seconds.
4
Stir the caper and zest mixture into the cauliflower and cook for another 2 minutes.
5
Remove from heat and stir in the toasted pine nuts and thinly sliced scallion greens or chives.
6
Transfer the Skillet Roasted Cauliflower with Capers to a serving dish and place some lemon wedges along side.
7
Sprinkle top with crumbled feta, if using.