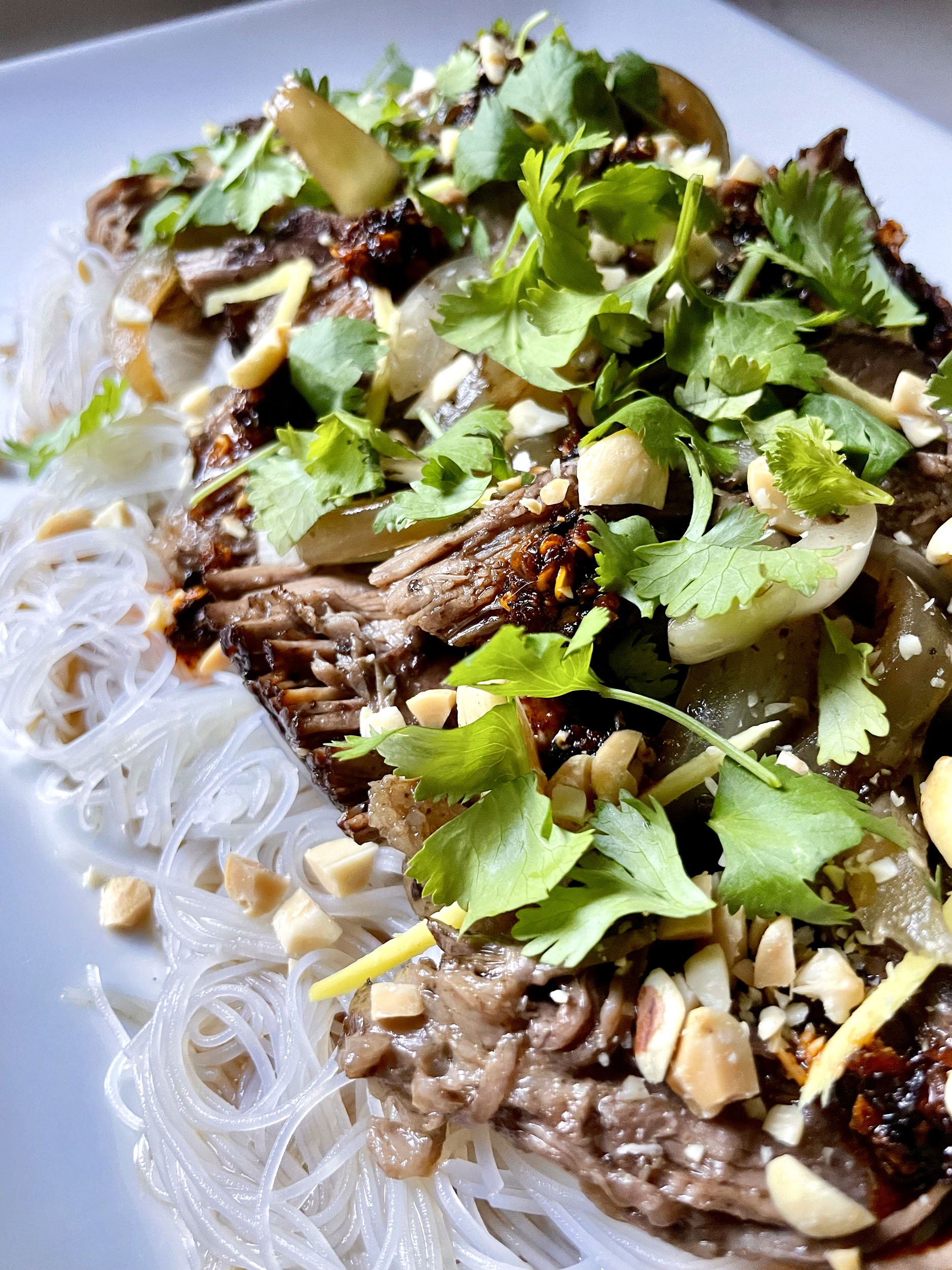 Print Recipe
Slow Cooker Black Vinegar Braised Beef
Chinese Black Vinegar brings a complex depth to this recipe. The overall dish is sweet, savory and rich, with star anise and fresh ginger.
Ingredients
1/2 cup Dark Brown Sugar

1/2 cup Chinkiang Black Vinegar*

1/4 cup Water

5-7 1/4-inch thick slices of Fresh Ginger. plus 1/4 cup Ginger, sliced into matchsticks

2 Whole Star Anise

2 tsp. Kosher Salt

1 3-lb. Chuck Roast, trimmed

1 small Sweet Onion, sliced into 1/4-inch wedges

1/2 -1 tsp. Fresh Cracked Black Pepper

1 tbsp. Fly By Jing Sichuan Chili Crisp, plus more to taste

1/2 cup Dry Roasted Peanuts, chopped

1/2 bunch Cilantro, rough chopped
Instructions
1
Combine the fresh ginger, dark brown sugar, star anise, black vinegar, water and salt in the pot of your slow cooker.
2
Place the roast in the pot with the liquid and turn it once to coat the beef. Then sprinkle the roast with pepper and scatter the onions in the pot.
3
In a dedicated slow cooker, set the cooker to high and cook for six hours, or low for 8 hours. In an InstantPot, press the Slow Cook button until the display reads More, or High (depending on your model). Set the timer for 8 hours. At hour 5, flip the pot roast over to ensure an evenly cooked roast. (In a dedicated slow cooker, you don't need to flip the roast)
4
Transfer the roast to a cutting board and cut or pull the meat apart, into thick pieces. Then return the meat to the braising liquid in the pot.
5
Use tongs to arrange the pot roast pieces on top of rice vermicelli or plain rice.
6
Ladle on some of the braising liquid and top with julienned ginger.
7
Drizzle the chili crisp over the platter and sprinkle on the chopped peanuts.
8
Top with chopped cilantro.
Notes
To make a Chinkiang vinegar substitute: Use 2 tsp. balsamic and 1 tsp. rice vinegar for every 1 tbsp. Black Vinegar. This recipe calls for 8 tbsp. (or 1/2 cup) Black Vinegar