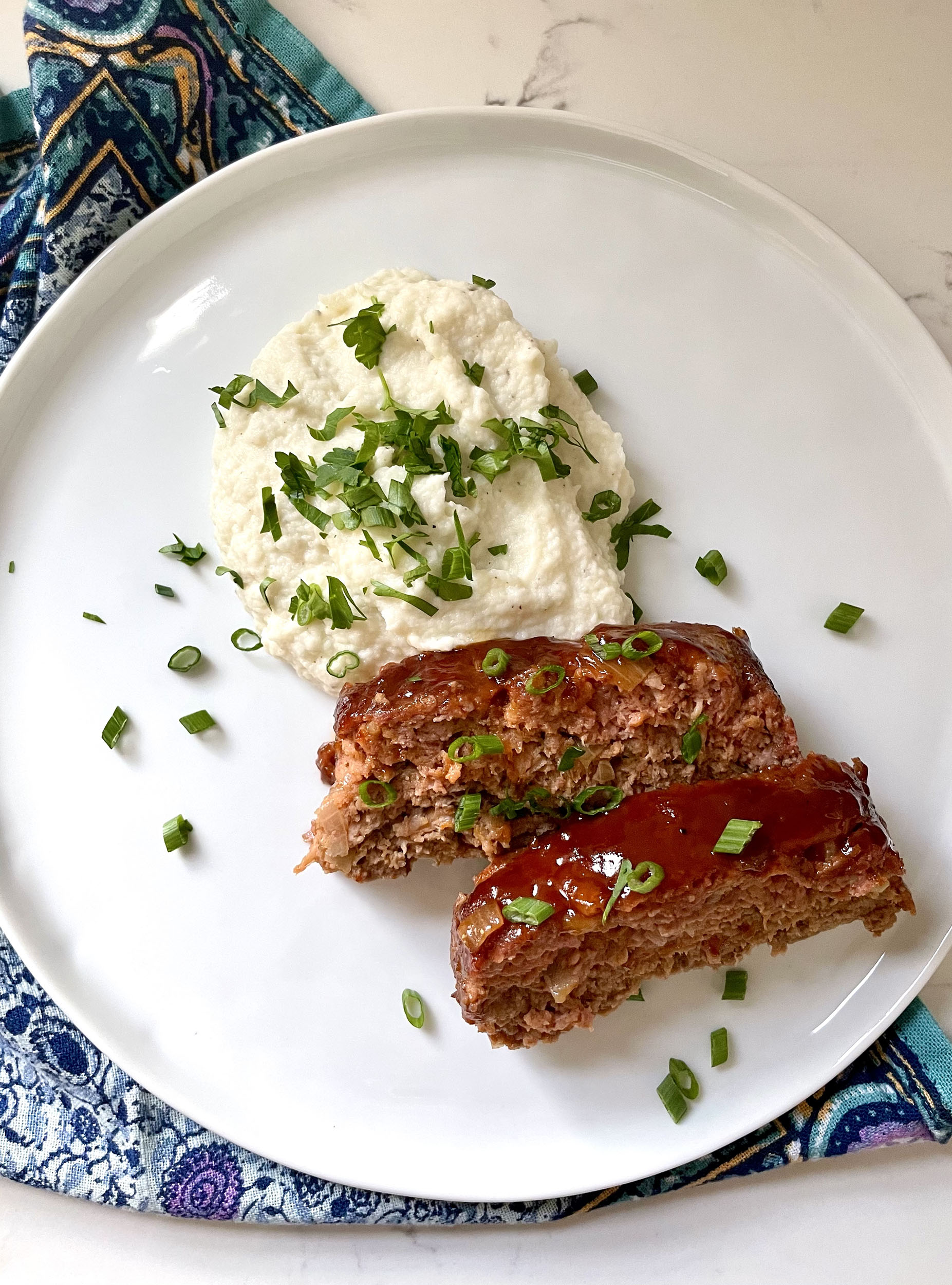 Print Recipe
Smoked Meatloaf and Cauliflower Mashies
Comfort food at its finest. Smoked Meatloaf and Cauliflower Mashies takes classic meat and potatoes to a whole new level. Sweet glaze over a spicy mix of Italian sausage and ground beef, smoked to juicy perfection pairs beautifully with savory and rich Cauliflower Mashies.
Ingredients
Meatloaf

1.5 lbs. 80/20 Ground Beef

2 Sweet Italian sausages

1/2 Yellow Onion, diced

1 tbsp. Bacon Fat (or butter)

2 Eggs, beaten

2 tsp. Kosher Salt

2 tsp. Guajillo Chile Powder (or regular chili powder)

1 cup Breadcrumbs

1 cup Milk

BBQ sauce of your choice, warmed

Cherry or Apple wood Chips

Cauliflower Mashies

1 Head of Cauliflower, cut into small florets

1 Clove Garlic, minced (if you don't want to use the garlic raw, sauté in olive oil until fragrant)

¼ cup Parmesan Cheese, shredded

1 tbsp. Cream Cheese

½ tsp. Kosher Salt

⅛ tsp. Freshly Ground Black Pepper

Sliced Scallions and Chopped Parsley for garnish, if desired
Instructions
1
Using Cherry or Apple wood chips, preheat the smoker to 275 degrees.
2
Heat a tablespoon of bacon fat in a skillet and sauté the diced onions until translucent and lightly browned.
3
In a large bowl, hand-mix the ground beef, Italian sausage, bread crumbs, milk, Guajillo Chile powder, Kosher salt and sautéed onions.
4
Prepare a half sheet tray (or quarter sheet tray) with a piece of parchment and a loaf pan with another piece of parchment.
5
Press half of the meatloaf mixture into the loaf pan and flip it out onto the half sheet tray. continue with the other half of the meatloaf mixture to create two side-by-side loaves.
6
Stick one of the loaves with a probe thermometer and set the temperature for 160 degrees.
7
When the internal temperature reaches 145 degrees, or when there is about 15 minutes left to cook, glaze the loaves with the warm barbecue sauce. Close the lid and glaze once more 10 minutes later. Meatloaves are done when the internal temperature reaches 160 degrees.
8
Steam the cauliflower pieces for 15-20 minutes. Check it after 10 minutes to gauge doneness. The cauliflower should be fork tender.
9
In a food processor, process half the steamed cauliflower until the texture resembles dry mashed potatoes.
10
Add a little more cauliflower at a time until all the cauliflower is processed to a creamy consistency.
11
Add the cream cheese, Parmesan, garlic, Kosher salt and pepper.
12
Process until smooth and creamy. If it's not as creamy as you want, drizzle in a little olive oil and process until smooth.