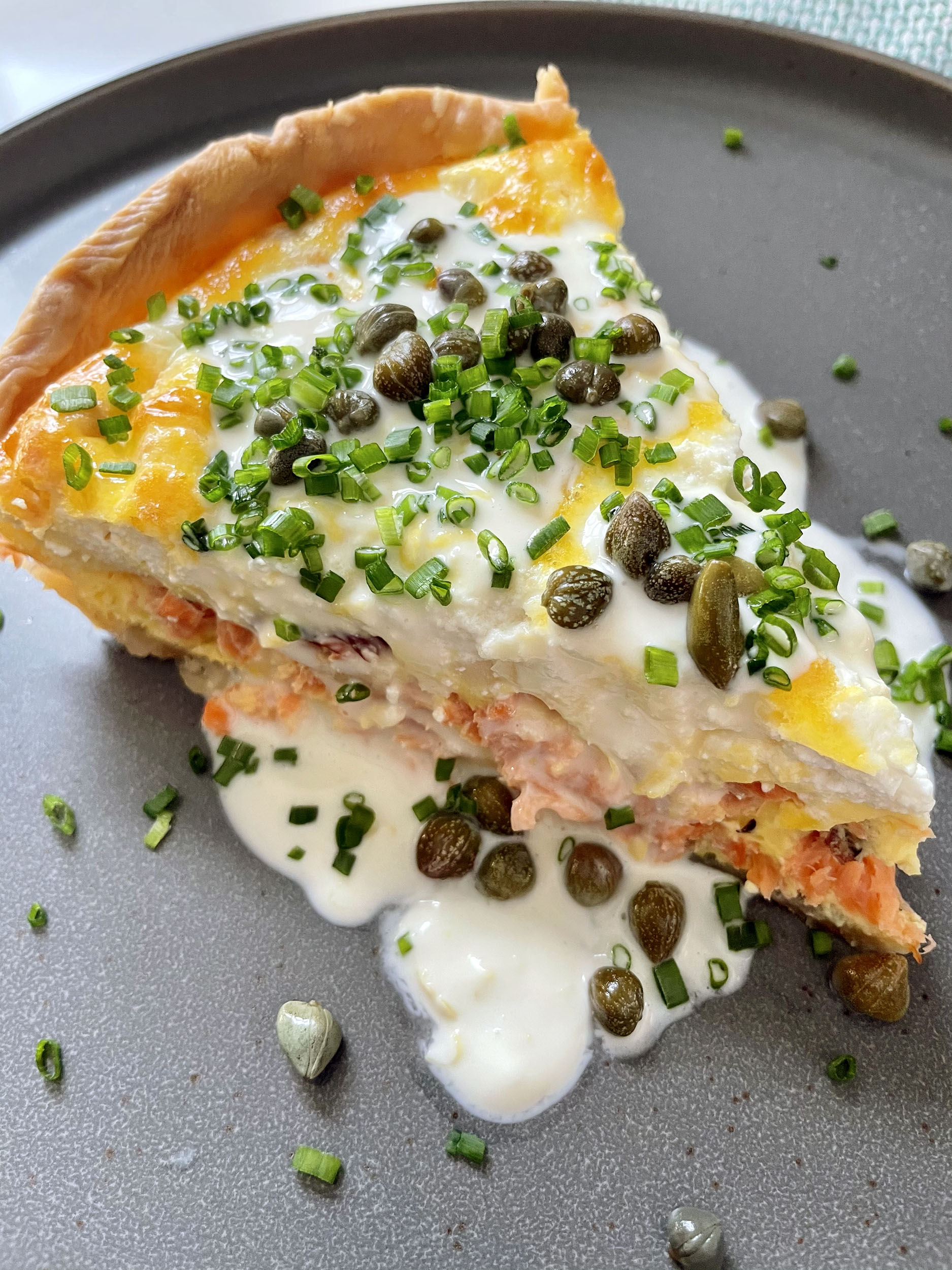 Print Recipe
Smoked Salmon and Ricotta Quiche
Smoky, salty smoked salmon goes beautifully with the fluffy, light ricotta and eggs. Finished with a lemon créme fraîche drizzle, chives and capers.
Ingredients
1 Prepared Pie Crust

6 Whole Large Eggs

2/3 cup Heavy Cream

1/4 cup Grated Pecorino + more for sprinkling

1/2 cup Ricotta Cheese

Pinch of Kosher Salt

14-16 oz. Hot Smoked Alaskan Salmon (or your favorite smoked salmon)

1 Shallot, finely diced

1/4 cup Crème Fraîche, optional

Zest of 1 Lemon, optional

Juice of 1/2 Lemon, optional

Capers, optional

Chives, finely chopped, optional
Instructions
1
Preheat oven to 350 degrees.
2
Blind bake the pie crust by placing the prepared dough in a pie dish. Lay a sheet of parchment on the dough in the pie dish and fill the parchment with dry beans or pie weights. Bake for 15 minutes.
3
Whisk together the eggs and the heavy cream and set aside.
4
Stir together the 1/4 cup of grated Pecorino, Ricotta and the pinch of salt, set aside.
5
Remove the parchment and beans from the par-baked crust.
6
Sprinkle a small handful of grated Pecorino on the crust as the first layer of the quiche.
7
Then, break the salmon up into chunks and spread evenly over the grated Pecorino. (If using Lox or thinly sliced cold smoked salmon, bunch up each slice to create a little mound of salmon and arrange the mounds evenly over the Pecorino.)
8
Sprinkle the diced shallot over the salmon.
9
Pour the egg and cream mixture over the salmon and shallot.
10
Use your fingers, or a spoon to dollop ricotta mixture evenly in the eggs.
11
Bake the quiche for 50-55 minutes, until the crust is golden and the center of the quiche is springy to the touch. Let the quiche sit for 10 minutes before slicing.
12
Top with a drizzle of the crème fraîche dressing, capers and chives.
Optional Crème Fraîche Dressing
13
Mix together the crème fraîche, lemon zest and juice