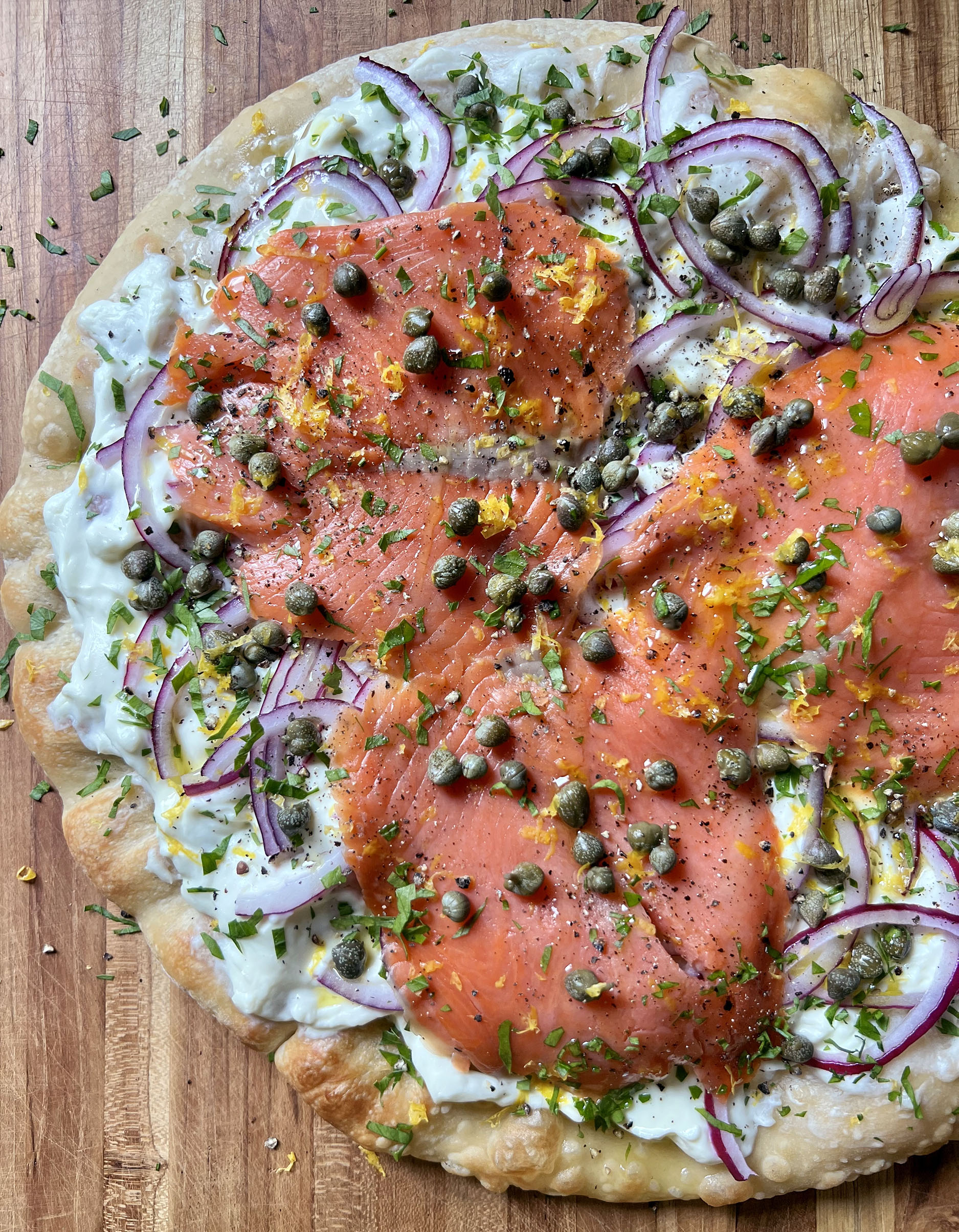 Print Recipe
Smoked Salmon Pizza
Take your bagel with cream cheese, lox and capers; replace the bagel with a crispy, chewy golden pizza crust. Add some lemon zest and olive oil.
Ingredients
1 Prepared Flatbread or Pizza Dough

Olive Oil, plus more for garnish

8 oz. Cream Cheese, at room temperature

1/4 Red Onion, sliced thinly

4 oz. Smoked Salmon or Lox

Capers

Lemon Zest

Parsley, chopped fine for garnish
Instructions
1
Preheat the oven to 450 degrees F with a pizza steel or stone.
2
Roll or spread out the dough on a lightly floured pizza peel and brush the whole dough with olive oil. Slide the dough onto the preheated steel or stone and bake for about 15 minutes.
3
Keep a watch on the dough, if any big bubbles develop, you can deflate them with a sharp knife. Pull the dough when it's golden on top and bottom. Then, shut off the oven; we will use the radiant heat to warm the cream cheese and take the raw edge off the onion.
4
Leave the baked dough on the peel and spread the softened cream cheese over the dough, leaving a border for the crust. Then top the cream cheese with the thin red onion slices.
5
Slide the cream cheese and onion-topped pizza back into the still-hot oven, on the stone or steel for about 5 minutes.
6
After its 5 minutes in the still-warm oven, pull the pizza and lay the smoked salmon slices evenly on top of the pizza. If you're using thinner lox, you can crumple the slices a little for added texture and nice presentation.
7
Garnish the Smoked Salmon Pizza with capers, lemon zest and finely chopped parsley. Finishing it off with a good drizzle of olive oil.