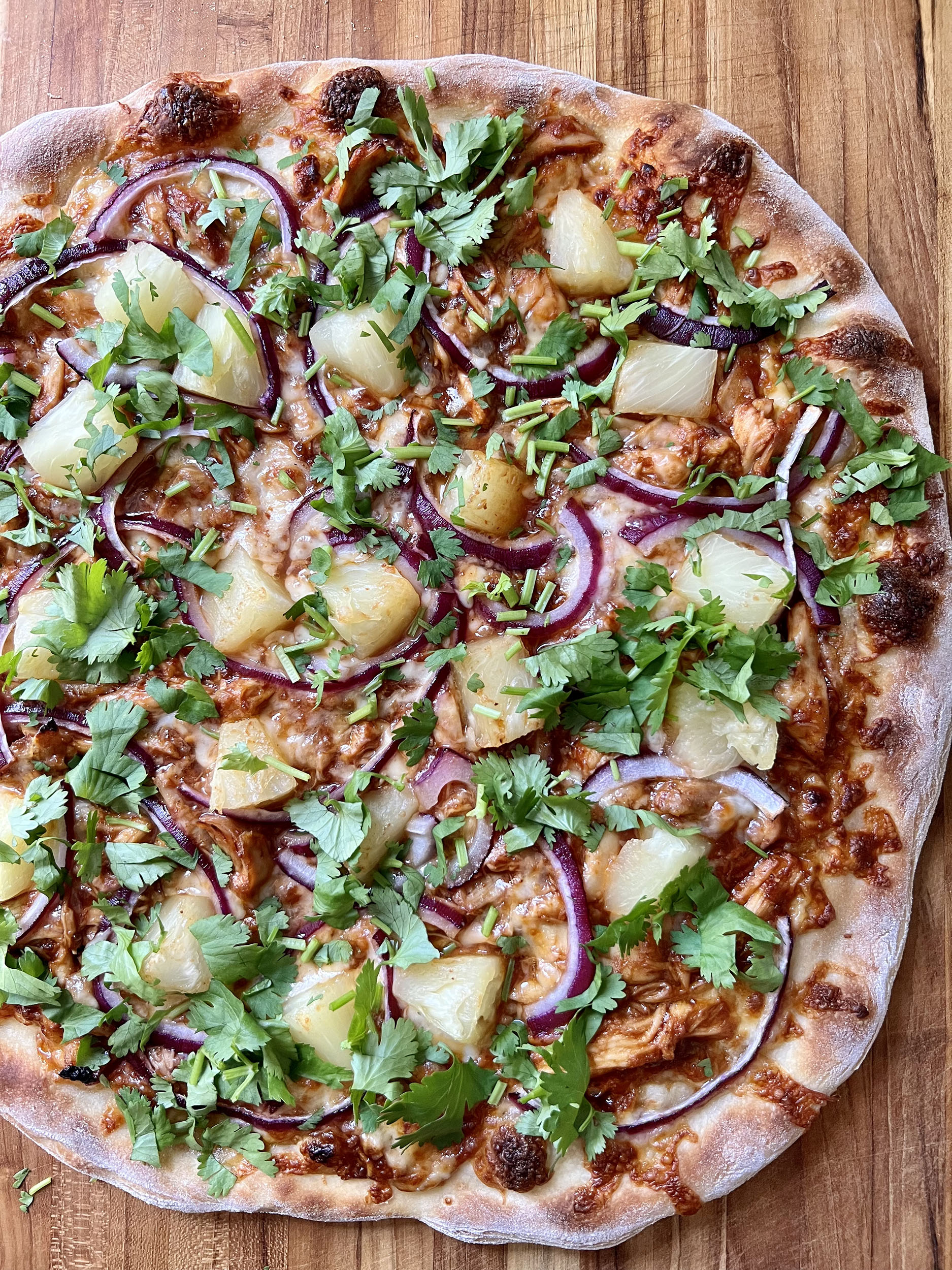 Print Recipe
Smoky Barbecue Chicken Pizza
A new kind of Barbecue Chicken Pizza with spicy barbecue sauce, rotisserie chicken, red onions, smoked mozzarella and pineapple. Finished with fresh cilantro.
Ingredients
1.5 cups Shredded Rotisserie or Leftover Chicken

1/3 cup Smoky, Spicy Barbecue Sauce

1 Prepared Pizza Dough

1.5 cups Smoked Mozzarella Cheese

1/4 Red Onion, sliced thinly

1/4-1/2 cup Pineapple Chunks

Fresh Cilantro, rough chopped
Instructions
1
Start by preheating the oven to 450 degrees F with a pizza stone or steel.
2
In a small bowl stir together the chicken and the barbecue sauce.
3
On a lightly floured pizza peel, roll, spin or stretch a prepared pizza dough to about 12-inches round.
4
Start with about 3/4 of the cheese. Spread the cheese evenly over the dough leaving a 1/2-inch border for the crust. Then spread the barbecue chicken evenly over the cheese.
5
Top the chicken with the remaining cheese. Now, scatter the red onion slices on top.
6
Finally, dot the top with the pineapple chunks. Bake the pizza for 10-15 minutes, until the crust is golden brown and the cheese is melted and bubbly.
7
The pineapple will release a bit of moisture, so you can blot the top of the pie with paper towels. Let the pizza sit for 2 minutes or so before slicing. Meanwhile, rough chop some fresh cilantro. Finish the pie by sprinkling cilantro over the top. Use as much as you like.
8
Slice it up how you like it and that's it!