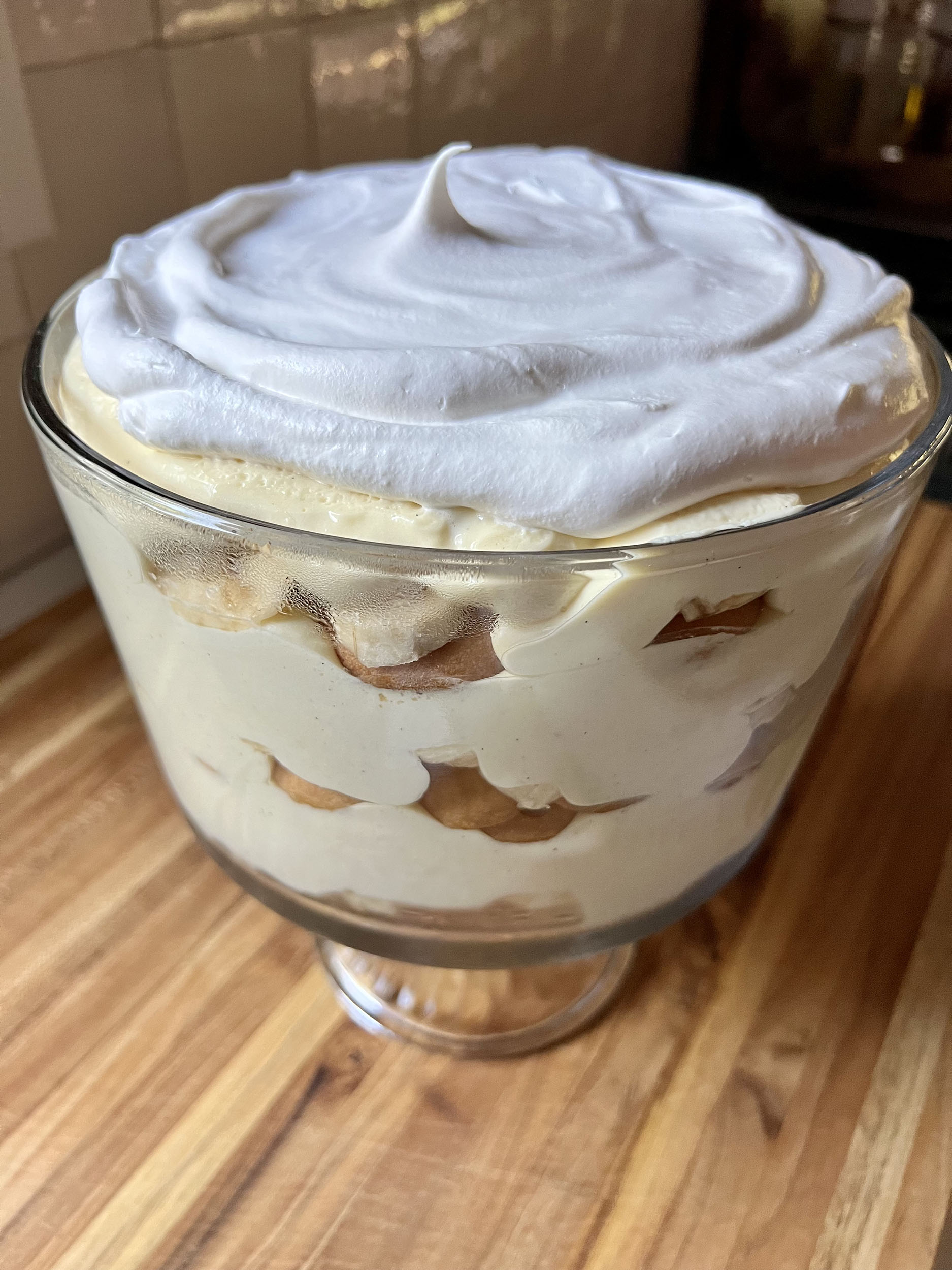 Print Recipe
Southern Banana Pudding
Cool, light, vanilla pudding with the tang of cream cheese, is punctuated by fresh banana slices and slightly crunchy, chewy Nilla Wafers.
Ingredients
8 oz. Cream Cheese, softened to room temperature

14 oz. Can Sweetened Condensed Milk

5 oz. Package Instant Vanilla Pudding Mix

3 cups Whole Milk

2 tsp. Vanilla Bean Paste or Vanilla Extract

8 oz. Tub Cool Whip, thawed, divided in half

11 oz. Box Nilla Wafers

5 Bananas
Instructions
1
Start with beating the softened cream cheese in the bowl of a stand mixer (or in a large bowl with a hand mixer). Beat until the cream cheese is light and fluffy.
2
Then add the vanilla pudding mix, milk, sweetened condensed milk and vanilla bean paste (or vanilla extract). Mix until well combined.
3
The rest we will mix by hand. Add half of the Cool Whip to the mixture, and use a silicone spatula to fold in the Cool Whip. (Reserve the remaining half of the Cool Whip tub for the presentation topping)
4
Let the pudding sit for a second while we slice 2 bananas into 1/8 to 1/4-inch slices. We can slice the bananas as we go, so they won't turn brown. Now we will layer the pudding with the Nilla Wafers and banana slices. Start with a layer of Nilla wafers. Use about 1/3 of the package of each layer.
5
The next layer will be banana slices. Add the two sliced bananas on top of the wafers. Next is pudding. Use a ladle to spoon on about 1/3 of the pudding mixture onto the Nilla Wafers.
6
Now we repeat the layering. We should end with 3 layers each of: wafers, banana slices and pudding, ending with pudding.
7
Now, cover with plastic wrap and refrigerate for one to two hours.
8
Just before serving, remove from the fridge and take off the plastic wrap. Top the Southern Banana Pudding with the remaining half tub of the Cool Whip. Smooth the Cool Whip over the top to cover the pudding layer.