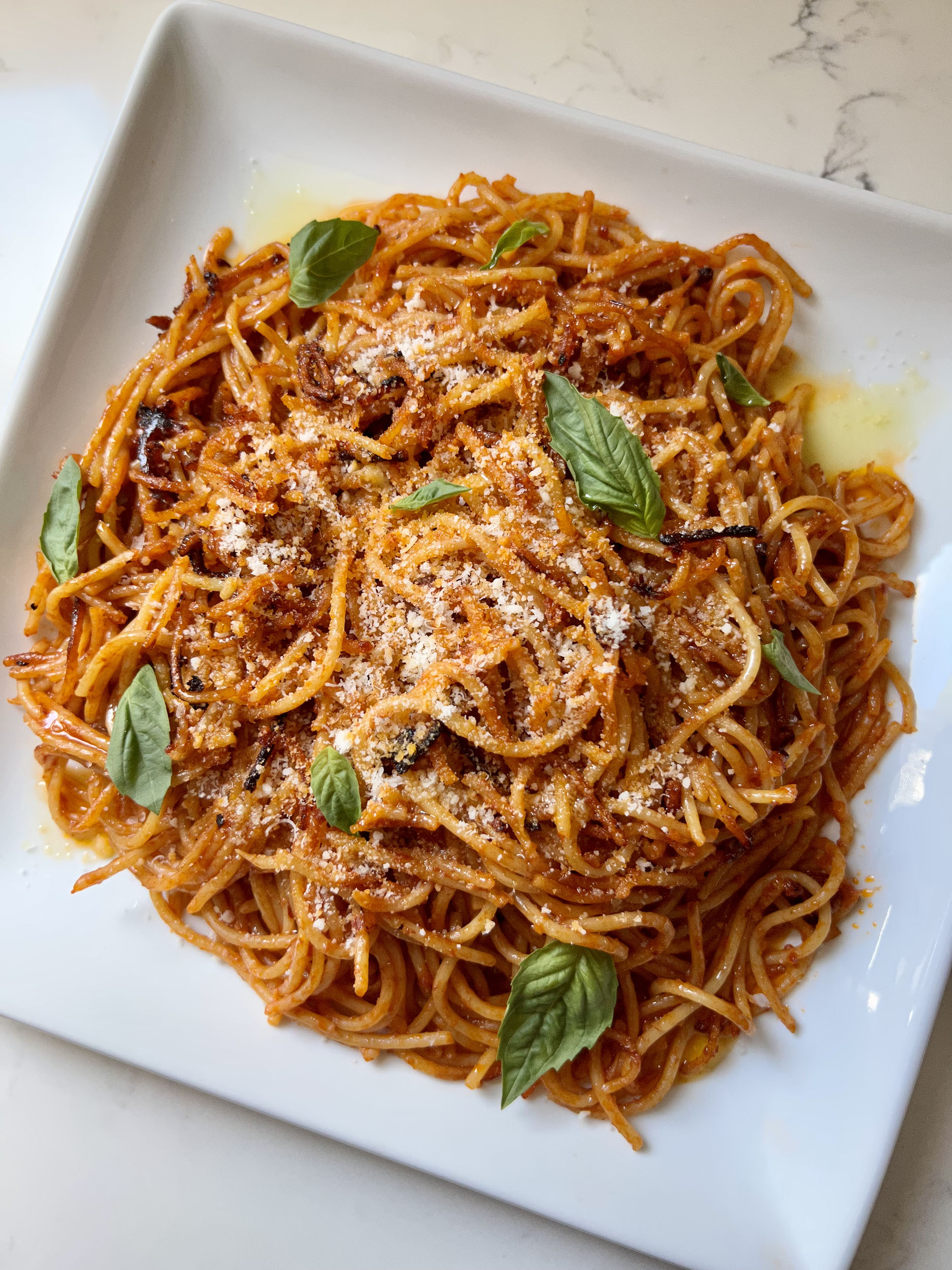 Print Recipe
Spaghetti all'Assassina
With Spaghetti all'Assassina every bite is a perfect bite of intense tomato flavor, glorious texture variety; crispy, chewy, soft and bouncy.
Ingredients
6 cups Water

1/4 cup Tomato Paste

1 tsp. Sugar

1/3 cup Olive Oil, plus more for finishing Spaghetti

2 Garlic Cloves, minced

1/2-3/4 tsp. Red Pepper Flakes

1 cup Tomato Passata

2 tsp. Kosher Salt

12 oz. Spaghetti

Garnish with Parmesan, Flaky Finishing Salt and Fresh Basil, if desired
Instructions
1
In a medium saucepan, whisk together the 6 cups of water, sugar and tomato paste over medium-high heat. When it comes up to a simmer, reduce the heat to low to keep it hot.
2
On the burner next to the hot tomato broth, over medium heat, heat the 1/3 cup of olive oil in your 12-inch nonstick skillet. Add the minced garlic and red pepper flakes. Stir and sauté the garlic until it is golden. About 2 minutes.
3
Now add the 1 cup of passata to the hot oil and garlic. Add the kosher salt. Cook the sauce while stirring frequently until the sauce has thickened and the oil around the edges is bubbling.
4
Add the uncooked pasta in an even layer to the bubbling passata. Increase the heat to medium-high and add 1 cup of the hot tomato broth from the saucepan.
5
Frequently push between the strands of spaghetti with a spatula to prevent clumping and cook until the liquid is mostly absorbed by the pasta. About 5minutes. Now add another cup of the tomato broth and repeat; pushing between the strands until the liquid is mostly absorbed.
6
Now, use two fish spatulas flip half of the spaghetti over. Do the same with the other half of spaghetti.
7
Add another cup of broth and continue to cook the pasta while pushing between the strands, like before.
8
Once this third cup of broth is absorbed, about 5-7 minutes, add another cup of tomato broth. Once the fourth cup of broth is absorbed and the sauce in the pan is sizzling, repeat the flipping of pasta. Then add a fifth cup of tomato broth to the spaghetti. Let this cook until absorbed, just as before, about 5-7 minutes. Now test a strand or two of pasta. It should be tender yet, firm. If it's not yet al dente, add the remaining cup of tomato broth, 1/2 a cup at a time and test the doneness between adding the 1/2 cups.
9
When the pasta is cooked through, spread it out in the pan and turn the heat up to high. Cook the pasta, undisturbed until the underside is very browned and beginning to char. About 3-5 minutes. Remove from heat. and transfer the Spaghetti all'Assassina to a serving dish. Drizzle with two tablespoons of olive oil.