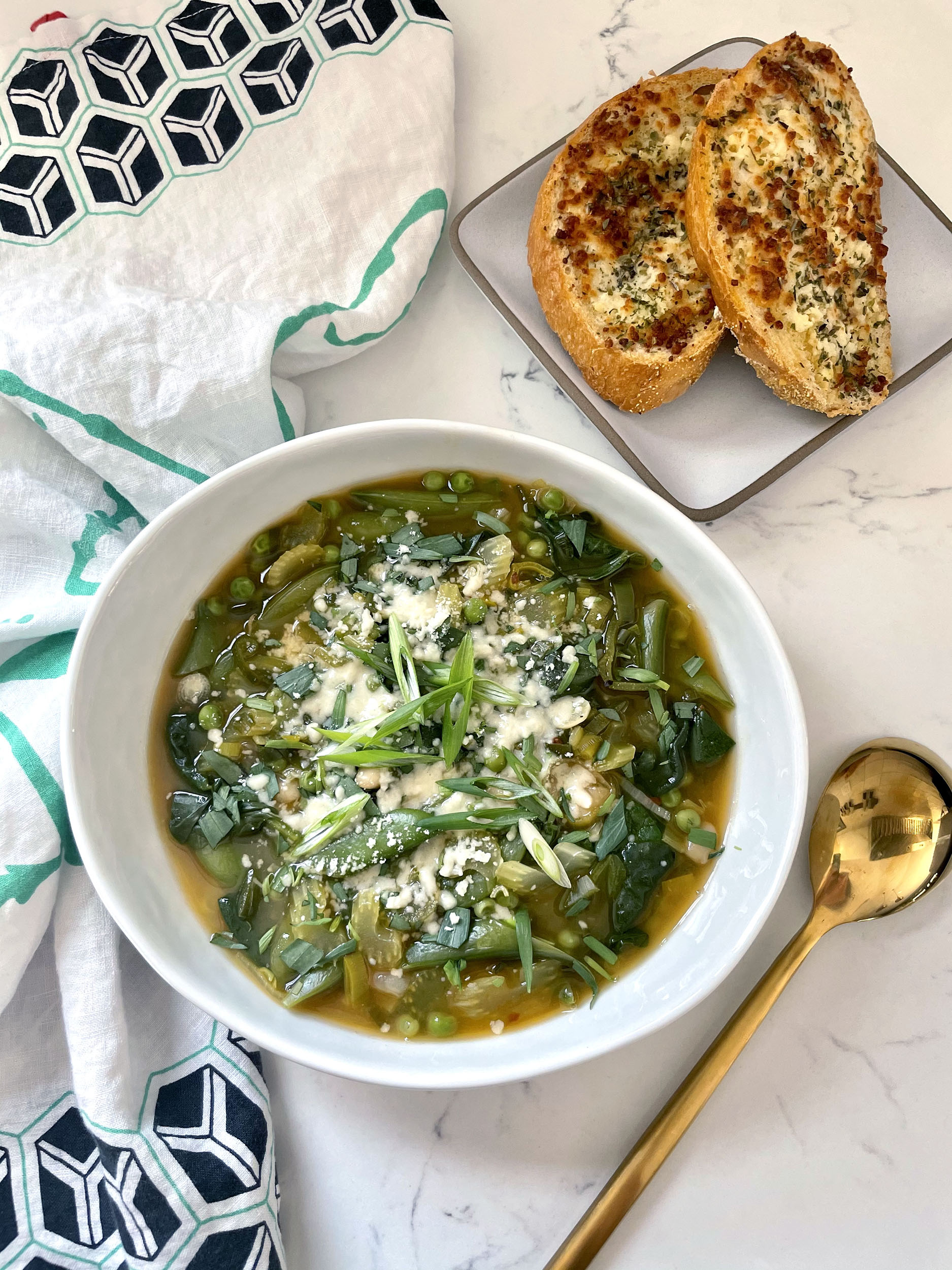 Print Recipe
Spring Soup with Greens and Beans
Leek and garlic, crunchy snap peas, velvety soft white beans, and fresh tarragon, this soup is savory and vibrant. It's like a warm spring hug!
Ingredients
8 cups Vegetable Broth

5 Scallions, thinly sliced (about 1/2 cup)

4 Garlic Cloves, thinly sliced (about 1.5 tbsp. sliced)

1 Large Leek, thinly sliced (about 1.5 cups thinly sliced)

3 Celery Ribs, cut diagonally in thin slices (about 1 cup sliced)

2.5 tsp. Kosher Salt + more to taste

1.2 tsp. Black Pepper + more to taste

1/4 tsp. Red Pepper Flakes

1 15.5-oz. can Cannellini Beans, drained and rinsed

8 oz. Sugar Snap Peas, trimmed and diagonally cut in half lengthwise (about 1.5 cups sliced)

2 cups packed Fresh Baby Spinach

1 cup Frozen Sweet Peas, thawed

Fresh Tarragon, chopped (or dill, if you prefer)

Sprinkle of grated Parmesan Cheese

Drizzle of Olive Oil
Instructions
1
Stir together broth, scallions, garlic, leek, celery, salt, black pepper, and crushed red pepper in a stock pot or dutch oven.
2
Bring to a boil and reduce the heat to simmer for 15-20 minutes, until vegetables are tender.
3
Add the beans and snap peas, spinach and sweet peas. Stir to combine and submerge the spinach. Taste the soup and add more Kosher Salt and/or cracked black pepper to taste. Bring to a simmer and cook for 5-10 minutes. (For more well done snap peas, simmer for 15-20 minutes.)
4
Ladle portions into a bowl, top with fresh tarragon and a sprinkling of parmesan cheese.