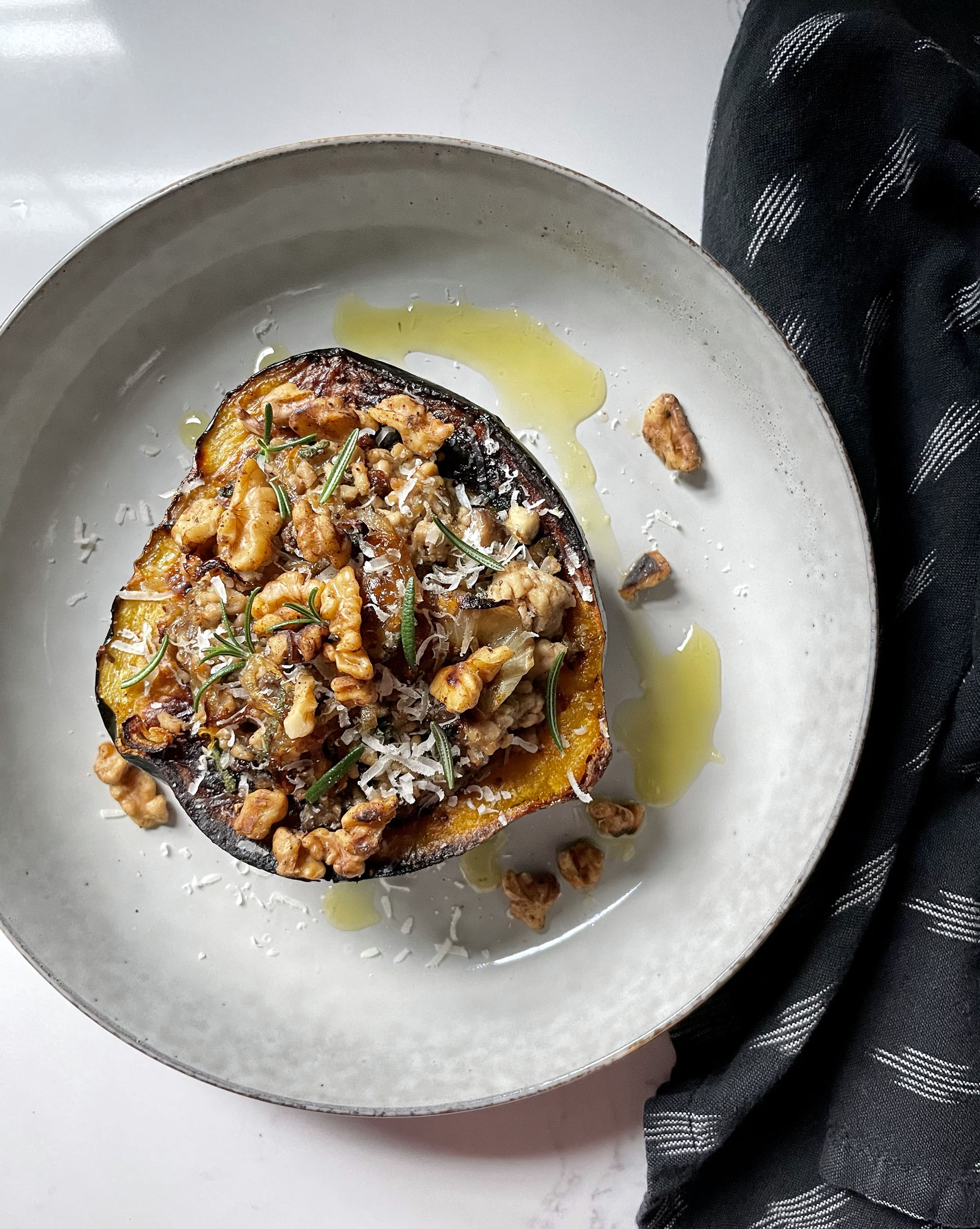 Print Recipe
Stuffed Acorn Squash
A stuffed squash is a meal unto itself and this recipe has it all: flavorful savory pork filling, plus the mellow sweetness of acorn squash. gluten and dairy free, this recipe is a healthy way to indulge in the flavors of fall.
Ingredients
1-2 Acorn Squash, halved and seeded

1 Large Yellow Onion, thinly sliced

1 lb. Ground Pork (or Turkey, or Beef)

1 Package Crimini or White Mushrooms, roughly chopped

Olive Oil

Kosher Salt to taste

Black Pepper to Taste

1 tsp. Garlic Powder

1 tsp. Ground Sage

2 tsp. Celery Seed

1 tsp. Soy Sauce

1 tsp Fresh Rosemary Leaves

6-8 Fresh Sage Leaves

Toppings

Olive Oil drizzle

Grated Parmesan

Toasted Walnuts

Fresh Rosemary Leaves
Instructions
1
Preheat oven to 450 degrees.
2
Slowly sauté thinly sliced yellow onion over low heat with 1-2 tablespoons of olive oil and pinch of salt for one hour.
3
Meanwhile, place Acorn Squash halves on sheet tray, cut side up, and drizzle with olive oil. Sprinkle with a pinch of kosher salt and black pepper. Turn squash cut side down and roast for 20-25 minutes. Squash is done when the cut sides are browned and the flesh is tender.
4
Meanwhile, brown ground pork with a pinch of kosher salt. Once mostly cooked through, add garlic powder, ground sage and celery seed.
5
Add mushrooms to pork, reduce heat to medium low and add soy sauce. Let simmer, stirring occasionally until squash and onions are ready. Then add the fresh rosemary and fresh sage to the pork and mushrooms.
6
Stir onions into the pork and mushroom mixture.
7
Fill each squash half with pork and mushroom mixture (about two slotted spoon's worth) creating a small mound of filling above top of squash.
8
Bake filled squashes at 450 degrees for 5 minutes.
9
Plate and top with a drizzle of olive oil, grated parmesan, toasted walnuts and fresh rosemary leaves.
Notes
Toppings: Toast your nuts (about a cup) on the stovetop over medium low, in about a tablespoon of salted butter. You can add whatever spices you like. They are done once they become golden and fragrant (about 5 minutes). Alternate toppings: Toasted walnuts with blue cheese crumbles and dried cranberries. Toasted pine nuts, feta and fresh oregano.