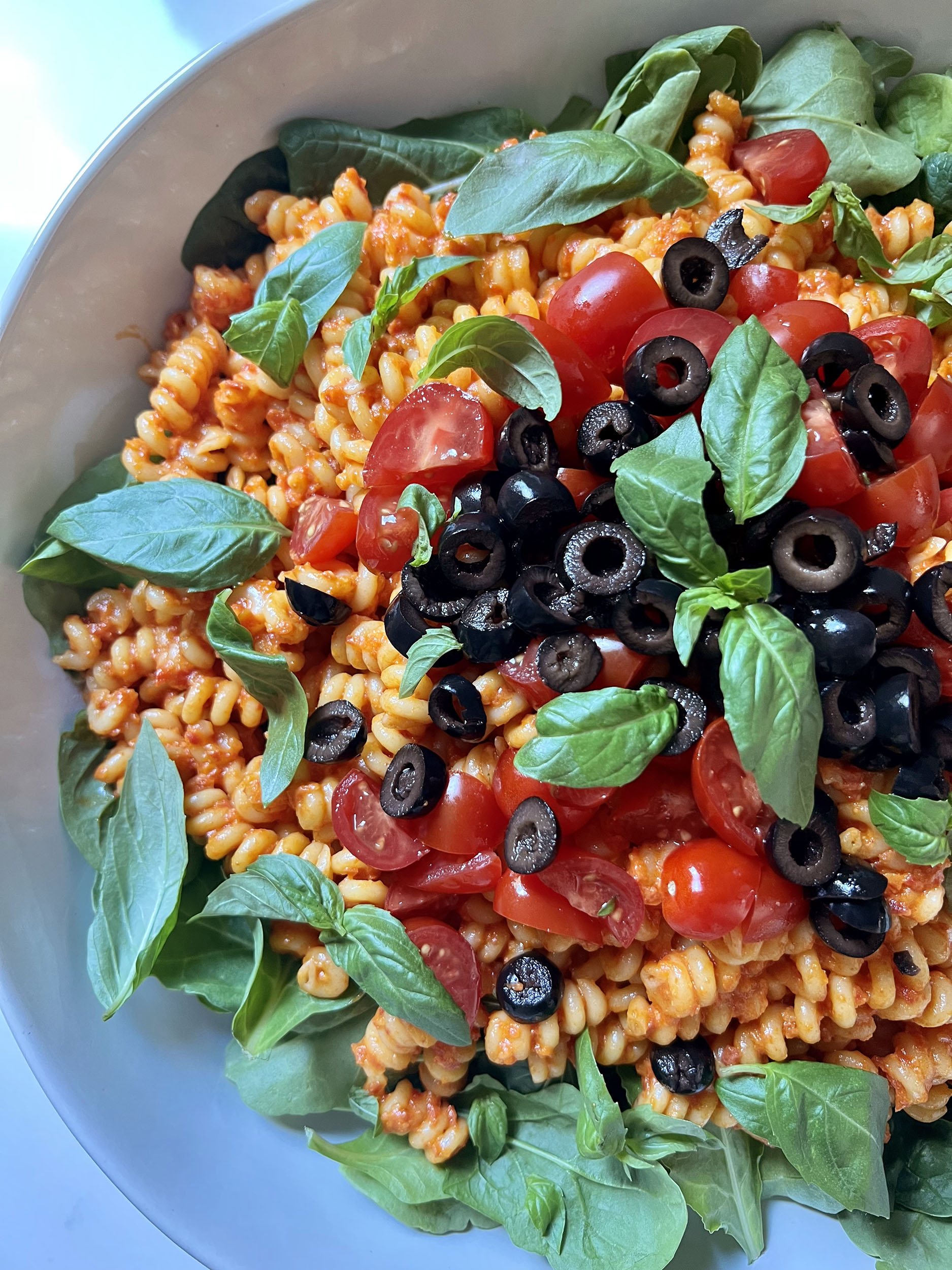 Print Recipe
Sun Dried Tomato Pesto Pasta
Sun dried tomato pesto is vibrant and flavorful; This recipe mixes sun dried tomato pesto with fusilli pasta, fresh tomatoes, fresh basil and black olives.
Ingredients
Sun Dried Tomato Pesto

2 7 to 8-oz. Jars of Julienned Sun Dried Tomatoes in Oil

1/4 cup Ground Parmesan Cheese

1/4 cup Pine Nuts

Olive Oil

Sun Dried Tomato Pesto Pasta

16 oz. Fusilli Pasta, cooked to al dente

1.5 cups Sun Dried Tomato Pesto

2 cups Pasta Cooking Water

How to Serve

5 oz. Washed Greens

1/2 cup Quartered Cherry Tomatoes

1/4 cup Sliced Black Olives

Fresh Basil Leaves
Instructions
1
Pour the entire jar contents of the sun dried tomatoes into the bowl of a food processor. To that, add 1/4 cup of pine nuts and 1/4 cup of ground Parmesan cheese.
2
Process the sun dried tomatoes, cheese and pine nuts until the mixture resembles a thick paste. Then drizzle in olive oil with the processor running until a smoother, looser consistency is reached. Transfer the sun dried tomato pesto to a jar or airtight container.
Sun Dried Tomato Pesto Pasta
3
Cook 16-ounces of pasta in 4 quarts of salted water according to package directions for al dente doneness.
4
Scoop out 2 cups of the pasta cooking water and set aside. Then drain the pasta.
5
In the same pot used to cook the pasta, transfer 1.5 cups of the sun dried tomato pesto. Turn the burner to medium-low.
6
Pour in about 1/2-1 cup of the reserved pasta cooking water and stir it into the pesto to create a loose sauce. Then add the drained pasta back to the pot and vigorously stir to coat the pasta in the sun dried tomato pesto sauce. Add more pasta water as needed and keep vigorously stirring to create a shiny, creamy sauce coating the pasta. Cut the heat and that's it!
7
You can serve this any number of ways; I am going to serve the pasta on a bed of baby super greens.
8
Top the pasta with quartered cherry tomatoes, sliced black olives and fresh basil leaves.