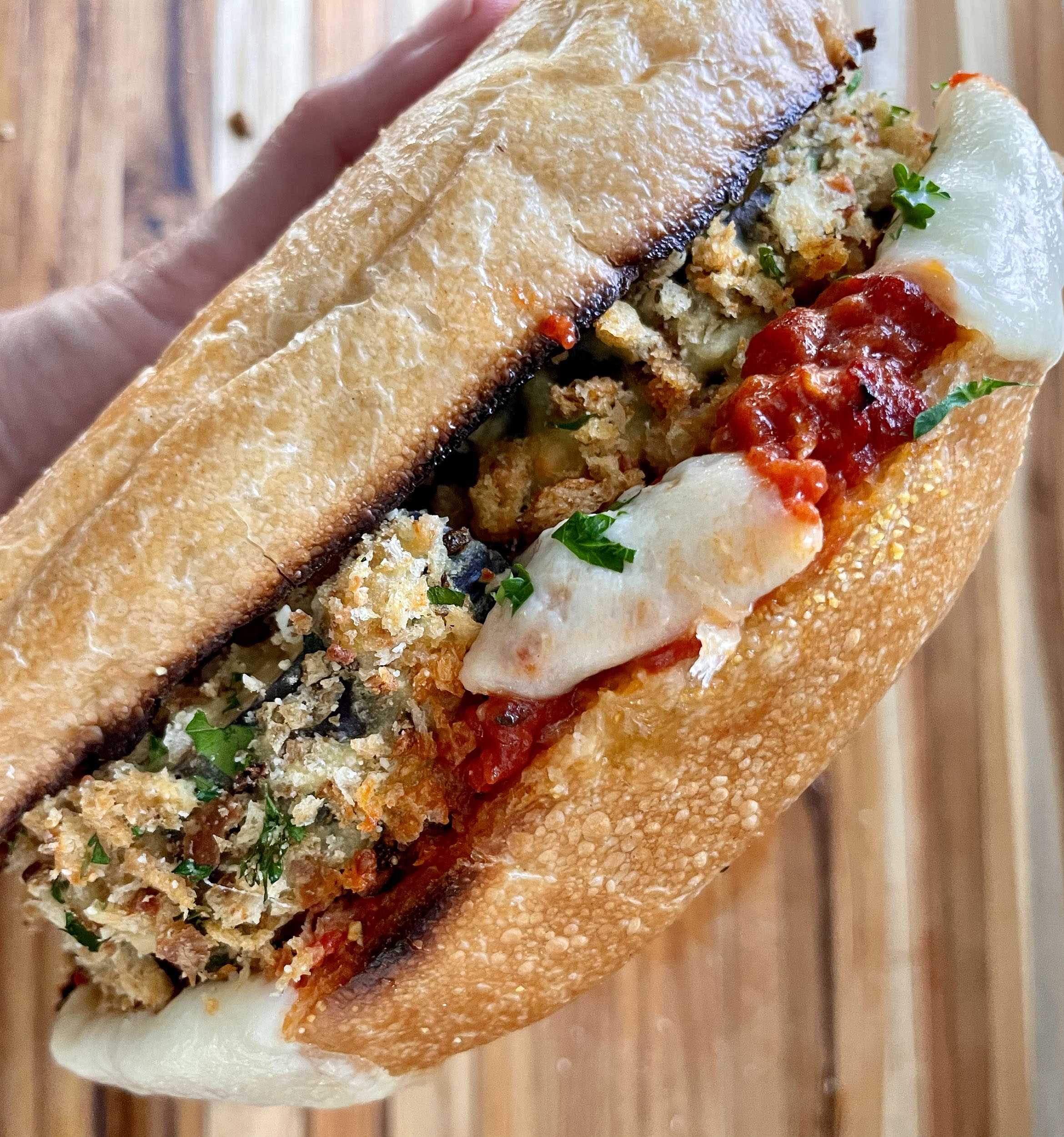 Print Recipe
Super Crunchy Eggplant Parmesan Sandwich
Eggplant cutlets breaded in coarse, herby Parmesan breadcrumbs; baked and assembled in a hoagie roll with thick tomato sauce, fresh mozzarella and grated parmesan.
Ingredients
1 Batch of Coarse Breadcrumbs from The Crunchy Baked Pork Chop recipe (see link in post for recipe)

Tomato Sauce

Drizzle of Olive Oil

2-3 cloves Garlic, minced

1/2 Shallot, minced

1 tsp. Tomato Paste

1 28-oz. Can of Diced, Crushed or Whole (hand crushed) Tomatoes, with their juices

1 Bay Leaf

1-2 tbsp. Balsamic Vinegar

Eggplant and Batter

1 small to medium Italian Eggplant, sliced into 1/2" thick cutlets (or thinner slices if you prefer)

1/4 cup Flour, plus 6 tbsp. Flour

3 Large Egg Whites

3 tbsp. Dijon Mustard

Sandwich

2-4 Hoagie Rolls, sliced in half with some bread scooped out of the top to make a trough

6-12 slices Fresh Mozzarella

Grated Parmesan Cheese, eyeball it, use however much you like!

Fresh Parsley, chopped
Instructions
1
Heat oven to 375 degrees.
2
Over medium-low heat, sauté the shallot for a minute or two then add the garlic and sauté for another 30 seconds.
3
Add the tomato paste and cook, stirring until the tomato paste darkens in color a bit.
4
Add the tomatoes and their juice, stir to combine and reduce heat to low.
5
Toss in a bay leaf, if you have one.
6
Let it gently simmer, stirring occasionally until it's thickened up quite a bit, about 7-10 minutes.
7
Then add some balsamic. Stir and continue to let simmer on low.
8
Place 1/4 cup flour in pie plate.
9
In second pie plate, whisk egg whites and mustard until combined; add remaining 6 tablespoons flour and whisk until almost smooth, with pea-sized lumps remaining.
10
Dredge eggplant cutlets in flour, then egg white mixture, them breadcrumbs. Pat the breadcrumbs onto the eggplant slices and transfer breaded slices to a wire rack placed in a sheet tray.
11
Bake eggplant for 20 minutes, or until the breading is golden and the eggplant is tender.
12
Switch oven to broil but leave the rack in the middle position.
13
Place the hoagie roll halves on a rimmed sheet tray.
14
Brush olive oil onto each side of cut hoagie roll.
15
Spoon tomato sauce into the trough created in each hoagie roll top. Lay fresh mozzarella slices on top of tomato sauce.
16
Sprinkle desired amount of Parmesan cheese on the other half of the hoagie roll.
17
Place in the oven and closely watch; the Parmesan cheese halves will be golden brown first (about 30 seconds to one minute)
18
Transfer the Parmesan sides to a cutting board and continue to watch the mozzarella sides and transfer out of the oven when the cheese is melted and bubbly.
19
Slice an eggplant cutlet in half and arrange each half to fit on the Parmesan side of the hoagie roll and sprinkle with more parmesan if desired.
20
Sprinkle chopped fresh parsley on the mozzarella side and turn the mozzarella side over, onto the eggplant. Slice sandwich in half.