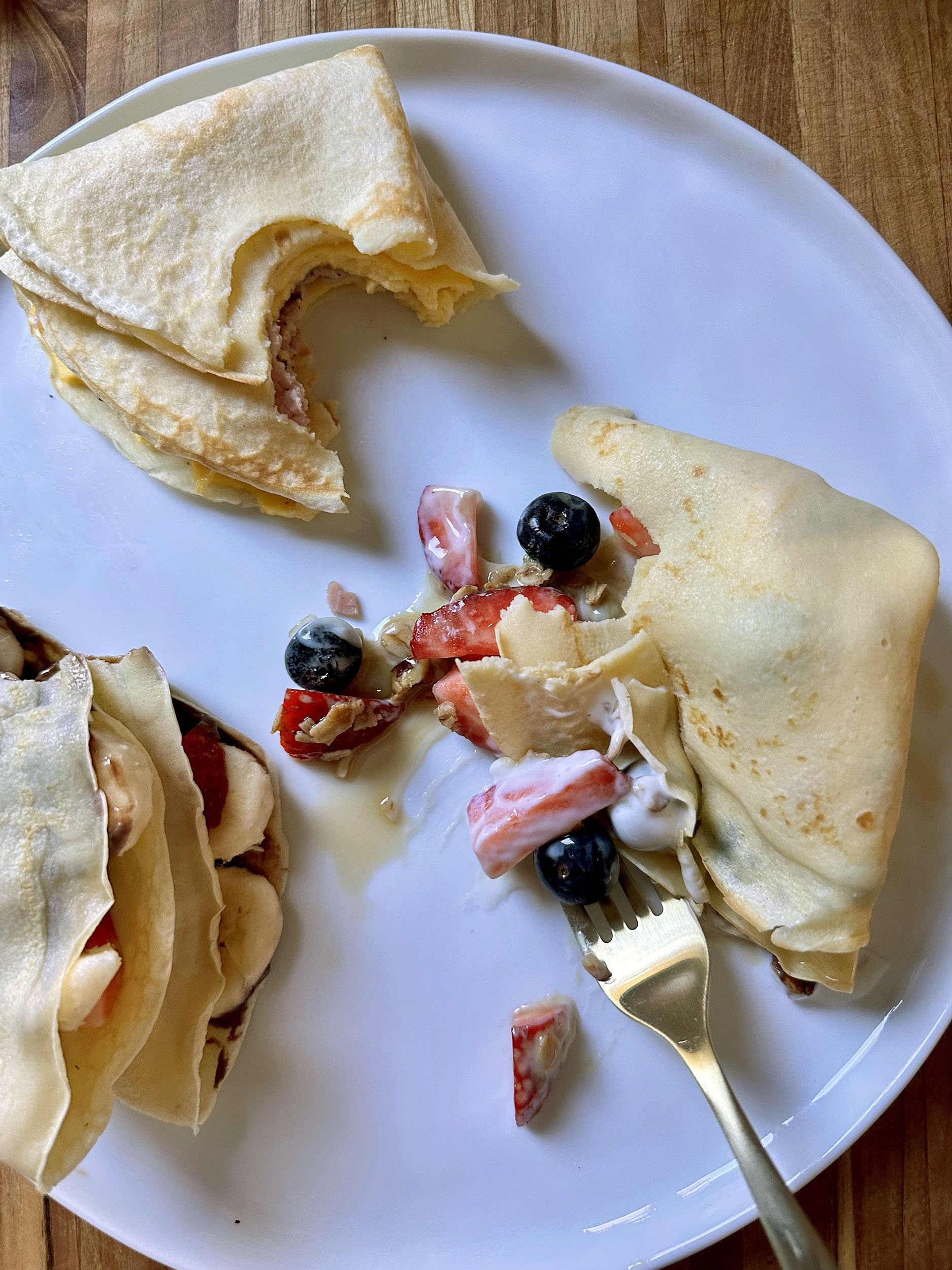 Print Recipe
Super Easy Crepes
Beautiful, light, Super Easy Crepes. Fill them with sweet or savory ingredients; make them special, or make them for meal prep; they're a perfect wrap to give your leftovers a makeover. For a quick and easy snack wrap, reach for a crepe.
Ingredients
1 cup All-Purpose Flour

1 tsp. Sugar

1/2 tsp. Kosher Salt

1.5 cups Whole Milk

3 Large Eggs

2 tbsp. Unsalted ­Butter, melted and cooled

1/2 tsp. Vegetable or Grapeseed Oil
Instructions
1
In a large bowl, whisk together the flour, salt and sugar. In a medium bowl whisk together the eggs and milk.
2
Pour half of the milk and egg mixture into the flour mix and whisk until smooth. Then add the melted, cooled butter to the batter and whisk to throughly mix in the butter. Then add in the remaining half of the egg and milk mixture. Whisk again until smooth.
3
Set the batter aside and set an 8 to 10-inch nonstick skillet on the burner over low heat. Pour 1/2 teaspoon of grapeseed or vegetable oil in the skillet and spread the oil with a paper towel to create a thin and even layer on the bottom of the skillet. Let the skillet heat on low for at least 5 minutes. While the skillet is heating, set a wire rack in a sheet tray and put that beside the skillet.
4
After the skillet has been oiled and heated for 5 minutes, use a 1/4 cup measuring cup to scoop batter from the bowl. Pour the batter in the skillet on the side closest to the handle and immediately tilt the skillet away from you and left and right to let the crepe batter spread out and over the entire bottom of the skillet.
5
As soon as the edges being to curl inward a little and get crisp, it's time to flip. Use the corner of a silicone fish spatula to lift up one side of the crepe and then gently slide the spatula under and flip the crepe. It only takes maybe 1 minute for the first side and 15-10 seconds for the second side.
6
Stack the crepes on the wire rack, and repeat the process until the batter is gone. With this amount of batter, using an 8-inch skillet you'll get about 13 crepes. In a 10-inch skillet, your crepes will be thinner and you'll get 10 crepes.
7
Transfer the crepes to a microwave safe plate and cover with an upside down plate while you prep your fillings. You can pop the plate-covered crepes in the microwave for 20 seconds just before serving.