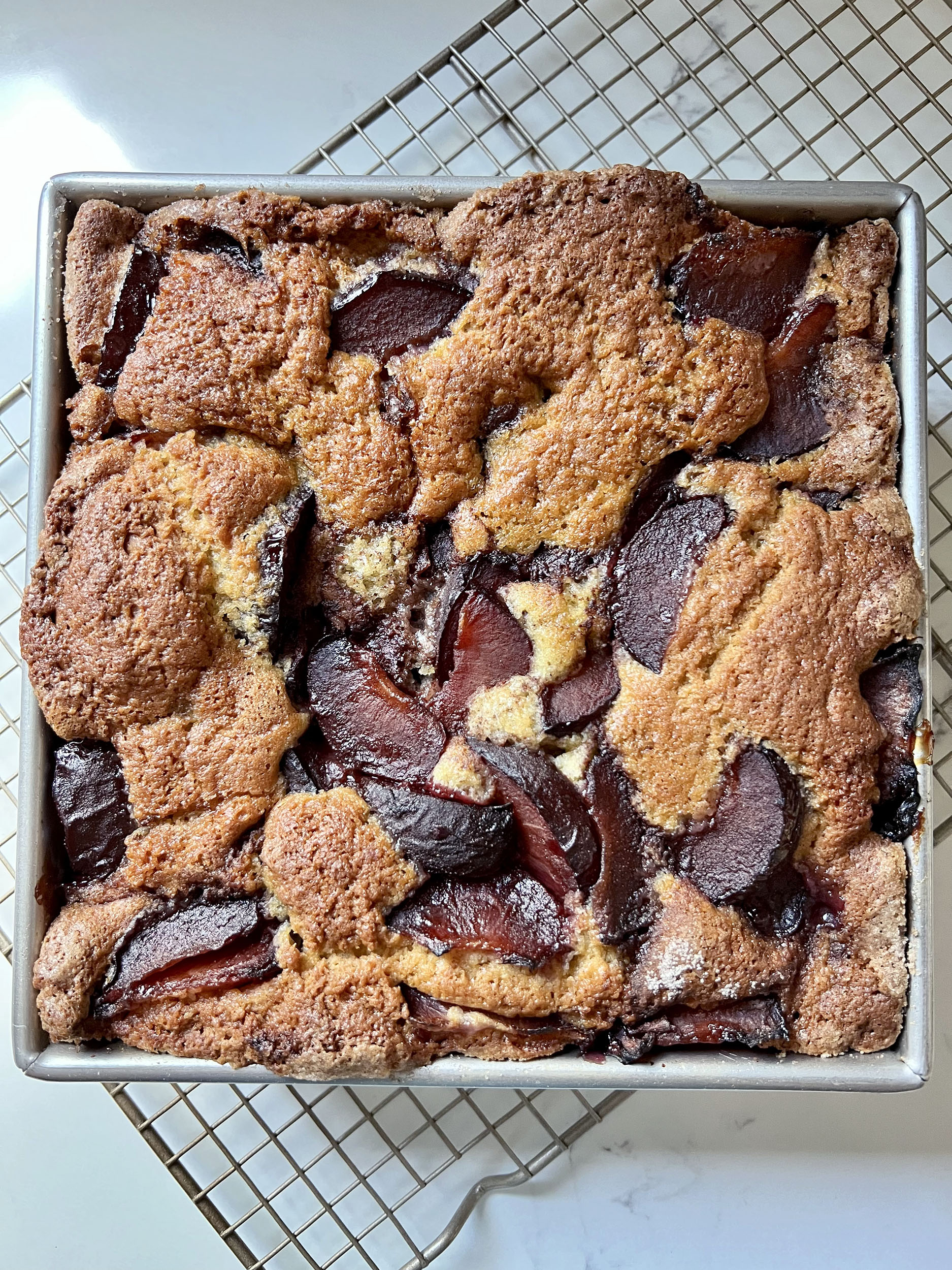 Print Recipe
Super Easy Plum Cake
A light and crispy, sweet exterior gives way to a moist, lightly sweet, fresh plum filled cake. Perfect for dessert or breakfast.
Ingredients
1.5 cups White Sugar, divided

1 Stick Unsalted Butter, room temperature (plus more for greasing the baking pan)

2 Large Eggs

1 cup Plain, Full Fat Yogurt

1 tsp. Vanilla Extract, or Vanilla Bean Paste

2 cups All-Purpose Flour

1 tsp. Baking Soda

1 tsp.Baking Powder

1/2 tsp. Fine Sea Salt, or 1 tsp. Kosher Salt

1 tsp. Ground Cinnamon

8 Medium Ripe Plums, pitted and sliced

Optional, Powdered Sugar to dust plated cake
Instructions
1
Preheat the oven to 350 degrees F. Generously butter an 8x8 or 9x9-inch baking pan.
2
In a stand mixer, cream the room temperature butter with 1 cup of sugar on medium/high speed until it's light and fluffy.
3
Add 1 egg at a time, beating in the egg between each addition.
4
Then add the yogurt and the vanilla, beat the mixture until smooth.
5
Next add the flour, baking soda, baking powder and salt. Scrape down the sides as needed and mix until a smooth, thick batter forms.
6
Set the batter aside and mix together the 1/2 cup reserved sugar and the cinnamon in a small bowl.
7
Pour the batter into the prepared baking pan and smooth out the top so the batter is even. Sprinkle on half of the cinnamon sugar mixture. Then pile the plum slices evenly over the top.
8
Sprinkle the remaining cinnamon sugar mixture over the plums.
9
If using an 8x8-inch pan, bake for 1 hour and 20 minutes. Begin checking the cake at the 1 hour mark. At the 1 hour mark, cover the pan the with foil to keep the top from getting too dark.
10
If you are using a 9x9-inch pan, bake the cake for 45 minutes to 1 hour.
11
When a cake tester comes out clean, it's ready.
12
Set the cake in the pan on a wire rack to cool for about 30 minutes.
13
Then, use a knife or spatula to run around the edges to loosen the cake from the sides of the pan.
14
Now, invert the cake onto the wire rack, and invert again onto a serving plate.
15
Optionally, you can give the cake a dusting of powdered sugar.