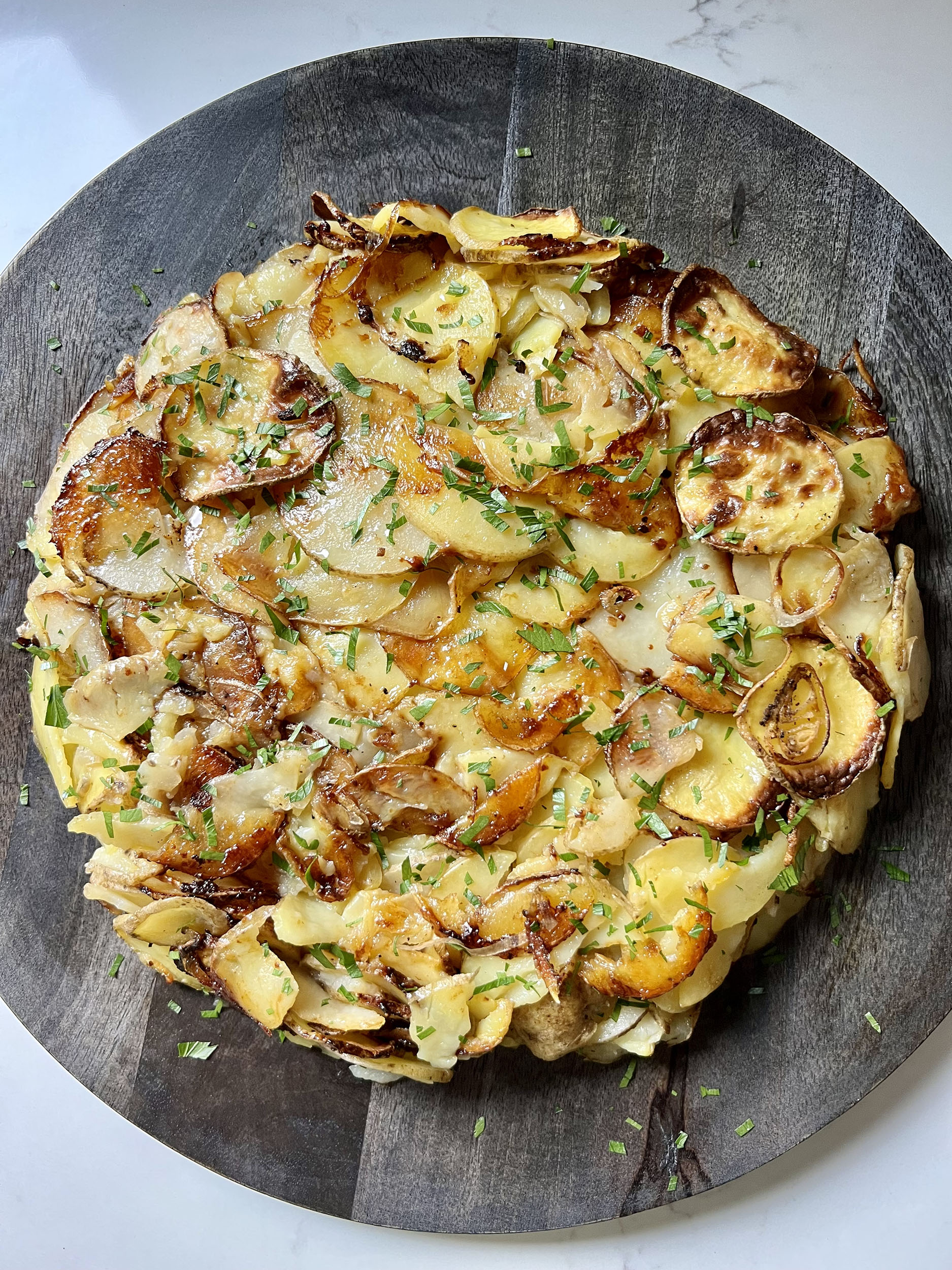 Print Recipe
Super Easy Potato Galette
This Potato Galette is a super easy way to prepare potatoes that will yield a satisfying mix of crispy and velvety, potato textures.
Ingredients
4 tbsp. Unsalted Butter

2 tbsp. Extra-Virgin Olive Oil

2-3 Large Garlic Cloves, minced or pressed (about 2-3 tsp.)

2 lbs. Yukon Gold Potatoes, unpeeled and sliced about 1/8-inch thick (about 3 cups)

1 lbs. Russet Potatoes, unpeeled and sliced about 1/8-inch thick (about 1 ½ cups)

2 Large Shallots, thinly sliced

2 .5 tsp. Kosher Salt

1/2 tsp. Fresh Cracked Black Pepper

Chopped Parsley, for garnish

Flaky Finishing Salt, for garnish
Instructions
1
Preheat oven to 425 degrees. Place sliced potatoes in a large mixing bowl.
2
In a 10-inch oven safe skillet, over medium heat, melt the 1/4 cup of butter and pour in the two tablespoons of olive oil. Add the minced garlic and sauté for about 30 seconds, just until the garlic is fragrant. Remove from heat.
3
Pour all but about two tablespoons of the butter/oil/garlic mixture over the sliced potatoes in the mixing bowl. To the potatoes and butter, add the shallots, salt and pepper. Use your hands to mix and coat all the potatoes with the salt, pepper, butter and garlic.
4
In the same cast iron skillet, start in the center and layer the potato and shallot slices in a circular pattern, slightly overlapping the potatoes and shallots. Work your way to the edges of the skillet and then start back in the center for the next layer.
5
Keep layering from the center outward until all the potatoes and shallots are in the skillet. It doesn't have to be perfect. Then pour any remaining butter, shallots and garlic from the bowl over the top of the potatoes.
6
Use your hands to firmly press the layered potatoes into the skillet.
7
Then, turn the burner on high and when the potatoes begin to sizzle (about 3-4 minutes), place the skillet into the preheated oven. Bake for 50 minutes.
8
Let the Potato Galette cool for 20 minutes.
9
Then take a fish spatula to gently loosen the potatoes from the edges. You can gently slide the fish spatula under the potatoes to be sure they will come loose from the skillet when we invert it onto a serving plate.
10
Place your serving plate upside down on the skillet, then flip to invert the Galette. Slowly lift off the skillet. If some of the potatoes go rogue and try to escape, just place them on top. If the skillet lift off isn't perfect, no big deal – just use your hands to pat the potatoes into a circular shape.
11
Sprinkle the top with finely chopped parsley and flaky finishing salt for some added color and a pop of salty crunch. Slice the Potato Galette into wedges to serve.