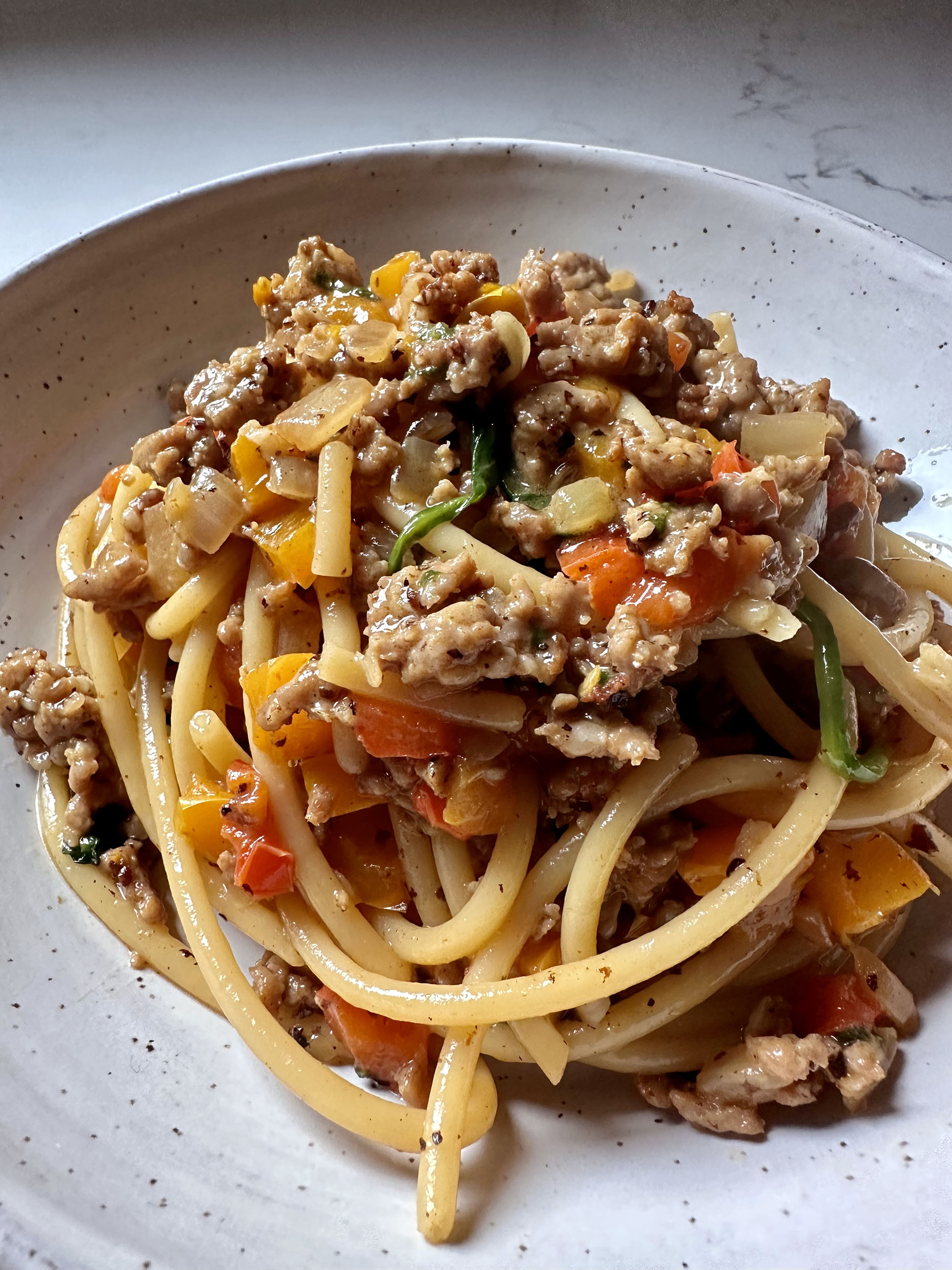 Print Recipe
Super Sausage and Pepper Pasta
Sausage and Pepper Pasta is a very simple dish, with bold flavors and a light, creamy sauce gently blanketing the pasta, sausage and veg.
Ingredients
1 lb. Spicy or Mild Italian Sausage

Drizzle Olive Oil

1 Medium Onion, diced

1 Red Pepper, diced

1 Orange or Yellow Pepper, diced

5 Cloves Garlic, minced

Pinch of Kosher Salt

4-5 cups Raw Baby Spinach

3 cranks Fresh Cracked Black Pepper

8 oz. Bucatini or Spaghetti

1 cup Grated Parmesan
Instructions
1
Set a pot with 3 quarts of water, covered over high heat for the pasta.
2
Brown the sausage in a pot over medium-heat with a tiny drizzle of olive oil. Break up the sausage as it cooks.
3
When the sausage is browned, transfer it to a paper towel-lined plate and set aside. Sauté the diced onion in the same pot, with whatever sausage fat is in there and another little drizzle of olive oil.
4
When the onions are softened, add the diced peppers and a good pinch of kosher salt. Sauté, stirring occasionally until the peppers are softened and begin to get a little browning. Then add the minced garlic. Stir and cook the garlic for about 1 minute.
5
Then add the baby spinach. Stir in the spinach and as soon as it's wilted, add the browned sausage back to the pot and stir well to combine. Add a few cranks of fresh cracked black pepper and stir. Turn off the heat and turn your attention to the pasta.
6
Bring that pot of water back to a vigorous boil and add the kosher salt. Then add 8 ounces of Bucatini or Spaghetti. Cook according to package directions for al dente, then minus a minute. For Bucatini, it will be 7-8 minutes. Set a timer. When the timer is up, taste the pasta; it should have a slightly firm center. Cut the heat under the pasta and bring the pot close to your Dutch oven with the sausage and veg.
7
Turn the heat under the sausage and veg to medium-low. Use tongs to transfer the barely al dente pasta to the pot with the sausage and veg. Whatever pasta water travels with the pasta is totally fine. When all the pasta is in the pot, add the grated Parmesan cheese and 1/2 cup of the hot pasta water. Vigorously stir the pasta water and cheese into the pasta and sausage and veg until the cheese melts and emulsifies wit the pasta water and a thin, light, creamy sauce coats everything. Then cut the heat. We're ready to serve!
8
Use tongs to transfer a portion of the Super Sausage and Pepper Pasta to wide shallow bowls and top with more fresh grated Parmesan.