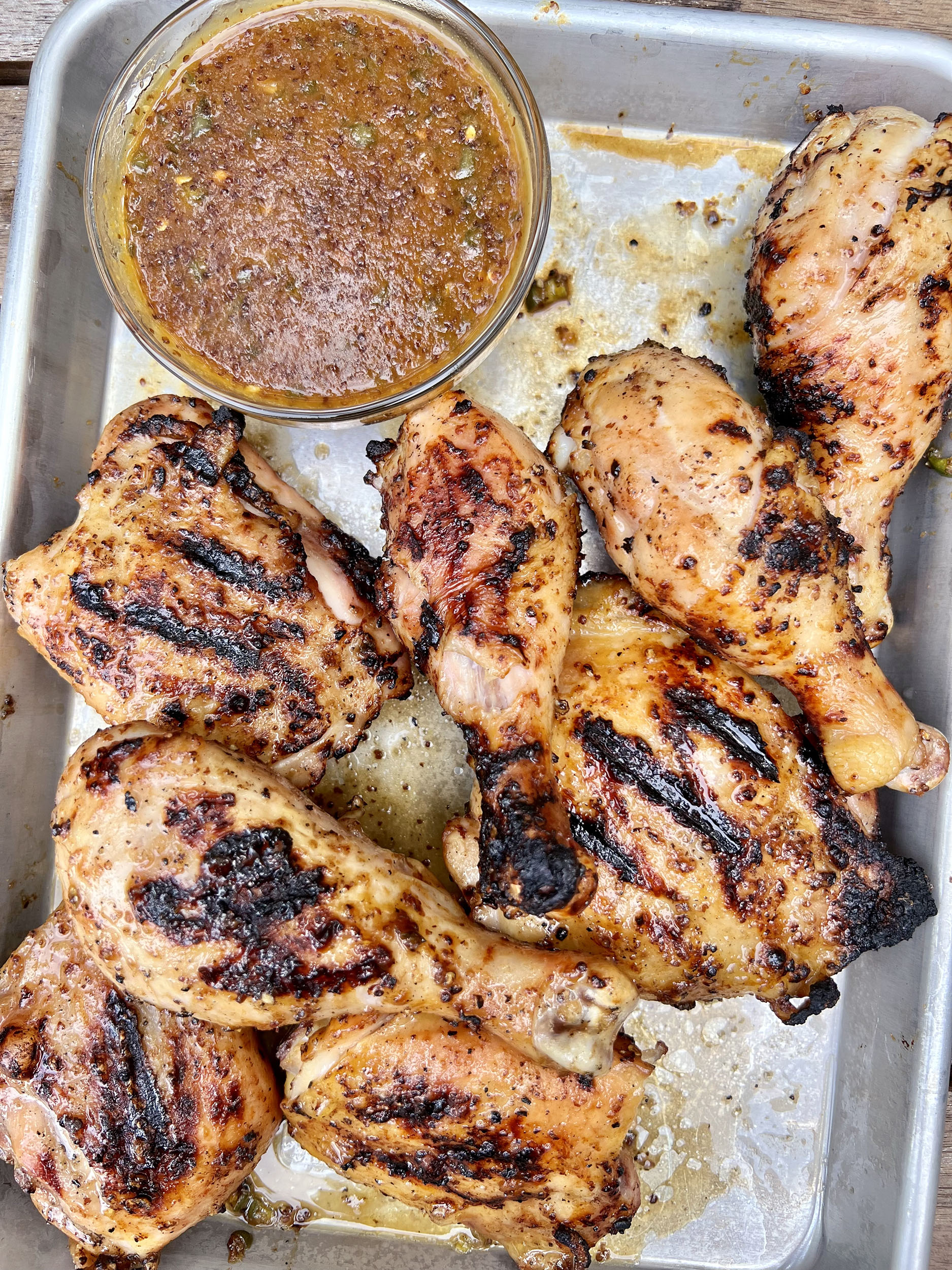 Print Recipe
Sweet and Sticky Grilled Chicken
Fruit preserves-based sauce sets the stage for Sweet and Sticky Grilled Chicken – a new go-to for all your summer cookouts.
Ingredients
2 lbs. Chicken Pieces (breasts, drumsticks, thighs...)

Kosher Salt

Black Pepper

1/2 cup Seedless Fruit Preserves, such as orange marmalade, peach or apricot

1/3 cup Dijon Mustard

1/3 cup Sherry Vinegar or Red Wine Vinegar

3 tbsp. Soy Sauce

1 Jalapeño, diced

5 Cloves Garlic, grated

Vegetable Oil, plus more for the grill grates
Instructions
1
Season all sides of each piece of chicken with kosher salt and black pepper. Let the seasoned chicken sit out to come up in temperature before grilling. Meanwhile we can make the sauce.
2
Grate the 5 cloves (or one giant clove) of garlic directly into the large measuring cup or medium bowl. Add the diced jalapeño, Dijon mustard, sherry or red wine vinegar, soy sauce and preserves to the garlic. Whisk to fully combine.
3
Set up your grill with an indirect heat side. Most of the chicken grilling will happen over indirect heat. If you're using a gas grill, only turn on half of the burners. Once the grill is hot, clean and oil the grates.
4
Just before grilling, pat the chicken pieces dry and coat the pieces with vegetable or grapeseed oil.
5
Place the chicken pieces skin side down on the indirect heat side of the grill. Close the lid and cook the chicken for 20-30 minutes, until the chicken pieces temp at 150 degrees. Then use barbecue tongs to transfer the chicken pieces to the direct heat side of the grill, when you do this, flip them so they are skin side up.
6
Brush sauce onto the chicken pieces and close the lid for a minute or two. Continue flipping and brushing sauce on the chicken pieces until they develop some char spots and the internal temperature reaches 165 degrees. Transfer grilled chicken to a clean sheet tray and let it rest. While it's resting the chicken will come up to 170 degrees.
7
Pour the remaining sauce into a saucepan and heat over medium-high heat, whisking regularly, until the sauce is bubbling and thickens slightly.
8
Pour the sauce into a small bowl and serve alongside the chicken.