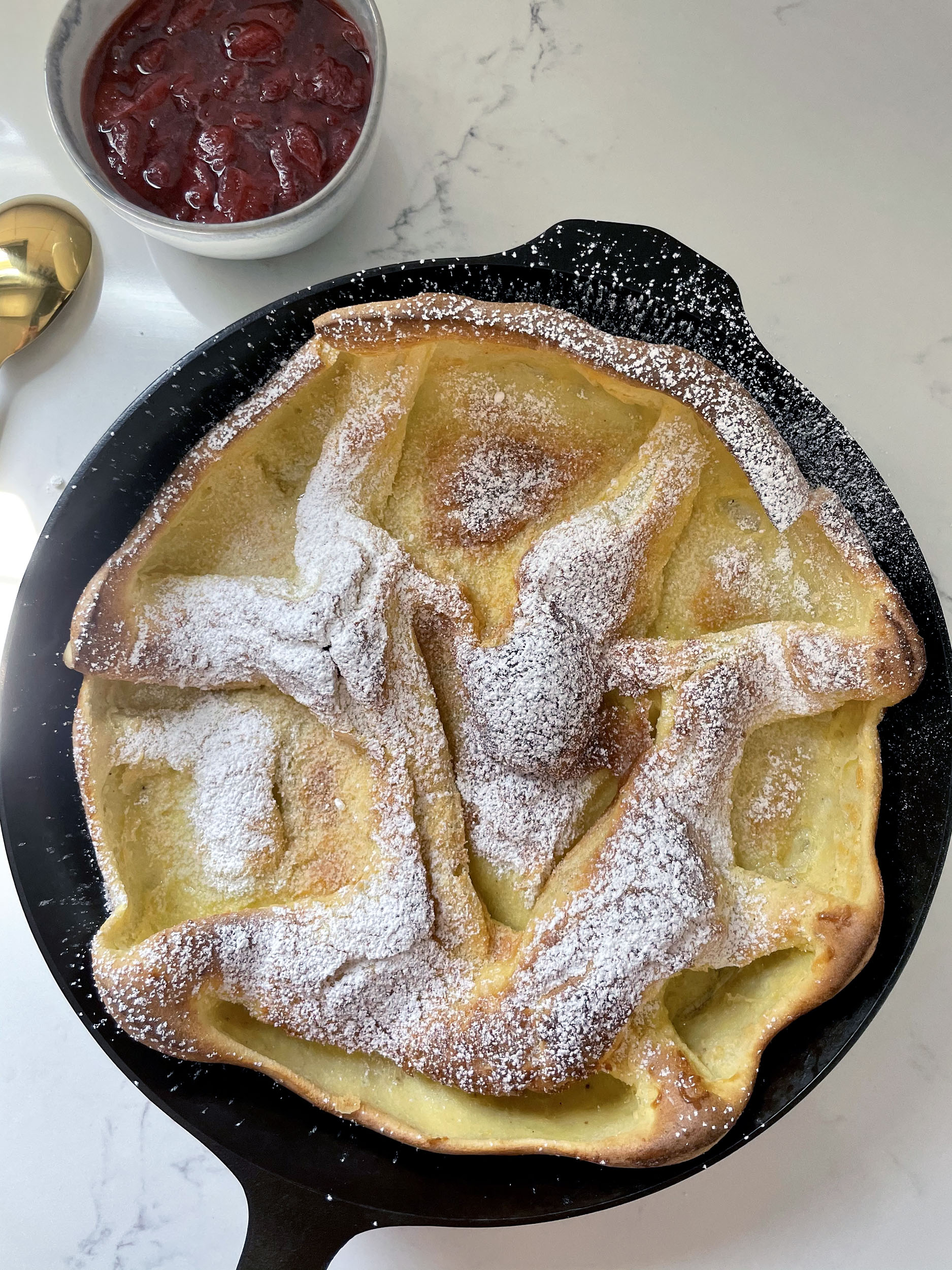 Print Recipe
Sweet Dutch Baby with Strawberry Balsamic Compote
A tender and eggy oven-baked pancake, with just the right amount of crispy edge. The strawberry compote is sweet and jammy, with a hint of tang and depth from the balsamic.
Ingredients
Dutch Baby

3 Eggs

1/2 cup Flour

1/2 cup 1/2 & 1/2 or whole Milk

1 tbsp. Sugar

Pinch of nutmeg

4 tbsp. Unsalted Butter, plus more for serving if desired

Confectioners' Sugar or cinnamon sugar

Balsamic Strawberry Compote

1 16-oz. Basket of Strawberries, stemmed and quartered

1/4 cup water

2 tbsp. sugar

2 tsp. Balsamic Vinegar, plus more to taste

Pinch of Kosher Salt
Instructions
1
Preheat oven to 425 degrees.
2
Combine eggs, half and half, flour and nutmeg in a blender and blend until well incorporated and smooth. Let sit while oven comes to temp.
3
When oven is at 425 degrees, add butter to an oven safe skillet and place in oven to melt butter, don't let it sizzle or burn.
4
Pour Dutch Baby batter into the skillet with the melted butter and bake in the oven for 15 minutes, or until the Dutch Baby is very puffy and golden brown. Reduce the oven temp to 300 degrees and bake for about 5 more minutes.
5
Remove from oven and dust with confectioners' sugar, slice into wedges to serve.
Balsamic Strawberry Compote
6
In a small saucepan combine the sugar, water and strawberries. Bring to a boil and cook until the mixture is reduced and has thickened a bit.
7
Add 2 teaspoons Balsamic vinegar and continue to reduce for about 5 minutes.
8
Taste the compote and add more balsamic a teaspoon at a time, to taste. Add the pinch of salt.
9
Remove from heat and let cool slightly. Compote will continue to thicken as it cools. Serve on top of Dutch Baby wedges.