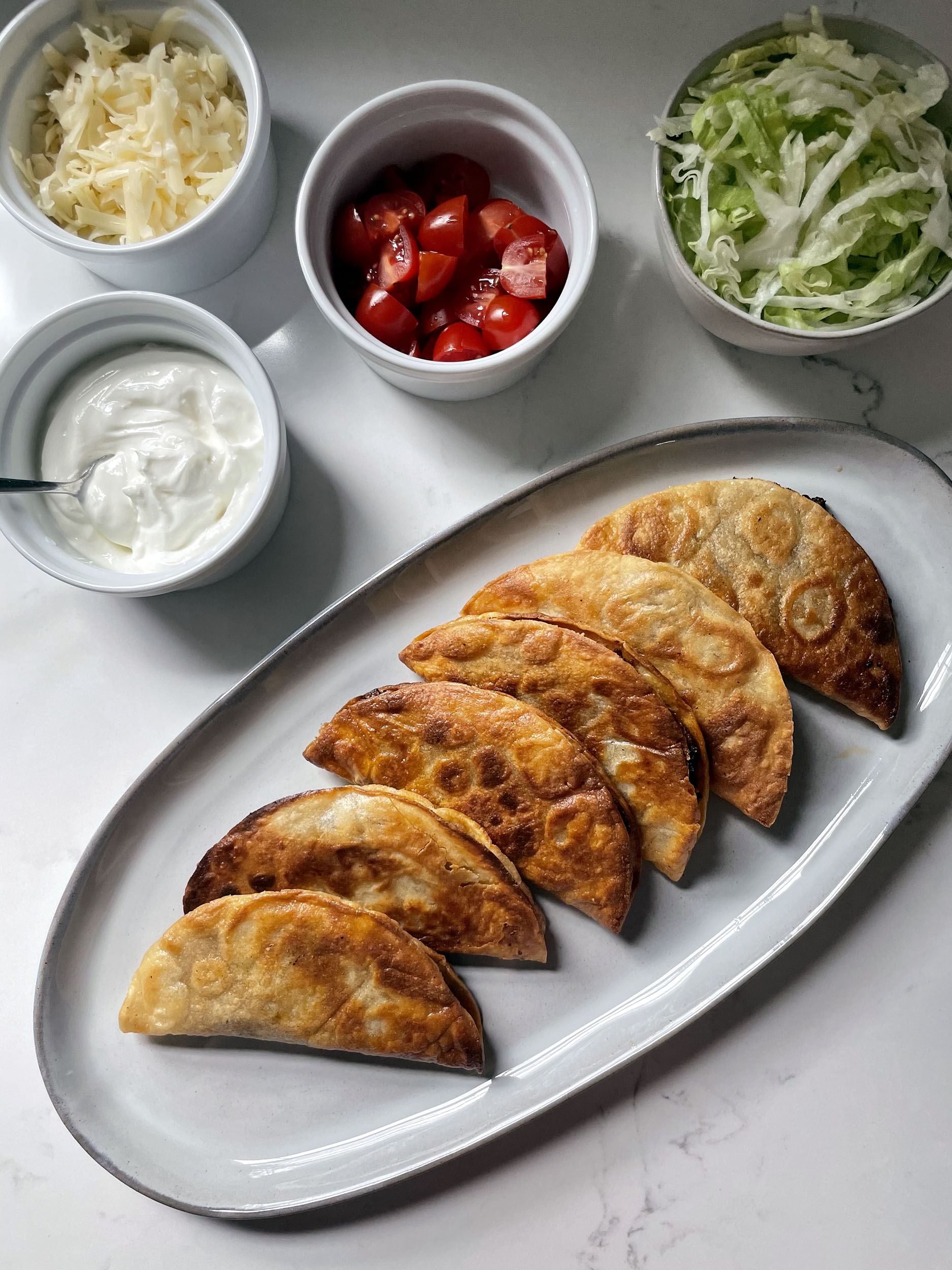 Print Recipe
Tacos Dorados (Crispy Tacos)
Corn tortillas folded around a juicy, tender meat filling, shallow-fried to a crispy, crunchy golden brown. Perfect for Cinco de Mayo!
Ingredients
1 tbsp. Water

1/4 tsp. Baking Soda

12 oz. 90 Percent Lean Ground Beef

7 tbsp. Vegetable Oil, divided

1 Small-Medium Onion, chopped fine

1 ½ tbsp. Chili Powder (for extra spice, swap the 1/2 tbsp. with Chipotle Powder)

1 ½ tbsp. Paprika

1 ½ tsp. Ground Cumin

1 ½ tsp. Garlic Powder

Kosher Salt

2 tbsp. Tomato Paste

2 oz. Cheddar Cheese, shredded (1/2 cup), plus extra for serving

12 (6-inch) Corn Tortillas (or make 6, and save the remaining filling for something else)

Shredded Iceberg Lettuce

Chopped Tomato

Sour Cream

Pickled jalapeño slices

Hot sauce
Instructions
1
Adjust oven rack to middle position and heat oven to 400 degrees.
2
Combine water and baking soda in large bowl. Add beef and mix until thoroughly combined. Set aside.
3
Heat 1 tablespoon oil in 12-inch skillet over medium heat until shimmering. Add onion and cook, stirring occasionally, until softened, 4 to 6 minutes.
4
Add chili powder, paprika, cumin, garlic powder, and 1 teaspoon salt and cook, stirring frequently, until fragrant, about 1 minute.
5
Stir in tomato paste and cook until paste is rust-colored, 1 to 2 minutes.
6
Add beef mixture and cook, using wooden spoon to break meat into ¼ inch pieces, until beef is no longer pink, 5 to 7 minutes.
7
Transfer beef mixture to bowl; stir in cheddar until cheese has melted and mixed in well. Wipe skillet clean with paper towels.
8
Thoroughly brush both sides of tortillas with 2 tablespoons oil.
9
Arrange tortillas, overlapping (if doing 12), on rimmed baking sheet in 2 rows. Bake until tortillas are warm and pliable, about 5 minutes.
10
Remove tortillas from oven and reduce oven temperature to 200 degrees if making 12 tacos, otherwise turn off oven.
11
Place 2 tablespoons filling on 1 side of 1 tortilla. Fold and press to close tortilla (edges will be open, but tortilla will remain folded).
12
Repeat with remaining tortillas and remaining filling. (At this point, filled tortillas can be covered and refrigerated for up to 12 hours.)
13
Set wire rack in second rimmed baking sheet and line rack with double layer of paper towels.
14
Heat remaining ¼ cup oil in now-empty skillet over medium-high heat until shimmering.
15
Arrange 6 tacos in skillet with open sides facing away from you. Cook, adjusting heat so oil actively sizzles and bubbles appear around edges of tacos, until tacos are crispy and deeply browned on 1 side, about 2 minutes.
16
Using tongs and thin spatula, carefully flip tacos. Cook until deeply browned on second side, about 2 minutes, adjusting heat as necessary.
17
Transfer shallow-fried tacos to paper towel-lined rack and blot tops with paper towels.
18
To serve, open tacos like a book and add toppings.