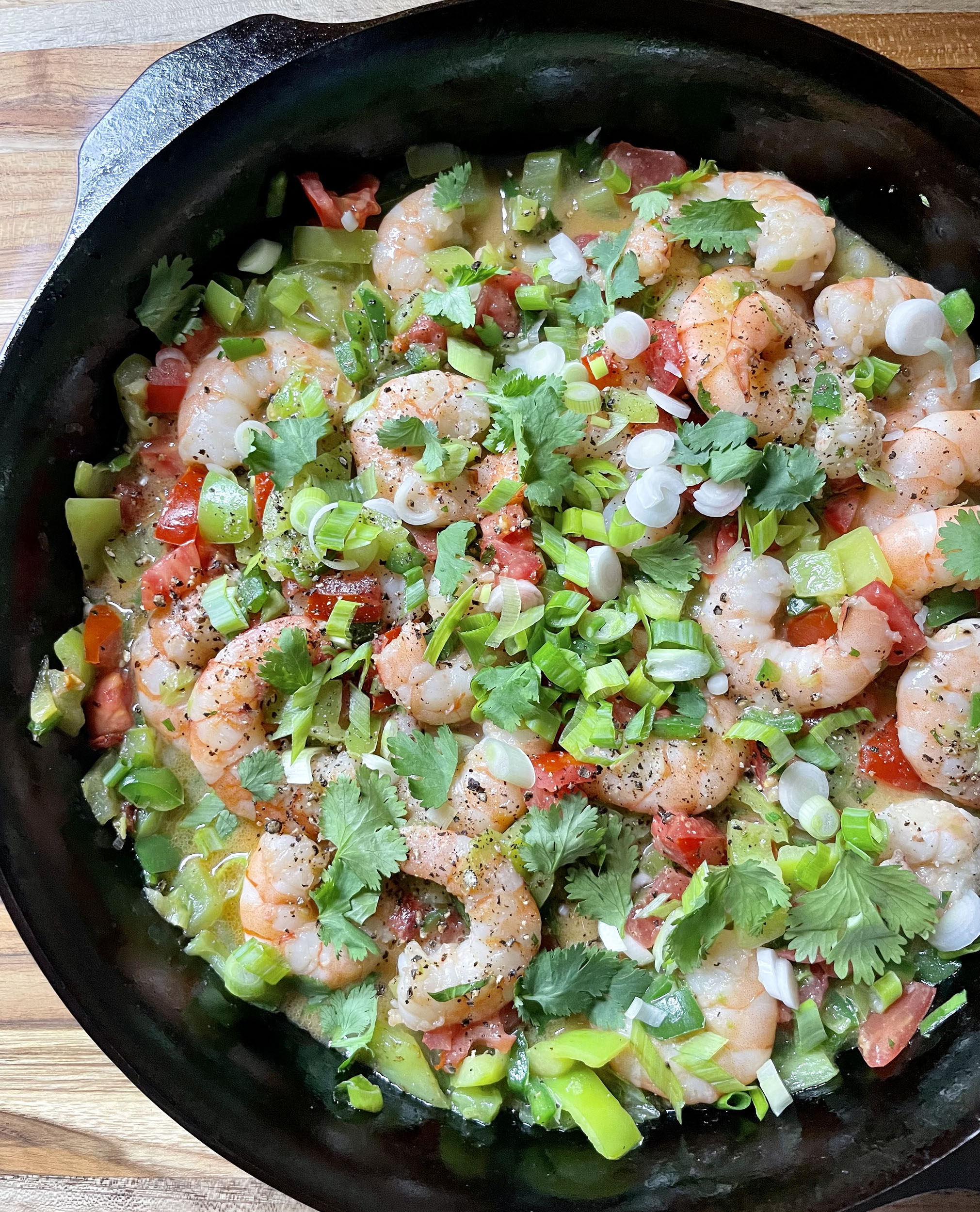 Print Recipe
Tequila Shrimp with Chipotle Compound Butter
Rich flavors, with tons of cilantro, fresh tomatoes and peppers, it's a little smoky, a little spicy and the shrimp is sweet and delicious.
Ingredients
Chipotle Compound Butter

1 cup Unsalted Butter, very soft

1-2 Chipotle Peppers in Adobo Sauce

2-3 Cloves Garlic, pressed or minced

3 tbsp. Chopped Cilantro

Zest from 1 Lime

Kosher and Pepper, to taste

Tequila Shrimp

1 tbsp. Vegetable Oil

1 lb. 16/20 Shrimp, peeled, rinsed and dried

1 Jalapeño, diced

1 Cubanelle Pepper (or other sweet pepper), diced

3 Scallions, sliced thinly

1/4 cup Tequila Resposado

1 Roma Tomato, diced

1 Heaping spoon full Chipotle Compound Butter
Instructions
1
Mix the butter with the chipotle, garlic, cilantro and lime zest. Taste for salt and pepper. Add Kosher salt and pepper accordingly. Spoon the compound butter into a small jar or ramekin, cover and place in the fridge until ready to use.
2
Heat a dry cast iron or stainless steel skillet over high heat and add 1 tablespoon of vegetable oil.
3
When the oil begins to smoke, add the shrimp, peppers and half of the green onions.
4
Stir and cook shrimp for about 1-2 minutes, just until it starts to turn opaque and slightly pink.
5
Then, lift the pan up and away from the heat of your burner. Pour in the 1/4 cup of tequila.
6
Place the pan back on the heat, and if you have a gas stove tilt the pan slightly away from you to flame the tequila.
7
If you have an electric range, use a long lighter, and hold the flame close enough to everything in the pan to light the tequila aflame.
8
It will only take about 5-10 seconds to burn off the alcohol and the fire will die off by itself. You can carefully shake the pan to move everything around while the flame is doing its work.
9
When the fames die off, add a heaping spoon full of the compound butter.
10
Give the butter good stirs to coat everything in the butter and when it's mostly melted, turn off the heat and add the diced tomato. Give it a good stir to incorporate the tomato.
11
Finish with some Kosher salt and pepper, the remaining scallions and more chopped cilantro.
12
Serve over rice, or grilled bread – or make this as a steak topper.