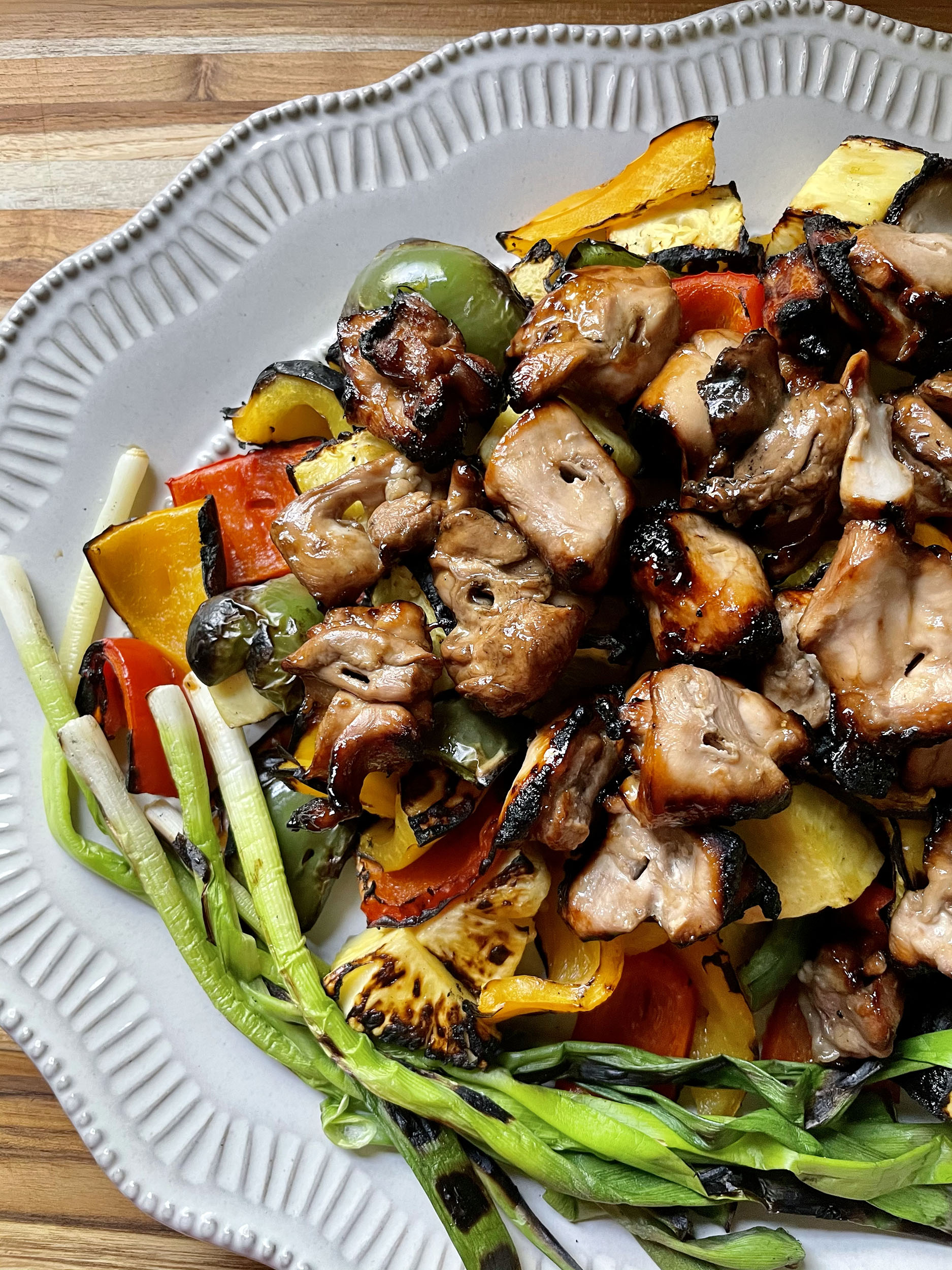 Print Recipe
Teriyaki Chicken Skewers with Pineapple and Peppers
A beautiful, colorful presentation. So tempting; the red, yellow, green and orange peppers, edges tinged with caramelized char; the salty-sweet, umami-rich chicken pieces – so tender and juicy. And that gilled, caramelized pineapple!
Ingredients
1 cup Soy Sauce

1 cup Pineapple Juice

3 tbsp. Sesame Oil

1/4 cup Mirin, you can substitute 1/4 cup brown sugar

1 tbsp. Fresh Ginger, grated

1 tbsp. Fresh Garlic, grated

2 lbs. Boneless, Skinless Chicken Thighs, sliced into 2-inch pieces

Teriyaki Glaze

1/2 cup Reserved Marinade

2 tbsp. Brown Sugar

1/2 tbsp. Cornstarch

1/4 cup Water

Skewers

1 Large Red Bell Pepper, sliced into 2-inch pieces

1 Large Yellow Bell Pepper, sliced into 2-inch pieces

1 Large Orange Bell Pepper, sliced into 2-inch pieces

1 Large Green Bell Pepper, sliced into 2-inch pieces

1 Small Pineapple, skinned and sliced into 2-inch pieces

1 Bunch Scallions, washed and trimmed
Instructions
1
Whisk together the soy sauce, pineapple juice, sesame oil, Mirin, ginger and garlic.
2
Pour off 1/2 cup to reserve for glaze and set aside.
3
Add cut chicken pieces to the remaining marinade, cover and refrigerate for at least one hour, or overnight.
4
Pour the reserved 1/2 cup of the marinade into a small saucepan and add 2 tablespoons of brown sugar. Whisk together and bring to a simmer.
5
Make a cornstarch slurry with 1/2 tablespoon of cornstarch and 1/4 cup of water. Add the cornstarch slurry to the simmering sauce and whisk until the sauce is thickened and will coat the back of a spoon.
6
Remove from heat and give it a taste. Add more sugar if you like. Transfer glaze to a bowl and set aside until ready to grill.
7
Thread cut pepper pieces and pineapple pieces onto skewers, alternating peppers and pineapple.
8
Thread marinated chicken pieces onto skewers. Discard marinade.
9
Place skewers on a hot grill and turn skewers every 1-2 minutes. Brush the chicken skewers with the glaze after every turn.
10
Remove veggie skewers from grill when the peppers are softened and develop some browning.
11
Lay scallions directly on grill grates and turn every minute, with tongs until browned.
12
Remove chicken skewers from grill when chicken is is firm to the touch and reach an internal temperature of 165 degrees.
13
Pull veggies and pineapple off skewers and pile on to a large platter.
14
Remove chicken pieces from skewers and lay pieces on top of veggies and pineapple. Drizzle with any remaining glaze.