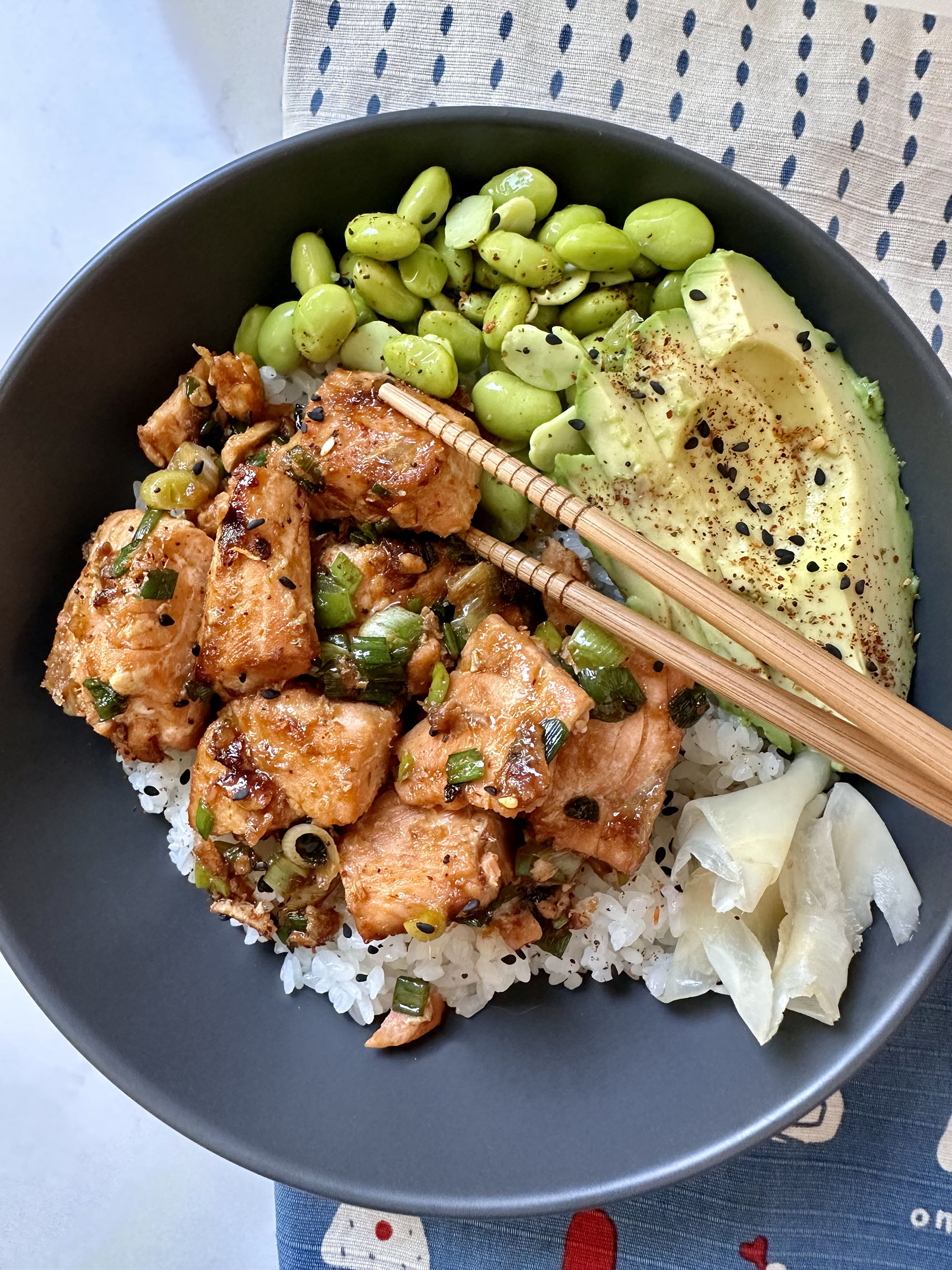 Print Recipe
Teriyaki Salmon Rice Bowls
Teriyaki Salmon Rice Bowls are quick and easy. Customize your bowl with your favorite veggies and enjoy with tender, sweet and savory salmon.
Ingredients
Rice

1 cup Sushi Rice (or other short grain rice), rinsed and drained and cooked according to package directions

3 tbsp. Rice Vinegar

1 tsp Kosher Salt

1 tsp Brown Sugar

Teriyaki Sauce

1 tbsp. Honey

1 tbsp. Soy Sauce

1 tsp. Toasted Sesame Oil

1 Garlic Clove, grated

1/2-inch Piece of Fresh Ginger, grated

Up to 1 tbsp. Sriracha Sauce

Salmon Teriyaki Bowls

Olive Oil (for cooking the salmon)

1 lb. Salmon Filets (skinless), cut into 1-inch cubes

3-4 Scallions, sliced thin

Edamame Beans

Avocado, sliced

Sesame Seeds

Pickled Ginger

Togarashi
Instructions
1
Start by getting your rice cooking according to the package or rice cooker directions for 1 cup of rice.
2
Whisk together rice vinegar, brown sugar and 1 teaspoon of kosher salt. This is a dressing for the rice to make it sushi rice.
3
When the rice is done, stir the rice vinegar and brown sugar mixture into the rice and set aside.
4
Whisk together honey, soy sauce, and toasted sesame oil. With a rasp grater, grate 1 clove of garlic and a 1/2-inch chunk of fresh ginger into the teriyaki sauce. Whisk that together and add up to 1 tablespoon of Sriracha sauce. Give it a taste and add another splash of soy sauce, if needed. Set the teriyaki sauce aside.
Teriyaki Salmon Rice Bowls
5
Heat a 12-inch skillet over medium-high heat. Drizzle in about 1 tablespoon of olive oil. When the oil is shimmery, transfer the salmon cubes to the skillet. Let the salmon get lightly opaque on one side before stirring and flipping the pieces of salmon. Basically we just want to sear the salmon on all sides. Don't let the salmon cook too long at this point.
6
When the exteriors are lightly opaque, add the teriyaki sauce and gently stir to coat the salmon in the sauce. Let the sauce caramelize and stir the salmon only occasionally.
7
When most of the sauce is caramelized and thickened, add the scallions to pan and stir to combine.
8
When the last of the sauce is pretty much gone, cut the heat. We are ready to assemble our Teriyaki Salmon Rice Bowls.
9
Add a serving of rice to a wide shallow bowl and sprinkle with sesame seeds. Spoon a serving of salmon onto the rice.
10
Then place a small handful of the edamame and a few slices of avocado and pickled ginger. Top with a sprinkling of sesame seeds and togarashi.
11
Serve hot, warm, or cold.