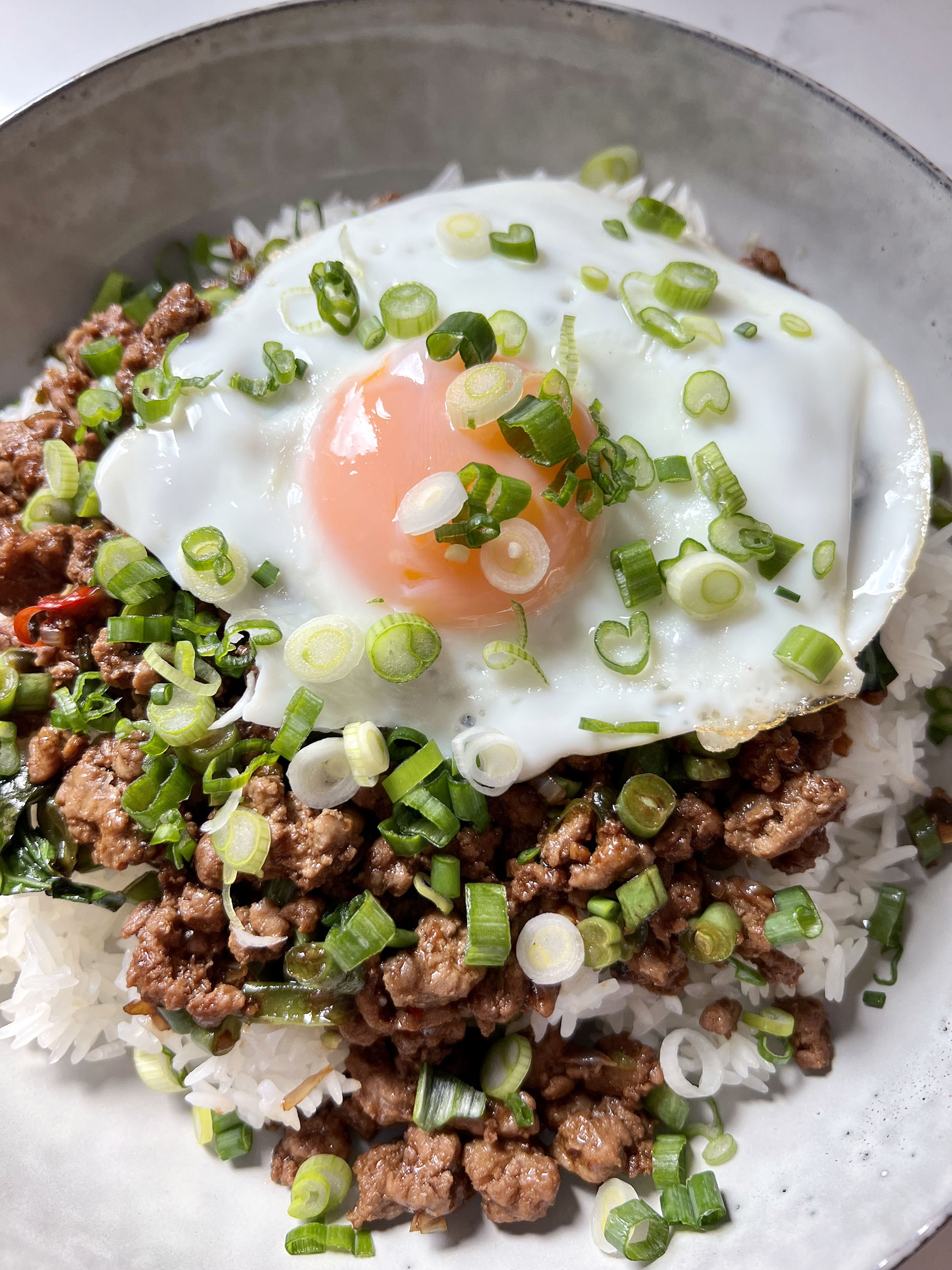 Print Recipe
Thai Basil Chicken Stir Fry - Pad Gra Prow Gai
Spicy, sweet and savory are perfectly balanced in this popular Thai Street Food dish, Thai Basil Chicken Stir Fry Spicy - Pad Gra Prow Gai. With Ground chicken or turkey, fresh basil, green beans in a flavorful sauce. Served with a fried egg and rice.
Ingredients
2 cups Jasmine Rice, cooked to package directions

2 tbsp. Dark Soy Sauce

1 tbsp. Fish Sauce

3 tbsp. Oyster Sauce

1 tbsp. Low Sodium Soy Sauce

2 tbsp. Grapeseed or Peanut Oil

1 Serrano Chile Pepper, sliced thin (with or without seeds)

1 Small Red Chile Pepper, sliced thin (with or without seeds)

5 Cloves Garlic, pressed or minced

3 Shallots, minced

1 lb. Ground Turkey or Chicken

1 cup Diced Green Beans

1.5 cups (or 1 large bunch) Sweet Basil (or Thai basil), leaves torn from stems

2 Eggs (1 per serving)

1 Scallion, sliced thinly for garnish, if desired
Instructions
1
Get your Jasmine rice going first, about 15-20 minutes before you start prepping.
2
In a small bowl, whisk together Dark Soy Sauce, Fish Sauce, Oyster Sauce, and Regular Soy Sauce. Set this aside until we're ready for it.
3
Heat a large skillet or wok over medium-high heat for 3 minutes or so. Then pour in 2 tablespoons of grapeseed or peanut oil. Let the oil get hot, about 1 minute.
4
To the hot oil add garlic, chile peppers and shallots. Stir and let sauté until fragrant, about 1 minute.
5
Then add the ground chicken or turkey. Break it up as it cooks, we are looking for small cooked pieces of protein. No large chunks.
6
Once the protein is mostly cooked through and broken into small pieces (about 6 minutes), set up a Nonstick Egg Pan or skillet over medium-low heat with a drizzle of oil. Let the oil get hot and then crack your eggs into the skillet.
7
Let the eggs fry on medium-low and turn your attention back to the stir fry.
8
Add the sauce to the meat mixture and stir to coat the meat in the sauce.
9
Then add the diced green beans to the stir fry. Stir to fully incorporate the green beans and coat them in sauce.
10
Now check your eggs. The whites should be mostly set, so cut the heat and cover the pan. Let the eggs finish cooking with the radiant heat of the pan. We are looking for set whites, with runny yolks.
11
Now, add the basil leaves to the stir fry; pluck the leaves from the stems and drop them in, tear the largest leaves in half as you add them to the meat mixture. Stir in the basil leaves, cooking for only about 30 seconds, then cut the heat.
12
Scoop a generous serving of jasmine rice into a wide shallow bowl and top with the Thai Basil Chicken Stir Fry. If your eggs cooked together, use a silicone spatula to slice them apart and top the Stir Fry with an egg.
13
Garnish with thinly sliced scallions, if desired. Serve with sweet chili sauce and sriracha.