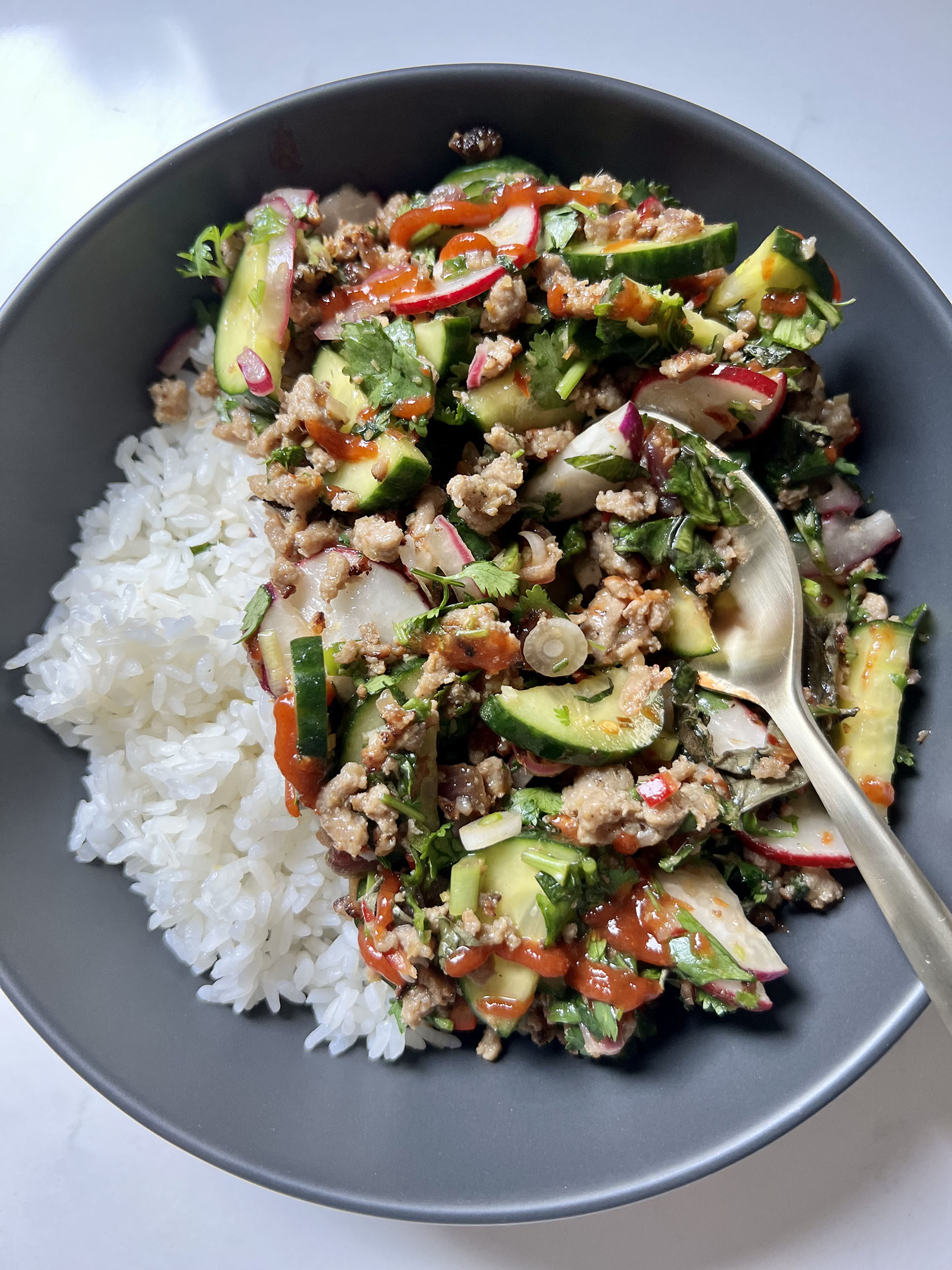 Print Recipe
Thai Larb Salad
Spicy, tangy, savory, umami-rich Thai Larb Salad. Ground turkey, sautéd in aromatics and tossed with veggies in lime juice and fish sauce.
Ingredients
Pickled Onions

1/2 cup Hot Water

2 tbsp. Rice Vinegar

1/2 Red Onion, sliced into thin half moons

Ground Meat

1-2 tbsp. Vegetable or Grapeseed Oil

Remaining half of Red Onion, diced

3 Garlic Cloves, minced

4 tbsp. Lemongrass Paste (or finely minced Fresh Lemongrass)

1 tsp. Chili Flakes, more or less to taste

1 lb. Ground Turkey (or Chicken, Beef, or Lamb)

1 tsp. Kosher Salt

1/2 tsp. Black Pepper

Salad

1 Medium-sized Cucumber, sliced

2–3 Radishes, sliced

3 Scallions, thinly sliced

1 tbsp. Fresh Chile Pepper, finely minced (optional, or Jalapeño, Thai red chili)

1/2 cup Chopped Cilantro

1/2 cup Chopped Mint

1/2 cup Chopped Basil

2 tbsp. Fish Sauce

4 tbsp. Lime Juice

1 tsp. Honey
Instructions
1
Place the sliced onion in a heat-safe dish and cover with about 1/2 cup of very hot water and 2 tablespoons of rice vinegar. Put the onions in the fridge until we are ready for them.
2
Heat 1-2 tablespoons of vegetable or grapeseed oil in a large skillet over medium heat. Sauté the diced onion until it begins to soften and becomes translucent. Then add the lemongrass, garlic and red pepper flakes. Stir and sauté until fragrant, about 2 minutes.
3
Then add the ground meat and the salt and pepper. Cook the ground meat, breaking it up as it cooks.
4
Let the meat brown and the liquid evaporate. Stir occasionally. This should take about 10 minutes.
5
Add the veggies and herbs to a large bowl. Then add the browned ground turkey to the salad.
6
Top with the lime juice, fish sauce and honey.
7
Toss the salad to fully mix and coat everything in the dressing ingredients.
8
Add the quick pickles onions and give it another toss.
9
Serve with rice and/or lettuce cups.
Notes
If you are using beef or lamb, be sure to use a slotted spoon to transfer the meat to the salad, to keep the rendered fat in the pan from transferring with the meat.