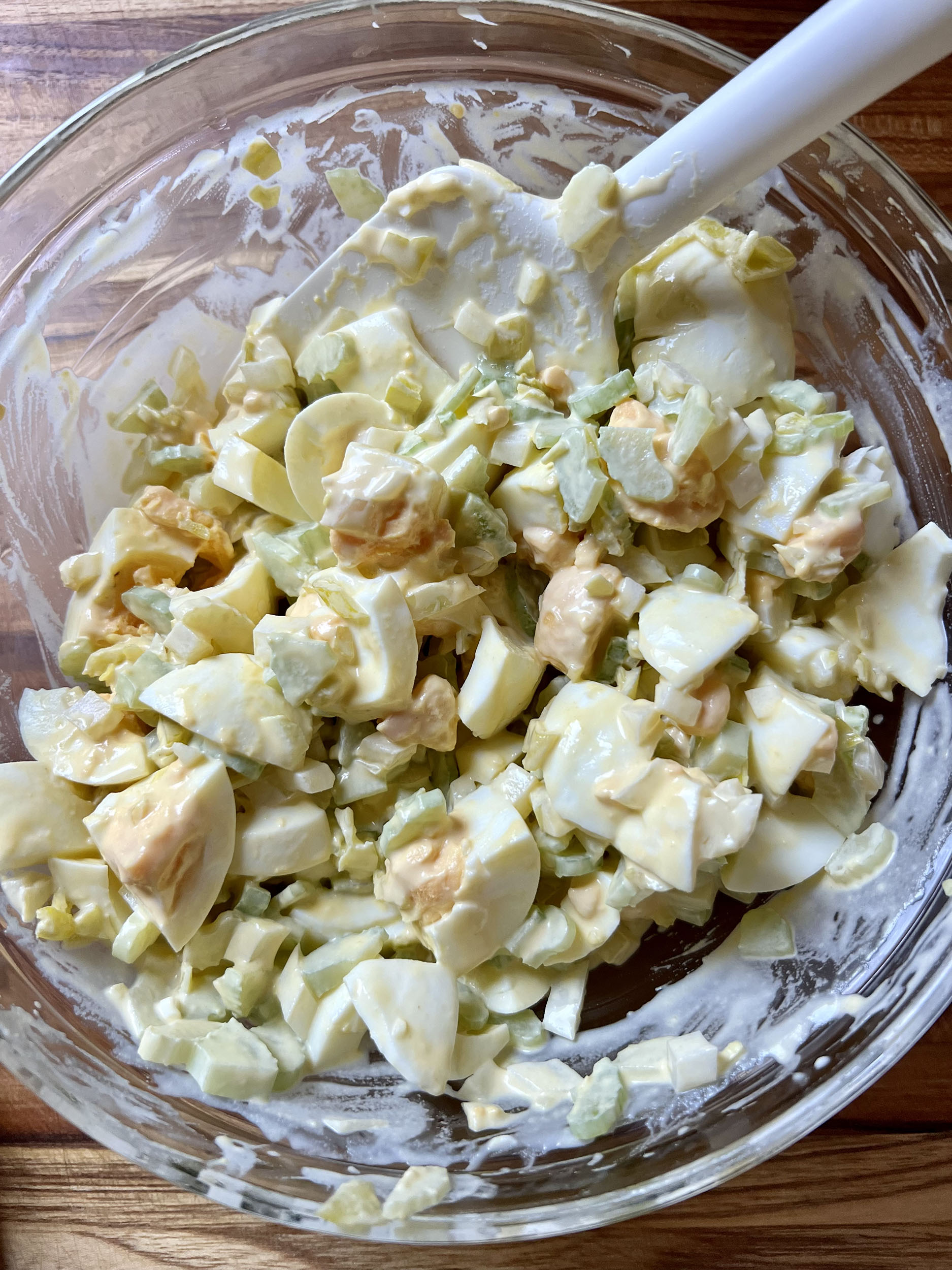 Print Recipe
The Best Egg Salad Sandwich
The Best Egg Salad has chunks of egg, diced celery, onion and pepperoncini peppers lightly dressed in a mayonnaise, dijon and vinegar dressing.
Ingredients
6 Eggs, hard boiled for 8 minutes

1/4 cup Diced Celery

1/4 cup Diced Onion

2 tbsp. Chopped Pepperoncini Peppers

1/4 cup Mayonnaise

1 tbsp. Dijon Mustard

1-2 tsp. White Wine Vinegar, more as needed

Kosher Salt

Black Pepper

Sliced Bread
Instructions
1
Start the eggs in cold water and heat over high heat until the water begins to boil. When the water is a rolling boil, cut the heat and cover the pot with a lid, set a timer for 8 minutes. Meanwhile set up an ice bath. When the timer is up, use a spider skimmer to scoop out the eggs and transfer them to the ice bath to cool.
2
In a medium size bowl, combine 1/4 cup mayonnaise, 1 tablespoon Dijon mustard and a drizzle of white wine vinegar. Mix together and add more vinegar as necessary to thin out the dressing to a creamy salad dressing-like, pourable consistency.
3
Quarter each egg lengthwise and slice each quarter into 3-4 pieces. Add the egg slices to the dressing and gently fold the eggs into the dressing with a silicone spatula.
4
Add the diced celery, diced onion and chopped pepperoncini peppers. Gently fold everything together to coat in the dressing.
5
Season with kosher salt and black pepper, give it another gentle mix and adjust seasoning to taste.
6
Scoop desired amount of egg salad and top a slice of bread. Add more salt and pepper if you like. Top with the second slice of bread.