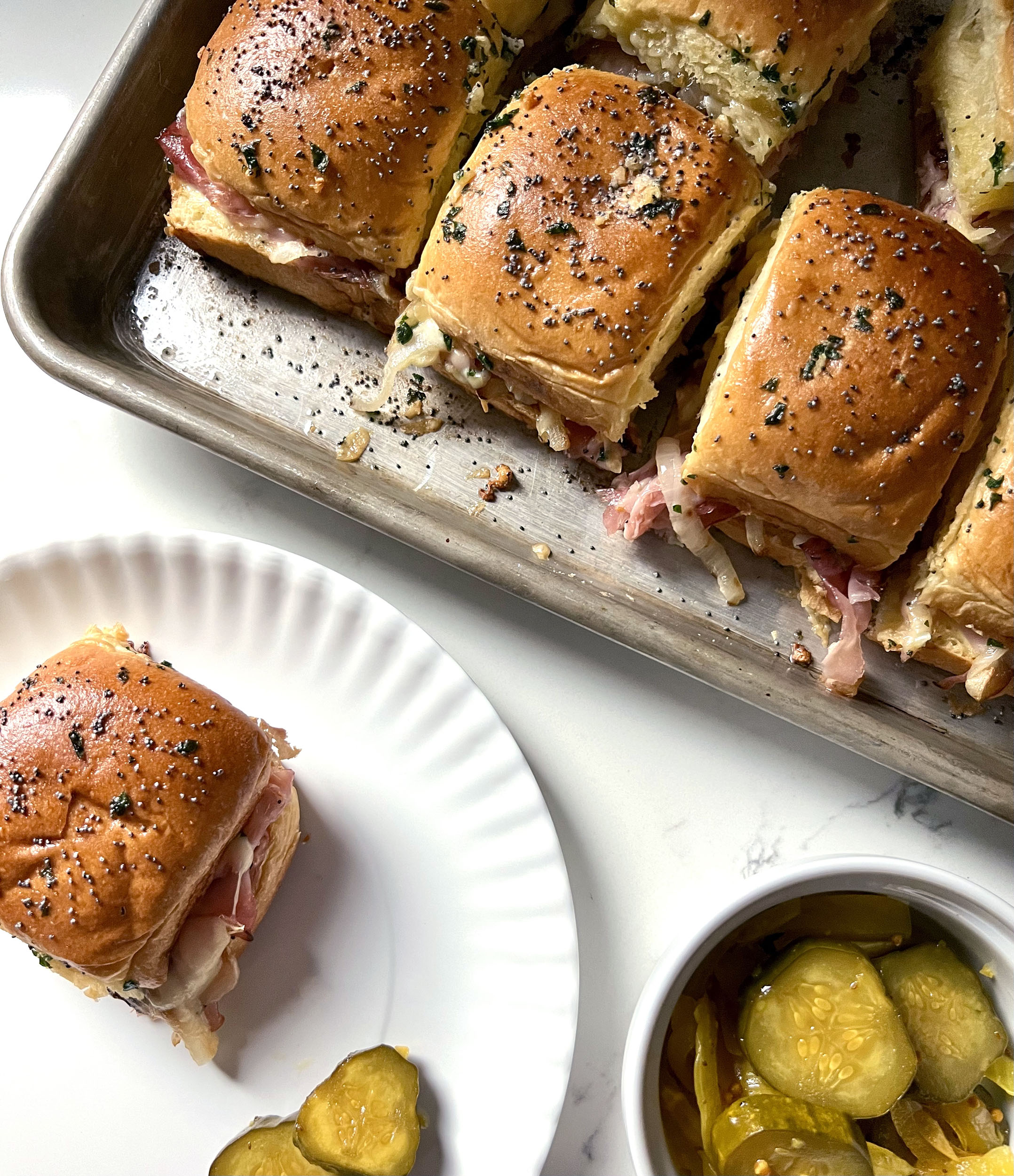 Print Recipe
The Best Ham and Cheese Sliders
Simple ham and cheese sandwiches made a little fancier with gruyere cheese, caramelized onions and tangy horseradish mayo - toasted to perfection!
Ingredients
1 Onion, sliced thinly

Drizzle Olive Oil

Horseradish Mayo

1/3 cup Mayonnaise

2 tsp. Dijon Mustard

1 tbsp. Grated Horseradish (not cream-style)

Sliders

1 package of 8 Brioche Rolls (or Hawaiian Rolls)

1/2 - 3/4 lb. Thinly Sliced Deli Ham

Caramelized Onion

2 cups Grated Gruyere Cheese

1/4 cup Melted Butter

Poppy Seeds or Sesame Seeds for sprinkling on top of rolls
Instructions
1
Preheat the oven to 350 degrees F (or hold off on preheating if you plan to serve these later).
2
Get the onion slices sautéing in a skillet with a little olive oil over low to medium heat. Let the onions get translucent and when they begin to develop a little browning, turn off the heat.
Make the Horseradish Mayo
3
Stir ingredients together in a small bowl, adjust ratios to suit your taste.
4
Lightly oil the sheet pan surface.
5
Then, without breaking apart the rolls, use a long, serrated knife to slice through the rolls horizontally.
6
Place the bottom portion of the cut rolls on the sheet tray. Then spread the horseradish mayo on the cut surface of the rolls.
7
Now, pile the deli sliced ham on top of the mayo.
8
Spread the cooked onions over the ham.
9
Pile the grated cheese on top of the onions and ham.
10
Place the top potion of the cut rolls on top of the cheese and then pour the melted butter over the rolls. Use a brush to help evenly coat the tops of the rolls with the butter. Sprinkle the tops with poppy seeds or sesame seeds if you like.
11
Now, cover the rolls with foil and at this point you can stop right here, place the rolls in the fridge and bake them about 20 minutes before you want to serve them. (they can be refrigerated for up to 24 hours before baking) Or pop them in the oven now for 15 minutes. After 15 minutes baking, covered in the oven, remove the foil cover and let them bake an additional 5-7 minutes, until the tops of the rolls are toasted.
12
Out of the oven, let the rolls sit for a couple minutes. Then use a serrated knife to slice the rolls along the seams.
13
Serve with sweet or dill pickles.