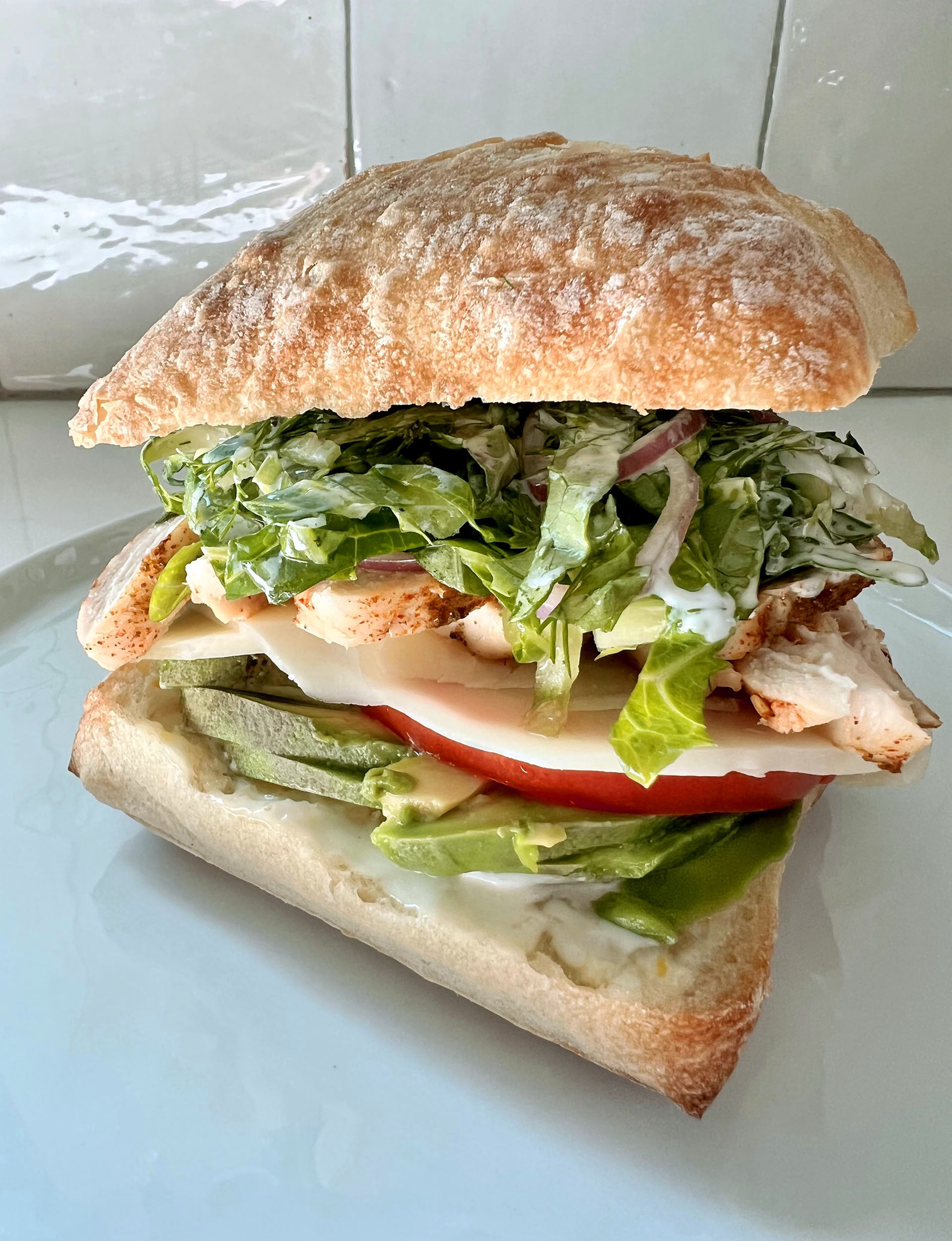 Print Recipe
The Best Roast Chicken Sandwich
Take your sandwich from ho-hum to outstanding! A dressed herb and lettuce salad tops this chicken sandwich with tomato, avocado and mozzarella.
Ingredients
Sandwich Salad

2-3 Romaine Lettuce Leaves

1 Sprig Fresh Dill

4-5 Fresh Basil Leaves

1/4 cup Baby Kale Leaves

1 Shallot, sliced thinly

Olive Oil

Red Wine Vinegar

Kosher Salt

Black Pepper

Lemony Mayonnaise

2-3 tbsp. Mayonnaise

Zest of 1 Lemon

Juice of Half a Lemon

Chicken Sandwich

2 Ciabatta Rolls

1 Avocado, sliced thinly

1 Tomato, sliced thinly

1 Chicken Breast, sliced thinly

1-2 Slices Cheese of Choice
Instructions
1
Gather two to three leaves of romaine lettuce, baby kale (or other dark leafy green) and fresh herbs like basil and dill into a small pile. Then slice the whole pile into thin strips – chiffonade style.
2
Finely slice a shallot or part of an onion. Add the chopped greens and the shallot to a small bowl and drizzle on some olive oil and red wine vinegar, give it a toss and season with a pinch of kosher salt and few cranks of black pepper. Toss again and set this aside.
3
Add the zest of one lemon and the juice from half that lemon to a few tablespoons of mayo. Stir and add more mayo to thicken, if needed.
4
Wrap two Ciabatta rolls in foil and pop the packet in a 400 degree oven for about 10 minutes to warm through, if desired.
5
Slice the rolls in half horizontally. On the bottom half, spread on as much of the lemony mayo as you like.
6
Next, add the slices of avocado. If you are worried about the slices of avocado squishing out (because they are slippery!), gently mash the avocado, so it's less individual slices and more like a spread.
7
Next we will add the tomato slices. Add a sprinkling of kosher salt and black pepper to the tops of the tomato slices. And follow the tomato with the cheese slices.
8
Lay the chicken breast slices on top of the cheese. Then top with a generous scoop of the salad mix.
9
Spread a little more lemony mayo on the top half of the Ciabatta roll and top the sandwich.