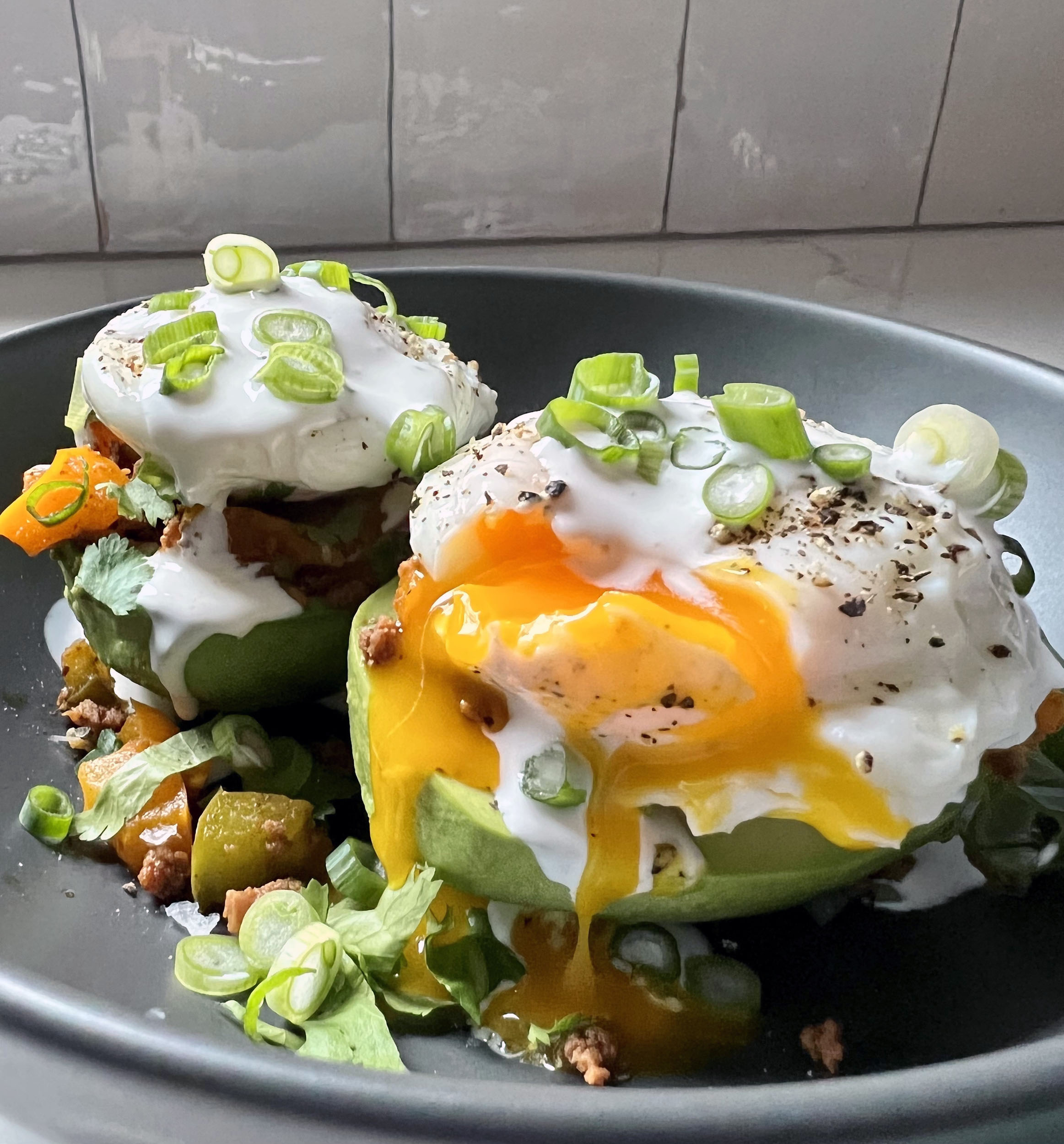 Print Recipe
The Best Stuffed Avocados
The Best Stuffed Avocados are Mexican-inspired; filled with chorizo and peppers, topped with a perfectly poached egg, cilantro, scallions and crema.
Ingredients
8 oz. Mexican Chorizo

1-2 Bell Peppers, seeded and diced

2 Large Eggs

1 Avocado, cut in half, seed removed

Fresh Cilantro, rough chopped

Flaky Finishing Salt and Fresh Cracked Black Pepper

Mexican Crema

1 Scallion, sliced thin

Hot Sauce (optional)
Instructions
1
Before we get started on the filling, set up a saucepan with water to boil for the poached eggs. Crack eggs into individual ramekins or small bowls - one egg per bowl. Set these aside until the water is boiling.
2
Start by heating a drizzle of olive oil in a skillet over medium-high heat. Then sauté the diced bell peppers for a few minutes, just until they barely turn soft. Reduce the heat to medium.
3
Then add the Mexican chorizo and break the sausage apart as it cooks, stirring the mixture together to fully combine. When the chorizo is mostly cooked through (about 4 minutes) reduce the heat to low and stir occasionally to finish cooking the chorizo and to keep the mixture hot.
4
Turn your attention back to the saucepan for the poached eggs. The water should be boiling by now, so reduce the heat to medium. Use a slotted spoon to swirl the water to create a whirlpool. Then, pour an egg into the center of the whirlpool. Let the egg poach, stirring occasionally for about 3 minutes.
5
Remove the egg with a slotted spoon and set the egg on a small plate. Look at the egg around the yolk: you want the yolk to still be liquid, but the egg should not look or feel super jiggly. Excessive jiggling indicates the whites are not completely set. If it's super jiggly or you just like your yolks more well done, place the egg back the water and let it poach a little longer. Once one egg is done, repeat with second egg.
6
Once the avocado is cut in half and the seed is removed, use a large spoon to make a slightly larger "bowl" in the center if needed. Then use that spoon to scoop the entire half out of the skin. Use a knife to slice off a tiny bit of the back to give it a flat surface. Then place the avocado halves on the plate or shallow bowl.
7
Use that large spoon to transfer scoops of the chorizo and pepper mixture and place in the hollowed out centers of the avocados. Top this with roughly chopped cilantro, then carefully place one poached egg on each avocado half.
8
Sprinkle some flaky finishing salt and a few cranks of black pepper on top of the eggs.
9
Use a spoon to drizzle the cream over the seasoned eggs.
10
Garnish the dish with sliced scallions.