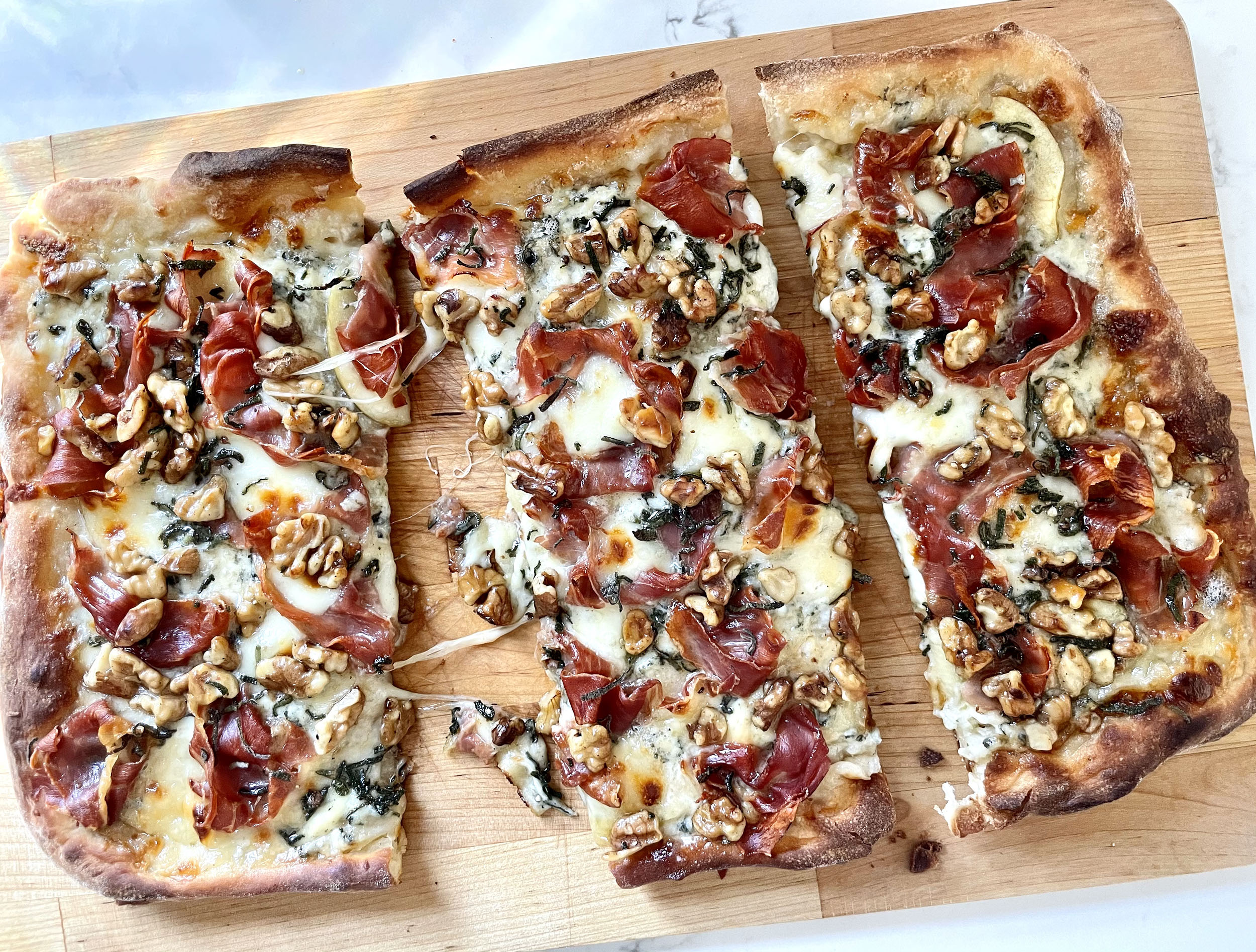 Print Recipe
The Cheeseboard Pizza
Two kinds of Mozzarella, Apples, Prosciutto, Blue Cheese and buttery Toasted Walnuts; altogether on a pizza.
Ingredients
1/2 cup Walnuts, broken into pieces

1 tbsp. Salted Butter

10-15 Fresh Sage Leaves, chiffonade cut and divided

1 Prepared Pizza Dough

1 tbsp. Olive Oil

1 cup Shredded Mozzarella

1/2 Gala Apple, thinly sliced

1/4 cup Crumbled Blue Cheese

1 cup Mozzarella Pearls, halved and divided

1 package Prosciutto, torn into smaller pieces
Instructions
1
Melt the salted butter in a pan over medium-low heat.
2
Add the walnut pieces and half of the chiffonade sage.
3
Stir the mixture occasionally and remove from heat when nuts begin to be fragrant. Be careful not to let them brown.
4
Preheat the oven to 450 degrees.
5
Lightly grease a 9"x13" rimmed sheet pan and set aside.
6
On a lightly floured surface, roll out the dough to a rectangular shape, roughly 9" x 13". Lift the dough into the sheet pan and let the dough come up the sides of the pan.
7
Brush olive oil onto the pizza dough.
8
Top with shredded mozzarella; then apple slices; blue cheese crumbles, and half of the mozzarella pearls.
9
Place the prosciutto pieces evenly on the pie, creating little folds as you place them to nestle in more mozzarella.
10
Nestle remaining mozzarella pearls on, and in between the prosciutto folds.
11
Sprinkle on the remaining chiffonade sage.
12
Bake on the bottom rack of the oven for 10 minutes.
13
Move the pie to the middle oven rack for another 5-8 minutes, or until the crust is golden and the mozzarella is browning.
14
When done, blot the wet areas on top with a paper towel and slide the pie out of the sheet pan, sprinkle toasted walnut pieces over the pie and cut into squares with a long chef knife or pizza blade.