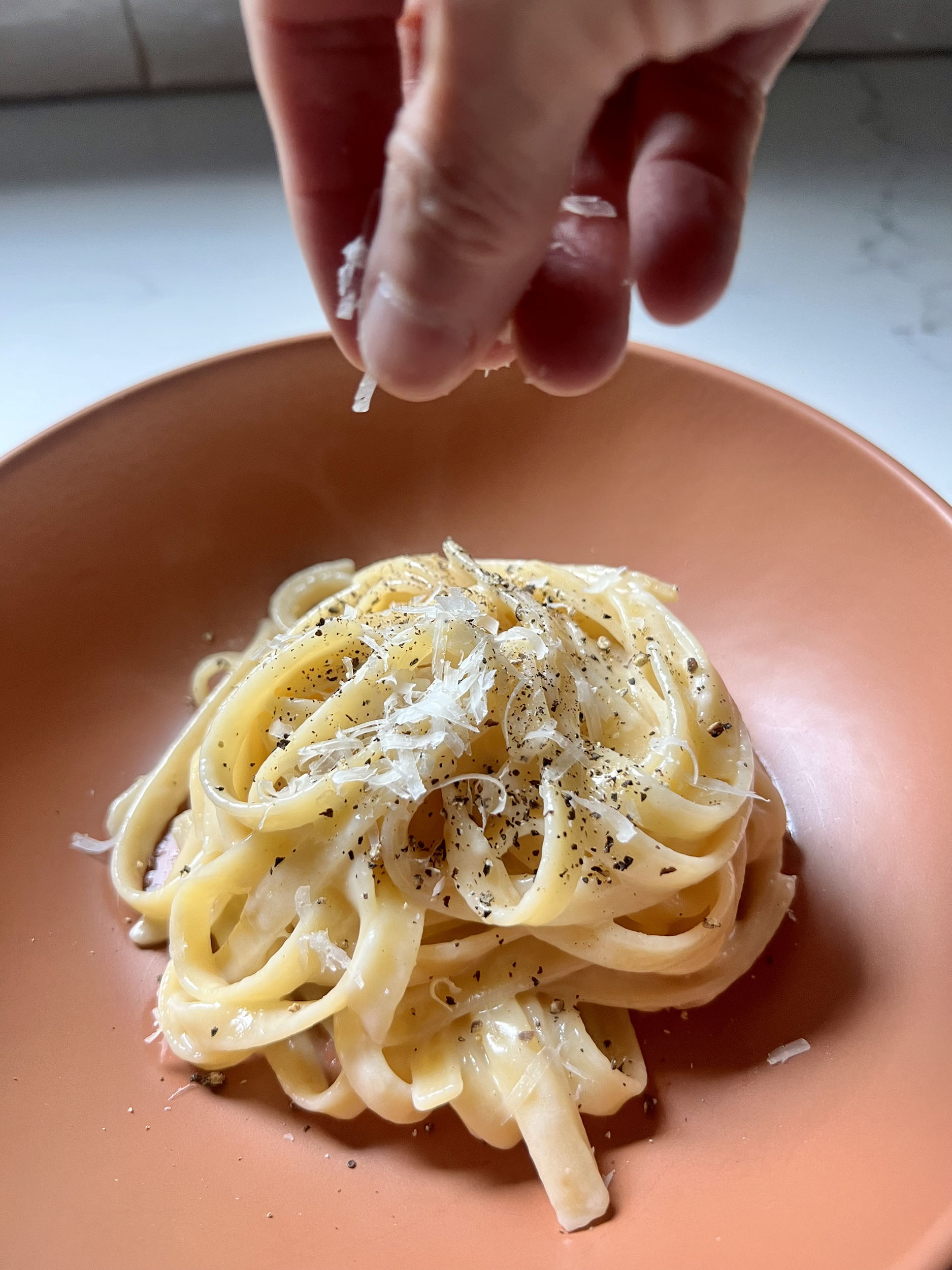 Print Recipe
Pasta with Butter and Cheese
The easiest pasta recipe has only three ingredients: Pasta, Parmesan Cheese and Butter. But the real magic is the starchy pasta water.
Ingredients
1 lb. Fettuccine

1.5 tbsp. Kosher Salt (for seasoning the pasta water)

2 cups Parmesan Cheese, grated, plus extra for serving

5 tbsp. Unsalted Butter, cut into 5 pieces

Black Pepper, optional, for serving
Instructions
1
Set 3 quarts of water to boil in a large pot over high heat.
2
When the water is boiling, add 1.5 tablespoons of kosher salt to the water, then add the pasta. Set a timer for 8 minutes and test the pasta doneness beginning at the 8-minute mark. For almost al dente, Fettuccine will cook for about 9 minutes.
3
When the pasta is just about to al dente, ladle out 2 cups of pasta water into a measuring cup and set aside.
4
Drain the pasta and without shaking off the excess water in the colander, add it back to the pot.
5
Add the butter, cheese and 1 cup of the reserved pasta water. Turn the heat up to medium-low and vigorously stir the pasta.
6
It will look all wrong at first. It will be super watery. But as we vigorously stir the pasta with the starchy water, butter and cheese the pasta will continue cooking and soaking up the water, creating a thick, smooth sauce. Keep adding a drizzle of pasta water as needed to keep the mixture smooth.
7
Keep stirring until a smooth, creamy, glossy sauce coats the pasta.
8
Cover the pot and turn off the heat. Let the pasta rest for about 3 minutes. Then stir again (add a drizzle more of pasta water to loosen the sauce if needed) and serve.
9
Serve in a warmed, wide shallow bowl and top with fresh cracked black pepper and more grated Parmesan, if you like.