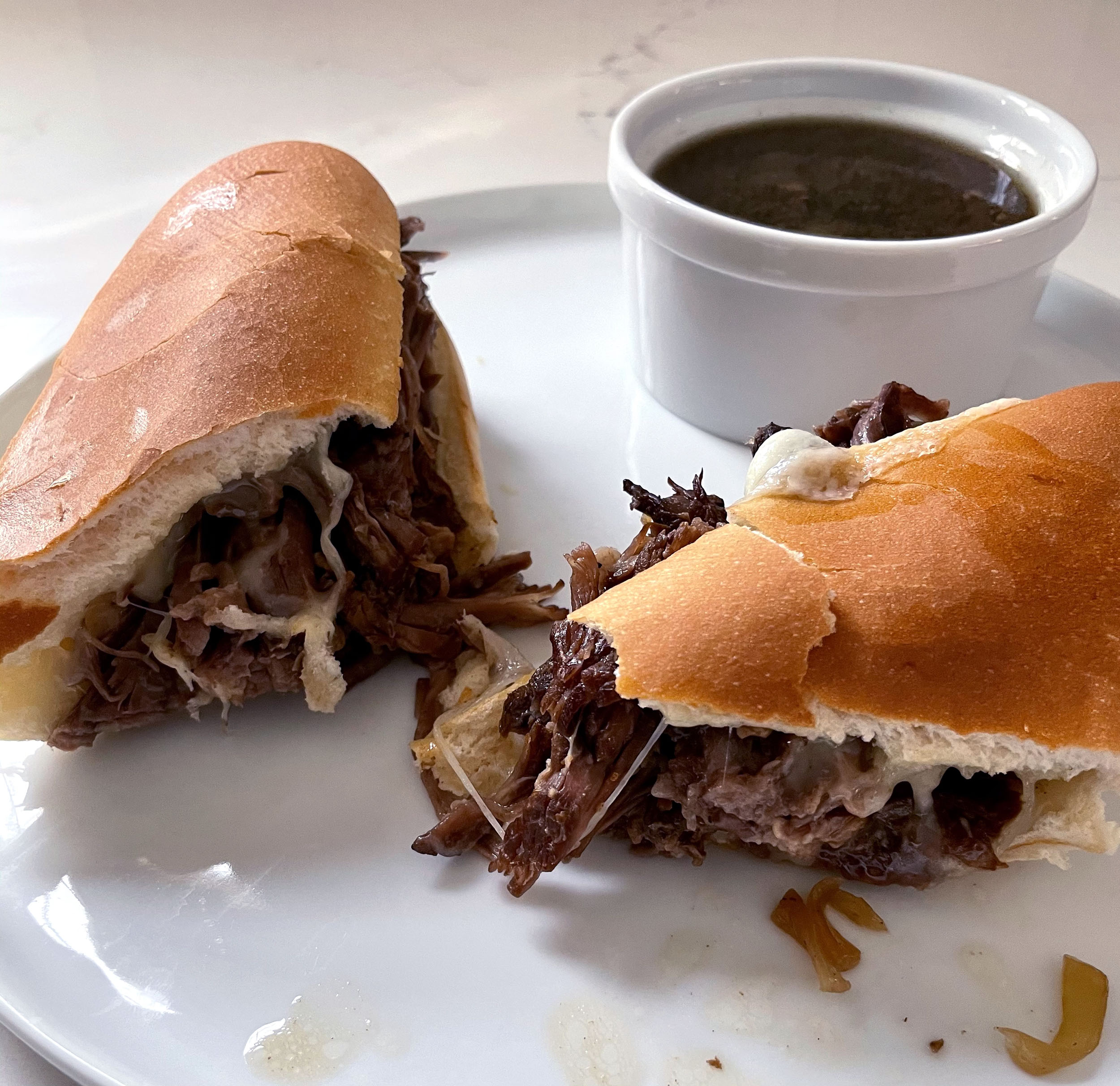 Print Recipe
The French Dip
A classic sandwich with roasted chuck roast, melty Provolone and a toasted hoagie roll is the perfect Sunday Supper!
Ingredients
3-4 lb. Chuck Roast

Salt, Pepper, Granulated Garlic to coat roast

2 tbsp. Olive Oil

1 Onion, sliced

1.5 cups Beef Broth

1 -16 oz. can of Guinness

2 tbsp. Worcestershire Sauce

Hoagie Rolls

2 slices Provolone per Sandwich
Instructions
1
Generously coat entire roast with salt, pepper and garlic, set aside.
2
Set Instant Pot to Sauté and add olive oil.
3
Sear Roast on each side until it develops a nice, browned crust, about 8 minutes each side. Switch off Instant Pot.
4
Add onions, broth, Worcestershire Sauce, and Guinness.
5
Lock lid, switch Instant Pot to Pressure Cook and set timer for 60 minutes.
6
Let Instant Pot automatically release steam for 20 minutes. Then manually release the rest of the steam.
7
Preheat oven to 375 degrees.
8
Transfer chuck roast to a sheet tray.
9
On a separate sheet tray, open hoagie rolls and lay two slices of Provolone over the entire hoagie surface. Bake until cheese is melted, about 6-8 minutes.
10
Shred the chuck roast with two forks.
11
Pile the shredded roast on one side of each hoagie roll, fold closed and slice in half.
12
Serve with a small bowl of the au jus straight from the pot.
Notes
If using a slow cooker, sauté the roast* and add onions, broth, Worcestershire Sauce, and Guinness. Set the slow cooker to Slow Cook and set the timer for 8 hours. Proceed with the rest of the recipe. * If your slow cooker doesn't have a sauté function, sauté the roast in a deep pot on the stove then transfer to the slow cooker. Try to scrape up any fond that developed in the pot, into the slow cooker.