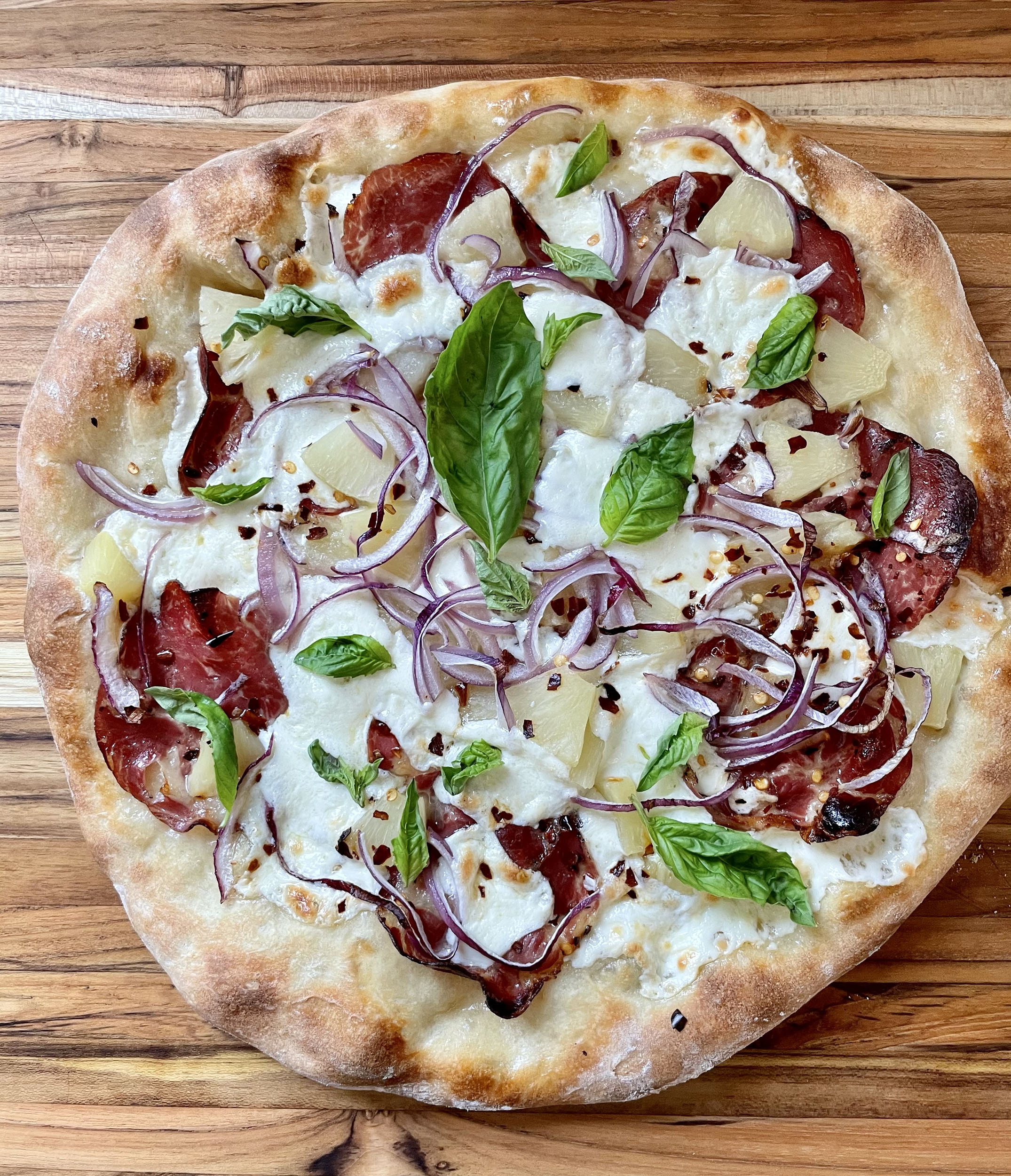 Print Recipe
New Hawaiian Pizza
The juicy sweetness from pineapple perfectly balances coppa and the creamy richness of mozzarella. Red onions add bite; red pepper flakes give a little heat. Fresh basil leaves to finish, tone down the fruity pineapple sweetness with its own herbal sweetness.
Ingredients
1 Prepared Pizza Dough

1/2 16-oz. Package of Sliced Fresh Mozzarella, torn into pieces

1 3-oz. Package of Italian Coppa

1/2 20-oz. Can of Pineapple Chunks, each chunk halved lengthwise to make a flatter chunk of pineapple

1/4 Medium Red Onion, thinly sliced

1/2-1 tsp. Red Pepper Flakes

Fresh Basil Leaves to Finish
Instructions
1
Preheat oven to 450 degrees.
2
On a floured pizza peel, dust the dough with flour and create a crust around the perimeter of the dough and flatten down the center.
3
Stretch it out on the backs of your hands, left hand over right hand, until the dough is roughly 12-inches around.
4
Add more flour evenly on the peel and lay the dough on the peel.
5
First add cheese, then coppa. Then pineapple, followed by onions. Then a little more cheese and top with the red pepper flakes. Remember to distribute the toppings evenly over the surface of the dough.
6
Bake for 15 minutes or until the crust is golden.
7
Mop the wet areas with a paper towel and sprinkle on the fresh basil leaves.