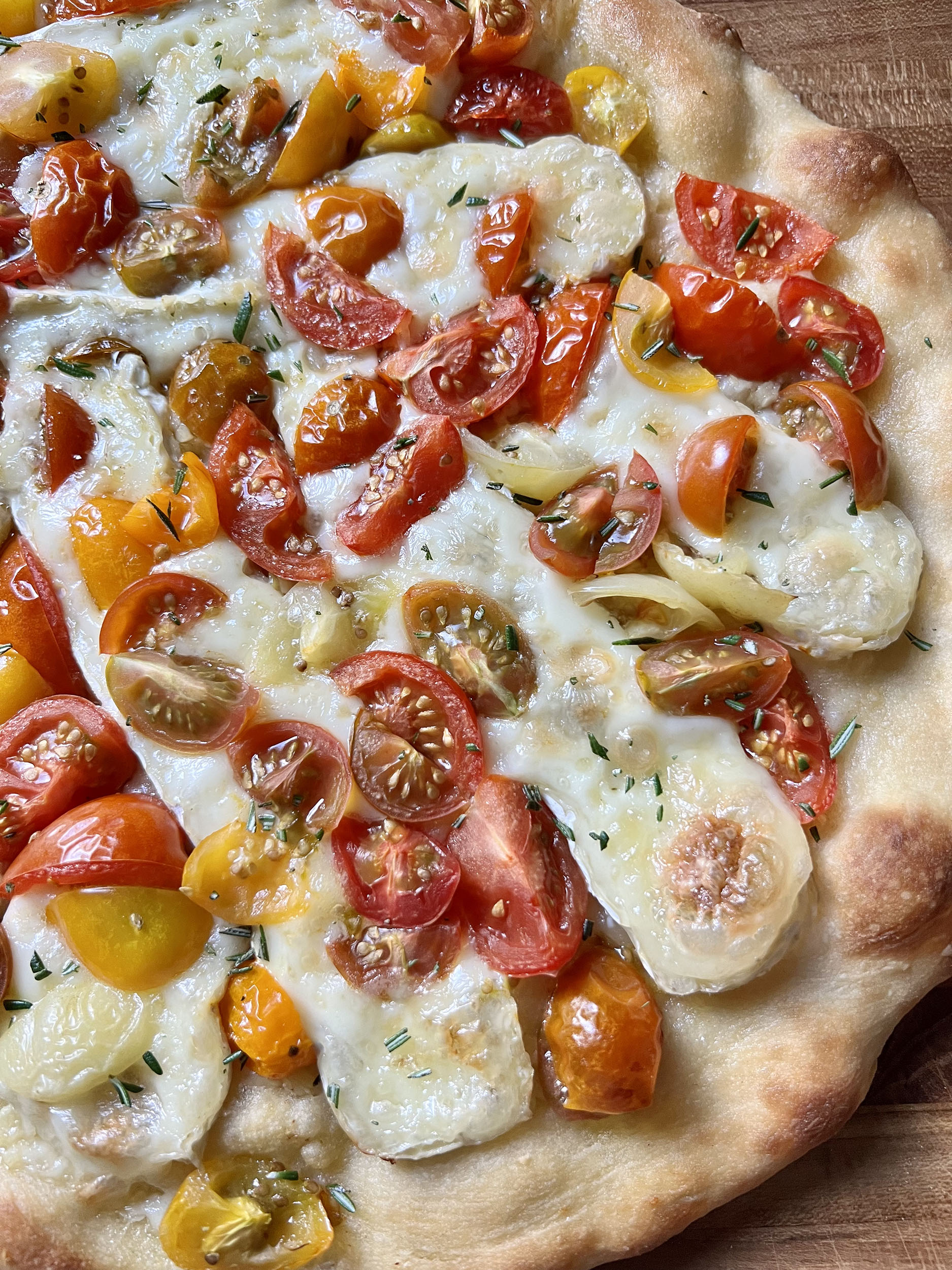 Print Recipe
Tomato and Brie Pizza
Simple cheese and tomato pizza gets a flavorful upgrade with brie cheese, garlic olive oil and juicy heirloom cherry tomatoes.
Ingredients
1 Prepared Pizza Dough

1/4 cup Olive Oil

3-4 Cloves of Garlic, minced

8-10 oz. Brie Cheese, sliced

1 cup Quartered Cherry or Grape Tomatoes

Fresh Rosemary, minced (or oregano, thyme, or basil), for garnish
Instructions
1
Preheat the oven to 450 degrees with a pizza stone or steel. For the garlic olive oil, just mince or press a few cloves of garlic into about 1/4 cup of olive oil.
2
Roll spin or stretch the dough to about 12-inches round. Lay the dough on a floured pizza peel. Brush the entire dough with the garlic olive oil.
3
Lay the long slices of brie cheese on the dough. Any arrangement is fine, just look for even coverage. Leave a 1/2-inch or so of dough around the edge for a crust.
4
Now add the quartered cherry or grape tomatoes. Scatter the tomatoes evenly over the brie.
5
Bake the pizza for 10-15 minutes, until the crust is puffed and golden and the brie is melted and beginning to brown in some spots.
6
When the pizza comes out of the oven, mince up a little fresh herb, I am using rosemary, but thyme, basil, oregano or parsley would all be good options. Sprinkle the minced herb on top, slice and enjoy!