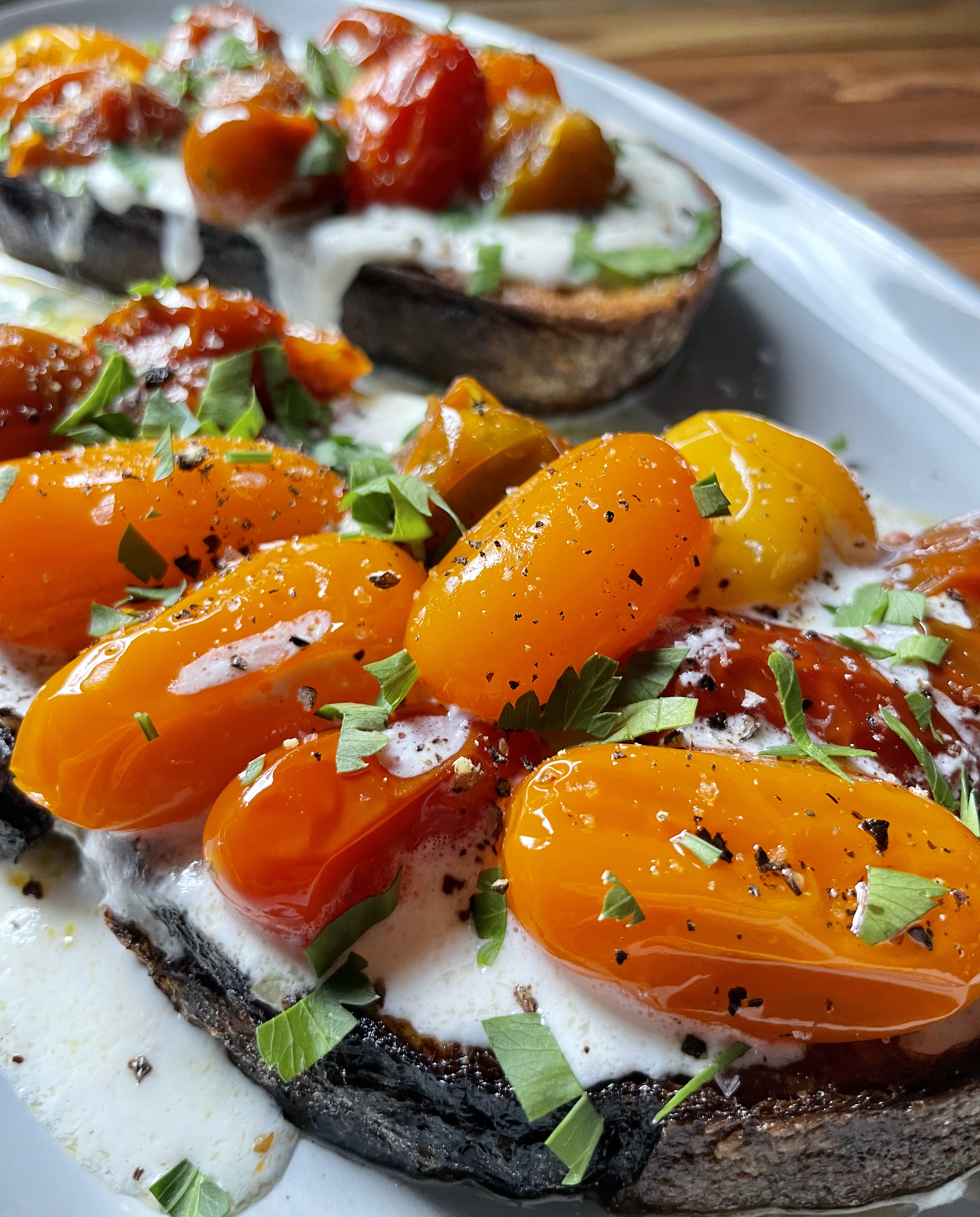 Print Recipe
Tomato Confit Toast with Whipped Ricotta
Cherry tomatoes confited with olive oil, herbs and garlic to create the perfect topping for whipped ricotta and slices of hearty, rustic toasts.
Ingredients
Tomato Confit

2 (or more) pints Cherry Tomatoes

3-5 Whole Cloves Garlic, peeled

Fresh Herb Sprigs, like Rosemary, Thyme and Oregano, tied into a bundle

Olive Oil

2 Pinches of Kosher Salt

Whipped Ricotta

1 15-oz. package Ricotta

2 tbsp. Heavy Cream, optional

Drizzle of Olive Oil

1-2 Pinches of Kosher Salt

Tomato Confit Toast with Whipped Ricotta

Rustic Bread Loaf, sliced into 1/2-inch slices

Fresh Cracked Black Pepper

Flaky Finishing Salt

Chopped Fresh Parsley
Instructions
1
Place tomatoes, garlic and herb bundle in a saucepan. Pour on enough olive oil to submerge tomatoes, Garlic and herb bundle.
2
Over medium heat bring to a low simmer and reduce heat to maintain the low simmer for 30 minutes. Sprinkle Kosher salt, Gently stir every 15 minutes. After 30 minutes, remove from heat, let cool slightly. Fish out and discard herb bundle.
3
Meanwhile, use a stand or hand mixture to whip ricotta with a drizzle of olive oil, heavy cream (if using) and a pinch of Kosher salt. Whip until ricotta is light and fluffy, about 2-4 minutes.
4
Over medium heat, heat about a tablespoon of olive oil in a cast iron, or heavy bottom skillet. When the oil is shimmery, place the bread slices in the hot oil and reduce the heat to medium-low. Check the bottoms and when they have a slight toast to them, drizzle a little olive oil on the un-toasted side and flip them over. Use a heavy spatula to press the bread into the skillet to ensure even contact with the heat. Flip them again and press the bread into the skillet. Keep flipping and pressing until both sides are nicely toasted, then transfer the slices to a plate.
Tomato Confit Toast with Whipped Ricotta
5
Spoon some whipped ricotta on toasts and use a slotted spoon to top with tomatoes. Drizzle the toasts with some of the confit oil.
6
Top with a few more dollops of whipped ricotta. Sprinkle toasts with black pepper, flaky finishing salt and chopped parsley.