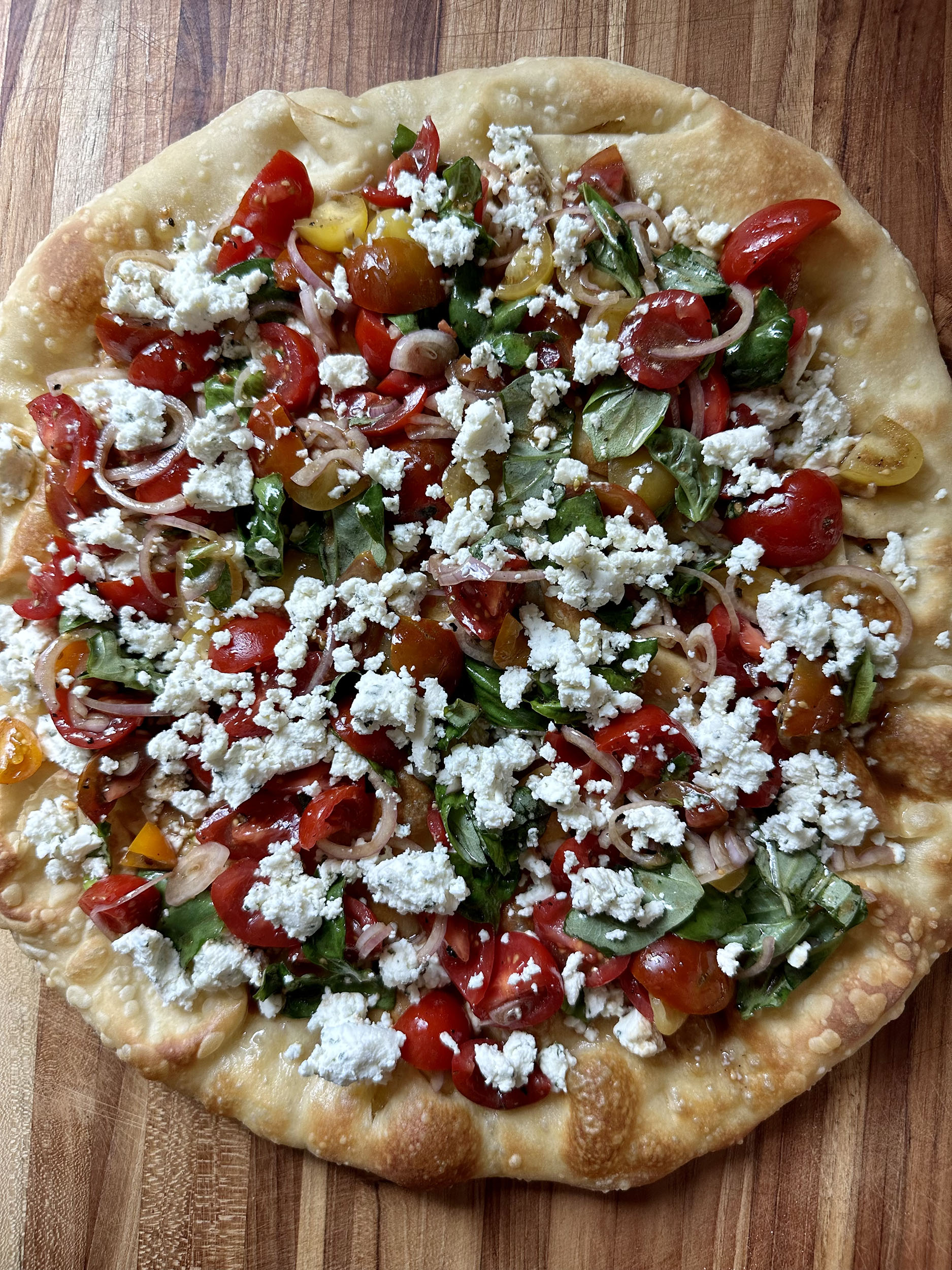 Print Recipe
Tomato Salad Flatbread
Fresh and bright, Tomato Salad Flatbread features fresh basil, tomatoes and shallots dressed with Balsamic vinaigrette, topped with Boursin.
Ingredients
Balsamic Vinaigrette

1 -1.5 tbsp. Balsamic Vinegar

1 tbsp. Olive Oil

2 tsp. Dijon Mustard

Pinch of Kosher Salt and Black Pepper

Tomato Salad

1 pint Cherry or Grape Tomatoes, quartered

1 small Shallot, sliced thinly

1/4-1/2 cup Torn Fresh Basil Leaves

Balsamic Vinaigrette

Tomato Salad Flatbread

1 Prepared Pizza Dough

Olive Oil

Boursin Cheese
Instructions
1
Start by preheating your oven with a pizza stone or steel to 425 degrees F.
2
Combine vinegar, oil, Dijon, kosher salt and black pepper in a small jar. Fix the lid and shake to emulsify.
3
Toss the quartered tomatoes with 1 thinly sliced shallot and balsamic vinaigrette. Set aside.
4
On a lightly floured pizza peel, spin, stretch or roll your dough to about 12-inches round. Drizzle olive oil over the dough and use a brush to evenly spread the olive oil. Bake the dough for about 8-10 minutes. Check the dough as it bakes for large bubbles. If large bubbles form, use a sharp knife or kitchen shears to pop the bubbles.
5
While the pizza is baking, add 1/4-1/2 cup of torn basil leaves to the tomato salad. Toss to mix them in.
6
When the dough is golden, pull it from the oven. Use the pastry brush to spread any pooled olive oil.
7
Top the golden flatbread with half a package of Boursin cheese spread. I have the garlic and herb flavor. Crumble the Boursin over the flat bread.
8
Then use a slotted spoon to spoon the tomato salad over the flatbread. If you want to, use a regular spoon to drizzle some of the remaining balsamic vinaigrette over the top. Then top the Tomato Salad Flatbread with the remaining Boursin cheese, crumbling it as you scatter it around the the top.