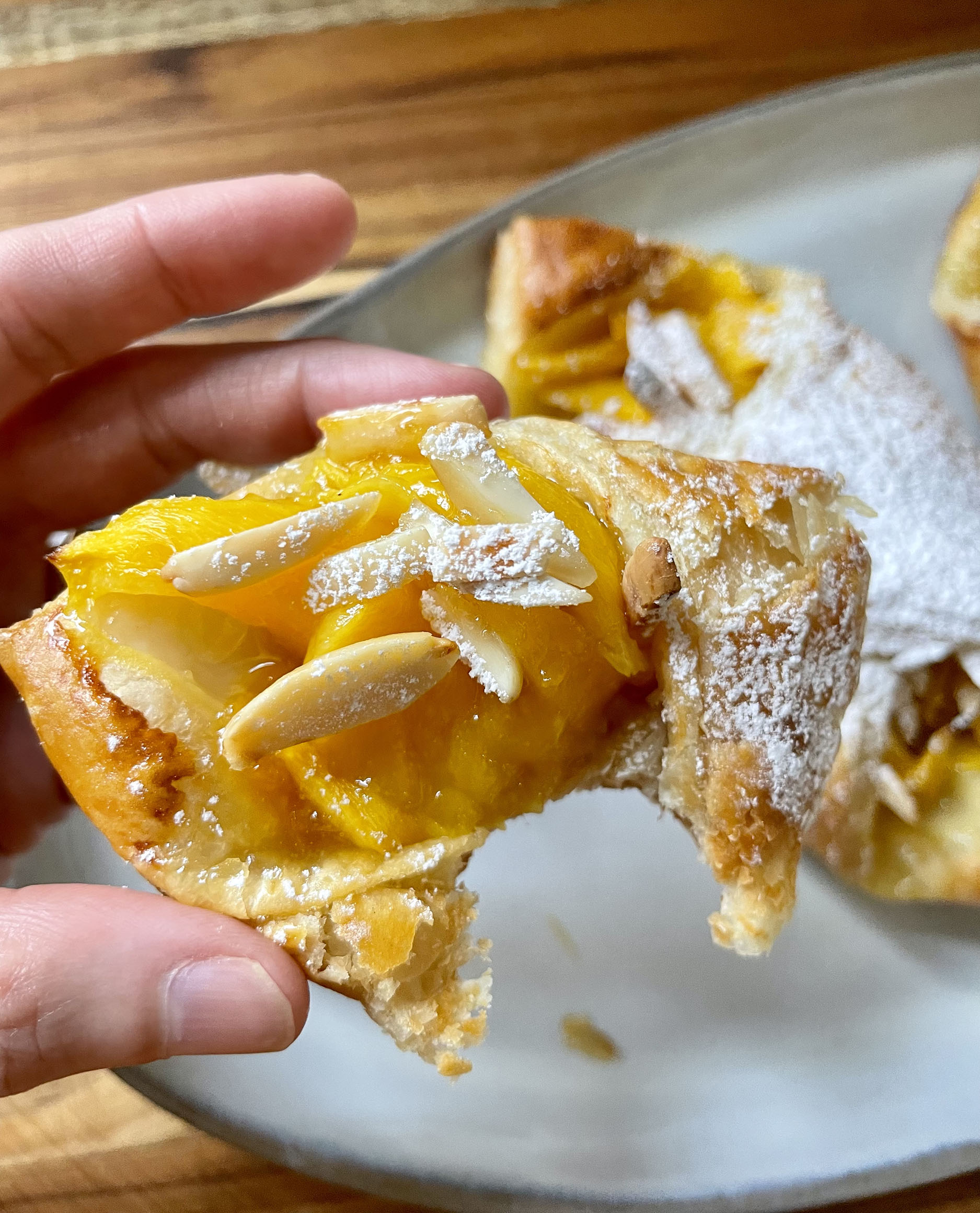 Print Recipe
Tropical Mango Danishes
Ripe, fresh mango is wrapped in delicate puff pastry with mango preserves, almonds and dusted with powdered sugar. A taste of tropical summer.
Ingredients
1 Sheet of Prepared Puff Pastry Dough, defrosted but still very cold

4 tbsp. Mango Peach Preserves, divided (+ 3 tbsp. warmed, for brushing mango slices)

1 Ripe Mango, sliced

Sliced or Slivered Raw Almonds

Egg Wash (1 egg whisked with a tablespoon of water)

Powdered (Confectioner's) Sugar for dusting cooled pastries
Instructions
1
Preheat oven to 400 degrees.
2
Lay the defrosted, but still cold sheet of pastry on a parchment lined sheet tray. Use a bench scraper to cut four equal squares of the pastry sheet. Dollop about one tablespoon of the preserves on the center of each square.
3
Evenly divide the sliced mango amongst four pastry squares. Pile the mango slices in the center, lengthwise from corner to corner.
4
Warm a few tablespoons of the preserves in the microwave for 30 seconds. Brush the mango slices with the warm preserves.
5
Sprinkle Almonds over the mango on each pastry.
6
Brush the exposed interior corners of the pastry squares with egg wash.
7
Fold one side corner over the other for each pastry, then brush the exteriors with egg wash.
8
Bake the pastries on the center rack for 20 minutes, until the pastry is golden and puffy.
9
Transfer the sheet tray to a wire rack to cool for 10 minutes, then transfer the pastries to a separate wire rack to finish cooling.
10
When completely cool, dust with powdered sugar.