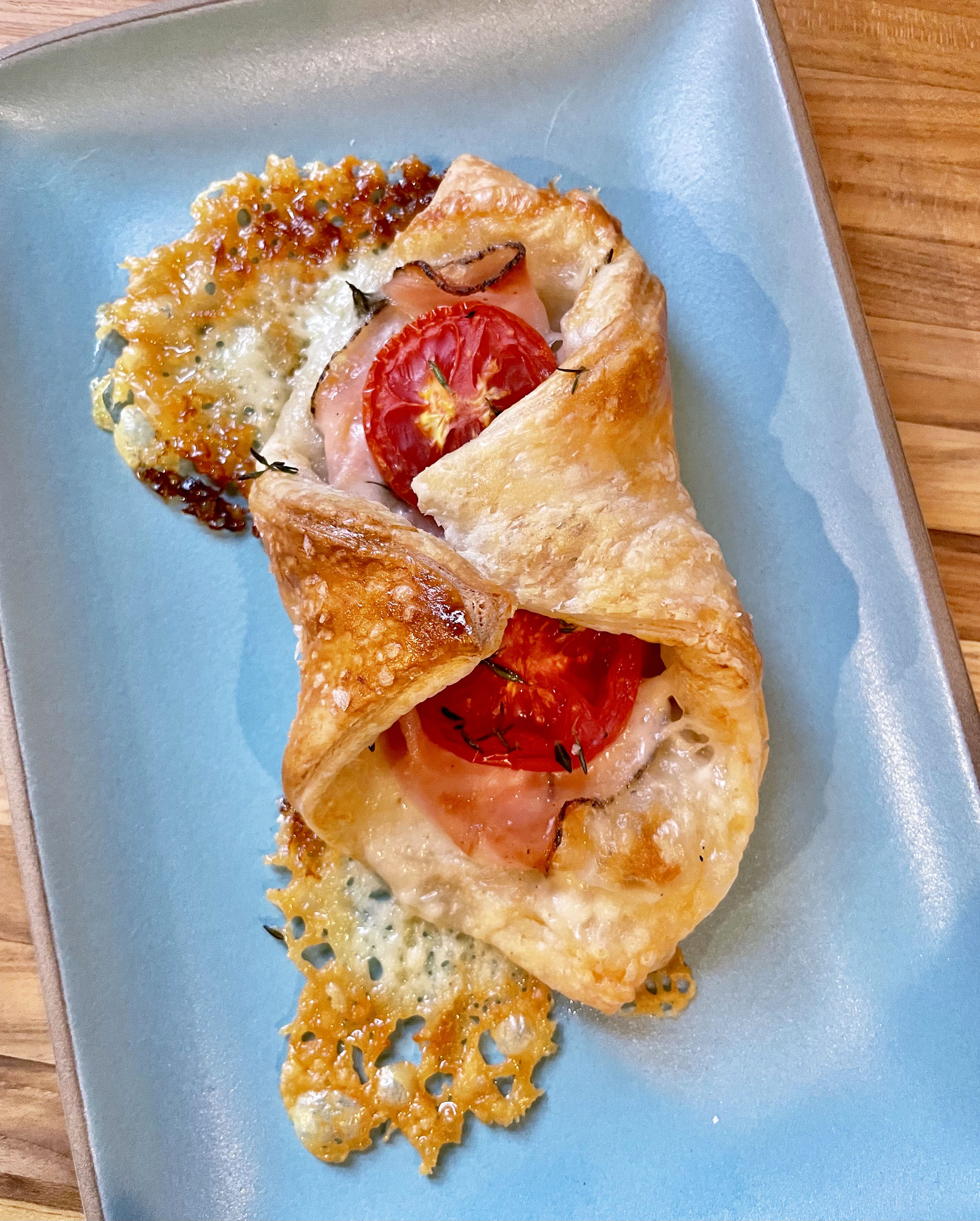 Print Recipe
Turkey Taleggio Tomato and Thyme Savory Danishes
Creamy, nutty Taleggio cheese, sweet ripe tomatoes and savory deli turkey with fresh thyme wrapped in golden puff pastry. Bonus: crispy frico!
Ingredients
1 Puff Pastry Sheet, defrosted but still very cold

4 Slices Taleggio Cheese, sliced 1/4" thick

4 Slices Deli Peppered Turkey Breast

8 Slices Tomato, sliced 1/4" thick

2 tsp. Fresh Thyme Leaves

Egg Wash

Flaky Finishing Salt
Instructions
1
Preheat oven to 400 degrees.
2
Unroll puff pastry sheet and cut into 4 equal squares.
3
Arrange the squares, turned to resemble a diamond shape, on a parchment-line rimmed sheet tray.
4
Place a slice of Taleggio cheese in the center of each pastry square, corner to corner.
5
Rumple the thinly sliced turkey slices on top of the cheese down the center of pastry square.
7
Sprinkle fresh thyme over the danishes.
8
Fold one side over the other and press. If it's not sticking well, dab a little of the egg wash under the pastry corner on the overlapping side.
9
Repeat for all four danishes and brush them with the egg wash and sprinkle some flaky finishing salt over the danishes.
10
Bake for 20 minutes, or until the pastry is puffed and golden.