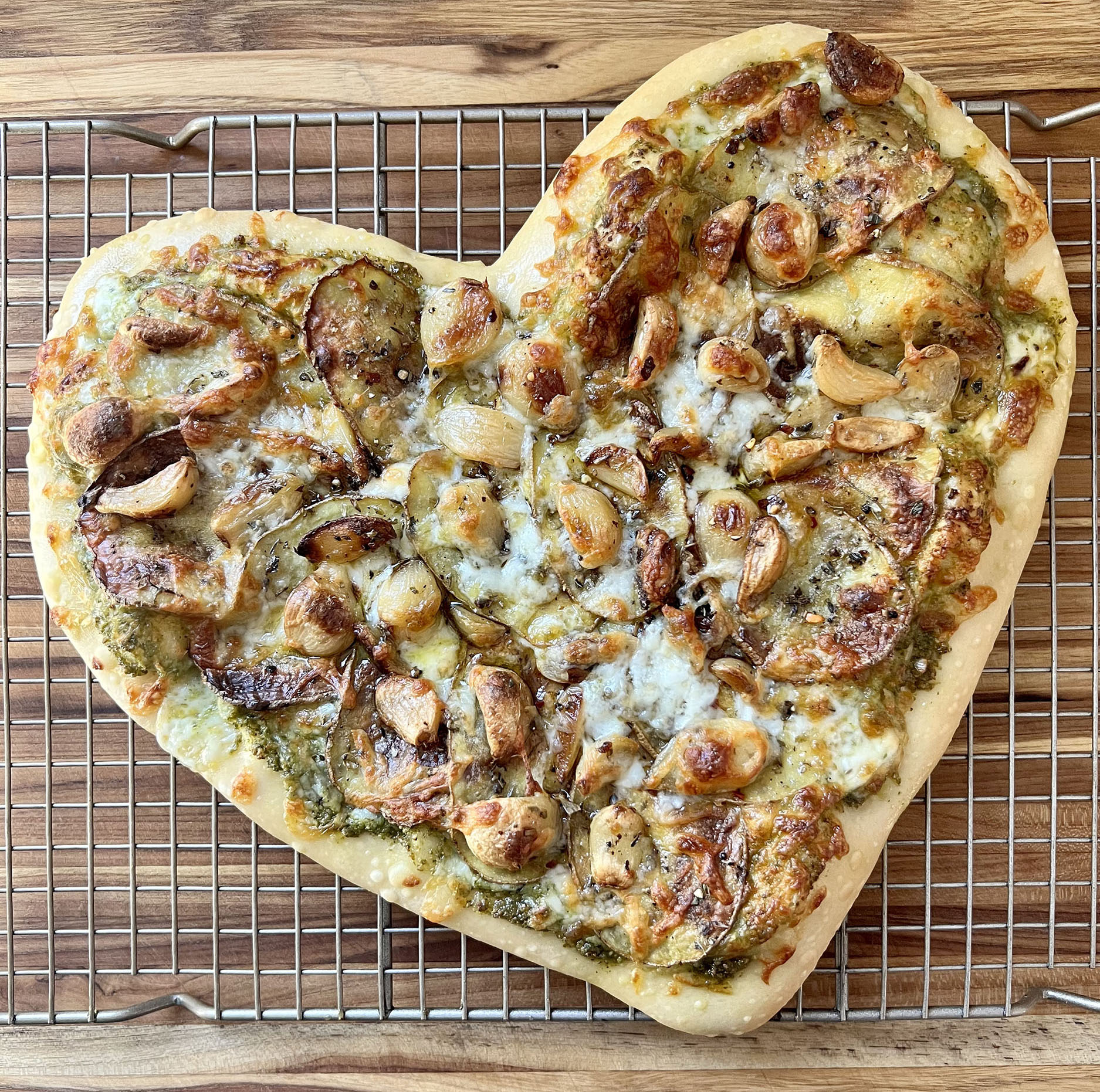 Print Recipe
Valentine's Pizza
Pesto with savory, roasted potatoes and the soft bursts of sweet roasted garlic is a match made in heaven on this heart-shaped pizza!
Ingredients
1 Large Potato (Red or Yukon Gold), sliced into 1/8-inch slices

1 6-oz. bag of Peeled Whole Garlic Cloves

Drizzle of Olive Oil

2 tsp. each of Kosher Salt, Black Pepper, Dried Oregano, Dried Thyme, Dried Basil

1 tsp. Red Pepper Flakes

1/3-1/2 cup Pesto

1.25 - 1.5 cups Grated Low Moisture Mozzarella
Instructions
1
Preheat oven to 375 degrees F.
2
Combine the potato slices and garlic cloves in a large bowl. Drizzle with olive oil and season with Kosher salt, black pepper, dried oregano, thyme, basil and red pepper flakes. Toss to coat everything in olive oil and seasoning. Spread the potatoes and garlic cloves in a single layer on a large sheet tray and roast for about 30 minutes, or until the potatoes and garlic are golden brown. Use a spatula to stir the garlic halfway through roasting.
3
When the potatoes and garlic come out of the oven, increase temperature to 450 degrees F.
4
Roll or stretch your dough out to a 14 to 16-inch round. Do this on a piece of parchment so we can easily slide the whole thing onto a sheet tray.
5
Take a piece of parchment roughly the size of your stretched-out dough and fold it in half. Use kitchen shears to cut a teardrop, or a half heart shape.
6
Lay the template on the dough and use kitchen shears or a pizza roll-cutter to slice off the excess dough.
7
Once the excess dough is cut and the heart shape is clear, you can stretch or pull the tops and sides to fine tune the heart shape. When you're satisfied with the heart shape, grab one side of the parchment under the dough and slice the whole thing onto an overturned sheet tray or cookie sheet.
8
Brush the pesto on the dough, leaving a 1/2-inch border for the crust.
9
After the sauce, we have the grated mozzarella, roasted potato slices and the roasted garlic cloves. Lastly, top the whole thing off with a little more mozzarella.
10
Bake the pizza for about 10-15 minutes, until the crust is puffed and golden and the cheese is melted.