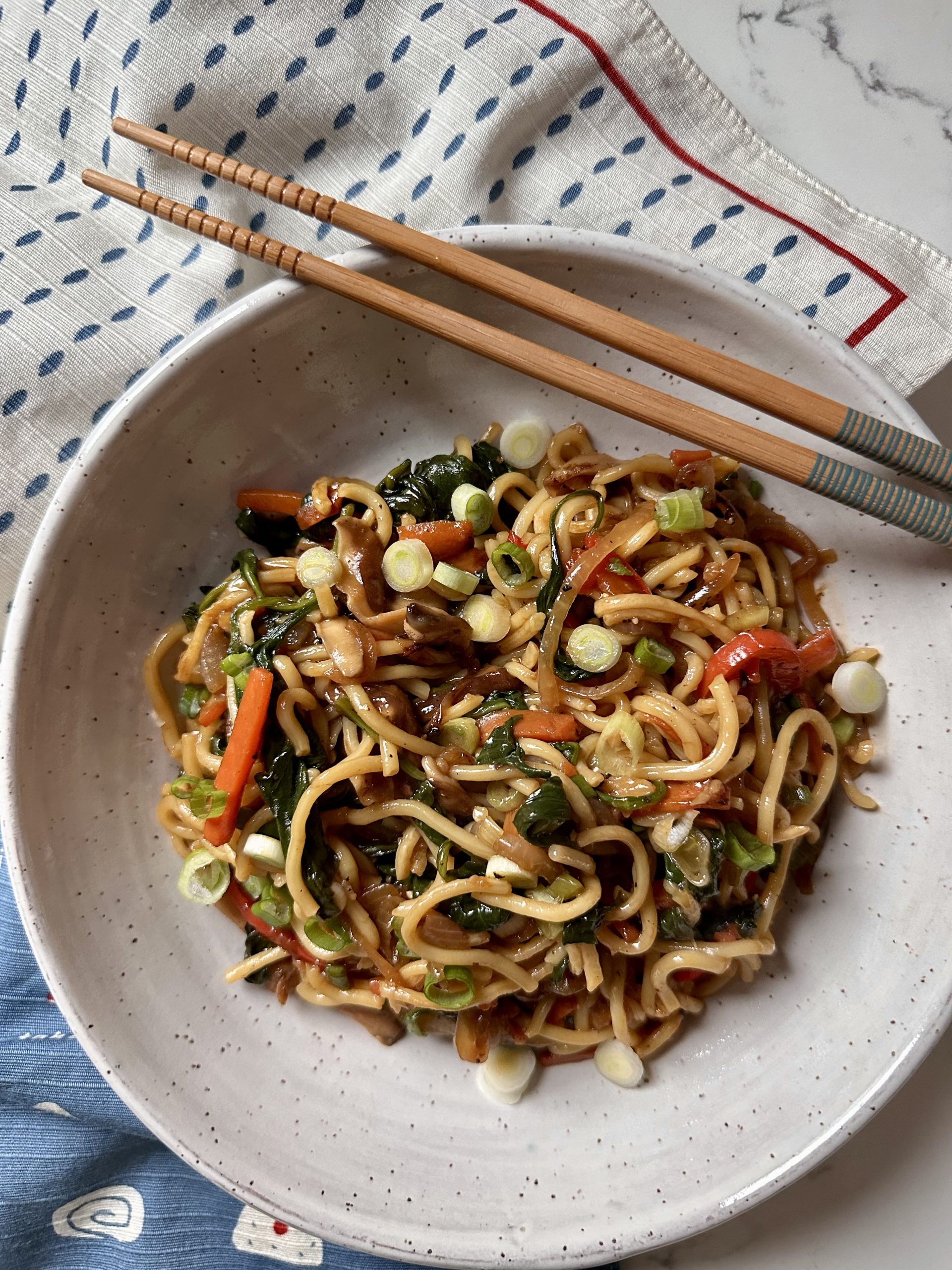 Print Recipe
Vegetable Yakisoba
Stir fried chewy noodles; crunchy carrots; soft sweet red pepper; and meaty, chewy shiitakes – all cloaked in the umami-rich savory sauce.
Ingredients
Yakisoba Sauce

3 tbsp. Oyster Sauce

3 tbsp. Low-Sodium Soy Sauce

2 tbsp. Worcestershire Sauce

1 tbsp. Neutral Oil, such as grapeseed, safflower or canola

1 tbsp. Ketchup

2 tsp. Granulated Sugar

1/4 tsp. Grated Fresh Ginger

1/4 tsp. Black Pepper

Stir Fry

1 lb. Pre-steamed Yakisoba or Hokkien Noodles, thawed if frozen

3 tbsp. Neutral Oil, such as grapeseed, safflower or canola, divided

1 Small Yellow Onion, thinly sliced

2 Medium Carrots, peeled and cut into matchsticks

1 Large Red Bell Pepper, stemmed, cored and thinly sliced

Kosher Salt and Black Pepper

1 tbsp. Minced Garlic

8 oz. Shiitake Mushrooms, stemmed and thinly sliced

8 oz. Baby Spinach

1 cup Thinly Sliced Scallions
Instructions
1
Whisk together the oyster sauce, soy sauce, Worcestershire sauce, ketchup, fresh ginger, sugar, pepper and vegetable or grapeseed oil in a measuring cup and set aside.
2
Have everything prepped and ready to go so this cooking process is smooth. It's not going to go super fast like wok cooking, but it's nice to have everything ready.
3
In a 12-inch nonstick skillet, heat 1 tablespoon of grapeseed or vegetable oil over medium-high heat until the oil is shimmery. Then add the noddles in as close to a single layer as possible. Let the noodles fry, undisturbed for about 3-4 minutes, until the noodles develop some browning in spots. Then Stir the noodles and let fry again for another 3 minutes, until more browning develops.
4
When the noodles have developed some browning - with browning ranging from golden to charred in spots - transfer the noodles to a plate and set aside.
5
In the same pan add the remaining 2 tablespoons of oil and add the onion, carrot and red pepper. Season with kosher salt and black pepper. Stir fry the veggies until they have softened a bit and begin to char in spots. About 5 minutes.
6
Then add the garlic, stir to combine and cook for another minute. Then add the shiitake mushrooms. Stir the mushrooms into the veggies and stir occasionally until the mushrooms have softened. About 5 minutes.
7
Now, add the spinach in batches, letting the first batch wilt before adding the second. Stir the spinach into the stir fry until all the spinach is wilted.
8
Then add the noodles back to the pan and pour the sauce over the top.
9
Stir in the noodles, the sauce and 3/4 of the sliced scallions. Stir and fry until the sauce is absorbed by the noodles and is well-incorporated into the stir fry. The mixture should be saucy, but not soupy. This should take about 3 minutes.
10
Serve the Vegetable Yakisoba in noodle bowls and top with the remaining sliced scallions.