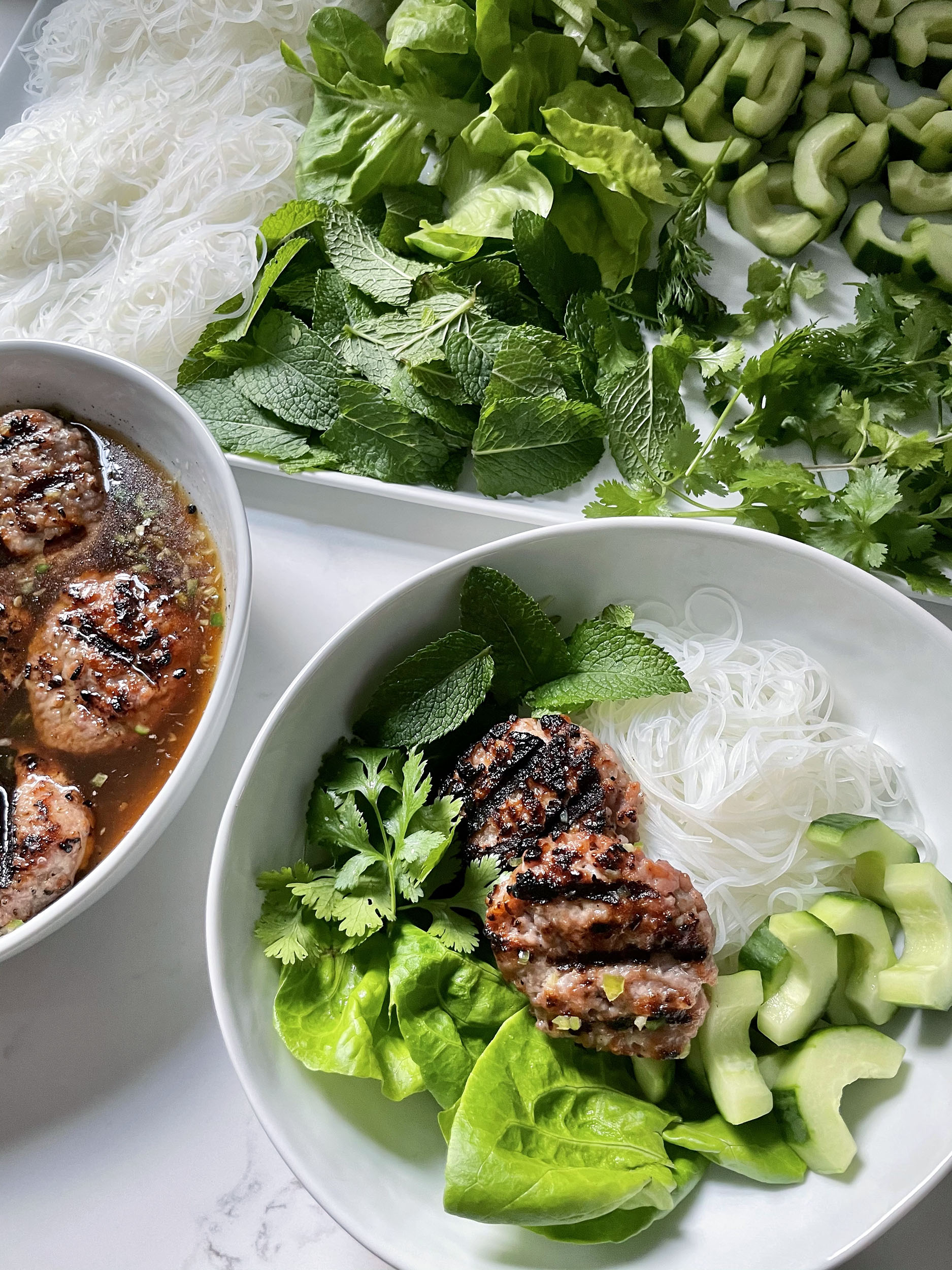 Print Recipe
Vietnamese Pork Patties
Seasoned ground pork patties are grilled and dunked in nuoc cham sauce, served with cold rice noodles, veggies and fresh herbs. A refreshing summer meal.
Ingredients
Noodles and Salad

8 oz. Rice Vermicelli

1 head Boston Lettuce, torn into bite-size pieces

1 English Cucumber, peeled, quartered lengthwise, seeded, and sliced thin

1 cup Fresh Cilantro, leaves and stems

1 cup Fresh Mint Leaves, torn if large

Sauce

1 small Thai Chile, stemmed and minced (or Serrano Chile)

3 tbsp. Sugar

1-2 Garlic Cloves, minced

2/3 cup Hot Water

5 tablespoons fish sauce

1/4 cup Lime Juice (2-3 limes)

Pork Patties

1 large Shallot, minced

1 tbsp. Fish Sauce

1.5 tsp. Sugar

1/2 tsp. Baking Soda

1/2 tsp. Fresh Ground Pepper

1 lb. Ground Pork
Instructions
1
Bring 4 quarts water to boil in large pot. Remove from heat and stir in noodles. Cover and let sit for 10 minutes.
2
Drain noodles and rinse under cold running water until cool.
3
Drain noodles very well, spread on large plate, and let stand at room temperature to dry.
4
Arrange lettuce, cucumber, cilantro, and mint separately on large platter and refrigerate until needed.
5
Using mortar and pestle (or on cutting board using flat side of chef's knife), mash Thai chile, 1 tablespoon sugar, and garlic to fine paste. Transfer to medium bowl and add hot water and remaining 2 tablespoons sugar. Stir until sugar is dissolved. Stir in fish sauce and lime juice. Set aside.
6
Combine shallot, fish sauce, sugar, baking soda, and pepper in medium bowl.
7
Add pork and mix until well combined.
8
Shape pork mixture into 12 patties, each about 2½ inches wide and ½ inch thick.
9
Cook patties (directly over coals if using charcoal; covered if using gas) until well charred, 3 to 4 minutes per side.
10
Transfer grilled patties to bowl with sauce and gently toss to coat. Let stand for 5 minutes.
11
Serve noodles and salad separately.