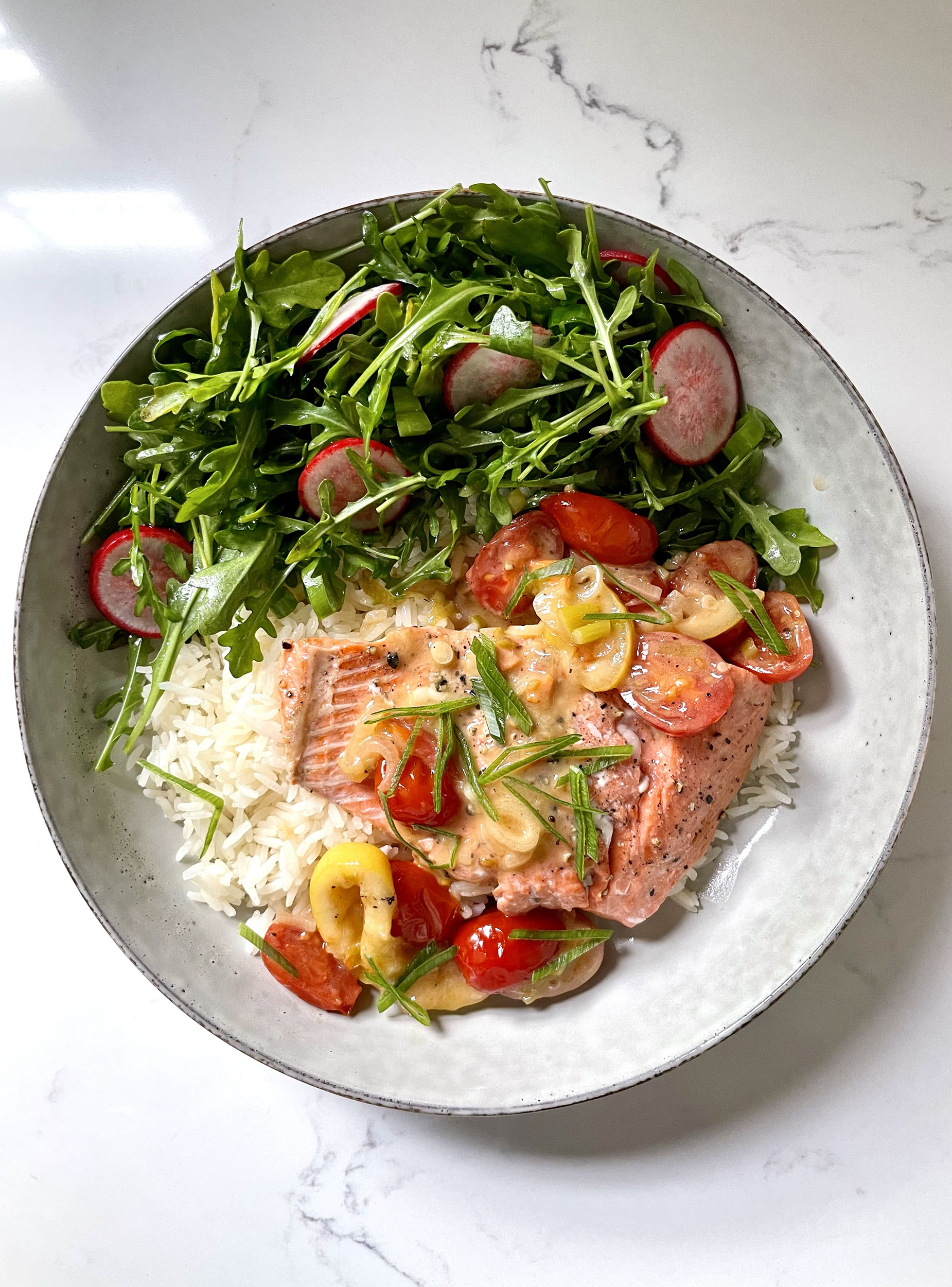 Print Recipe
White Wine Poached Salmon
Poached salmon in a buttery, lemony white wine pan sauce is punchy and light. perfect for warmer weather and easily customizable to what's in season.
Ingredients
4 6-oz. Skinless Salmon Fillets

2 tsp. Kosher Salt, plus more to taste

3/4 tsp. Fresh Cracked Black Pepper, plus more to taste

2 tbsp. Olive Oil

6 tbsp. Unsalted Butter, divided

1 Lemon, thinly sliced into wheels

1/4 cup thinly sliced Shallot

1/4 cup thinly sliced Scallions, white and light green parts (cut the dark green parts on the bias for garnish)

6 Thyme Sprigs

1/4 cup Dry White Wine

1 cup halved Grape or Cherry Tomatoes

Salad and cooked rice for serving
Instructions
1
To make the cartouche, fold a 12" x 12" square of parchment into a rectangle, then fold again into a square. Hold one corner of the square in the center of your pan to measure where you will make the circular cut. Trim the outer edge to the shape of your pan, then cut the opposite corner tip off. If needed, trim off more of the outer edge to get a fit that will let the cartouche rest within the edges of the pan.
2
Melt the butter in the olive oil over medium high heat Add the lemon slices and cook until the lemon flesh is bubbly, then flip the lemon slices.
3
Add the scallions and the shallot. Cook and stir occasionally until the shallot has softened, about 2-3 minutes.
4
Add the thyme sprigs to the pan and top with the salmon fillets. Then add the white wine. Bring the wine to a simmer, cover with the cartouche and place in the oven for 5 minutes, until fish is cooked through (it will be lightly opaque and flaky).
5
Remove the sauce from heat and remove the cartouche from the resting salmon fillets.
6
Serve with desired sides and spoon sauce over portions of salmon fillet.
7
Transfer salmon fillets to a plate and cover with the cartouche.
8
Remove the thyme sprigs and return the skillet to the stovetop over medium heat. Bring the pan liquid to a simmer and add the remaining 1/4 cup butter and the halved grape or cherry tomatoes.
9
Let simmer until butter is melted and sauce is creamy and has thickened slightly. Taste for seasoning and add more Kosher salt and fresh cracked pepper, if needed.
Notes
For the rice, I made Jasmine rice according to the package directions, and I added 2 teaspoons of Better Than Bullion Roasted Garlic base when I added the rice to the water in the saucepan. This made for a delicious, savory rice that went so well with this lemony wine sauce. For the salad, I just tossed some baby arugula and sliced radishes with olive oil and a little citrus vinegar, Kosher salt and black pepper.